Geeked Out: Board Games for Thanksgiving
Thanksgiving board game recommendations for conflict-free family contests. 
November 11, 2015 at 10:30 AM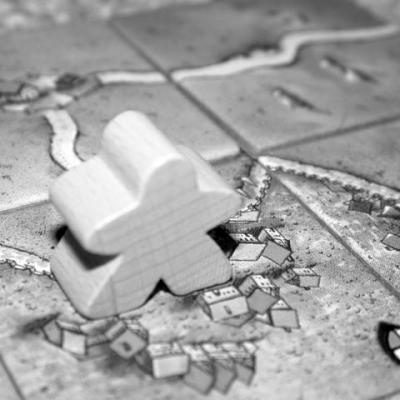 Thanksgiving is fast approaching and it's high time I share some kick-ass board games to play on my favorite holiday. Board games are the perfect post-turkey digestif. Classics like Scrabble and Monopoly work fine to bring loved ones together, but allow me to suggest some other top-notch games that won't have you cursing at your sibling for stacking hotels on Park Place.
Carcassonne and Ticket to Ride are both German-style board games that have achieved popularity outside Europe.
So what is a German-style (or European-style) board game, exactly? Where American classics like Monopoly often heavily rely on random dice rolls and chance, German-style games emphasize player interaction throughout the game with a small element of chance to keep things fresh.
Carcassonne is one of those great games often held next to Settlers of Catan, which has been referred to as "the game of our time." Carcassonne won the Spiel des Jahres (Game of the Year) in 2001. Thematically, the game is based on the French medieval fortified town, Carcassonne. Players build up the village by placing tiles. On a turn, a player blindly selects a tile and then must connect it to existing tiles on the board, ensuring that the edges match. A farm edge must match another farm, and roads must connect to other roads. The game is complete once all the tiles are placed.
Placing tiles provides that same satisfaction as piecing together a puzzle. But in Carcassonne, there is an added layer of strategy revolving around placing followers — or "Meeples" as they are affectionately called — on farms, roads, and cities. After all tiles are placed, players receive points for the areas their followers inhabit, and for the number of tiles they've contributed to each farm, road, or city.
Trying to work against other players isn't as valuable as focusing on your own play. This removes some of the antagonistic practices that board games are notorious for.
What I love about this game is its layer of personal strategy. Trying to work against other players isn't as valuable as focusing on your own play. This removes some of the antagonistic practices that board games are notorious for. Carcassonne shares qualities with dominos or jigsaw puzzles, but with modest strategy. It's often referred to as a great "gateway game" to the growing world of tabletop.
Ticket to Ride is another Spiel des Jahres winner. The game's board shows train lines on various continents, depending on which version you're playing. The American version's train routes cross the continental U.S. Players draw a hand of cards depicting colored train cars. Routes between cities can be constructed by players drawing up a set of matching colored train cars that equal the same distance between cities. For instance, the route between Chicago and Detroit might be three cars long, so matching three of any color allows a player to place her train on that route and claim it. The game is over once one player's trains are all placed, and then players tally scores to find a winner.
Ticket to Ride shares many of the same principles I love in Carcassonne: The gameplay is strategic, but individual players have very limited actions per turn. This keeps the game moving and prevents that one relative from taking forever. (Seriously, those people are the worst!) Both games allow for some aggressive play, but make it hard to be that guy or gal who is out to screw everyone else over; it's much better to focus on your own goals. This allows the board game to become a context for conversation over the dinner table after enjoying a mighty feast.
John Lindvay can be contacted at jLindvay@ErieReader.com, and you can follow him on Twitter @Fightstrife.