Geeked Out: Heroes of Warcraft
Hearthstone: Heroes of Warcraft takes card games off the table and onto the digital screen.
January 21, 2015 at 6:15 AM
I'm sure at some point you've heard the rumblings of some sort of card game that has become the new fixation of the youth. You may have even seen small circles of cross-legged humans surrounding a mess of cards that were not the playing cards of our grandparents.
You may have even heard names uttered, like Magic, Pokemon, Yu-Gi-Oh! Perhaps you even knew someone who had boxes and boxes of these cards, dumping absurd amounts of money in chase of that super rare piece of foiled paper that is now worth $300 on eBay. Hell, you may be thinking that I might even be describing you!
Truthfully, I've been through that phase of my life. I dabbled in Magic: The Gathering – just last year digging out the box of cards from my parents' attic to give to one of my few friends who still plays. But like many others, I lost space and desire to hunt down and catalogue these things. I still enjoy the game, but the other part of the habit simply became off-putting.
But many of these collectable card games, or "CCGs", are now transcending the physical realm and have rematerialized on computers and tablet devices, and the one that has seems to capture the lion's share of my friends attention is a game called Hearthstone: Heroes of Warcraft.
Hearthstone is a CCG made by game company Blizzard Entertainment. Side note: You might recognize that name because they are also responsible for the world's largest massively multiplayer online game (MMO) and almighty time consumer World of Warcraft. Hearthstone takes the same intellectual property and lore of the Warcraft series and turns it into a snappy card game that is now available on basically all platforms (Android, iOS, MAC/PC). The game was rumored to have been created after a studio head at Blizzard noticed that many of his employees were playing a different digital card game and wasting countless hours of work time. So in perfect fashion, he rounded them up and began to make their own digital card game.
Hearthstone is what I would describe as a great CCG for all players, casual to more serious "mana-tapping" fiends. There is much to enjoy here as it offers games that are quick for beginners. Your typical match will last around 5 to 10 minutes, and I find it is the perfect companion to vegging out on the sofa and watching your favorite TV show.
If you are unfamiliar with how these games operate, let me break it down: Each player has a deck of 30 cards, each player has 30 hit points, and players use their resources to play cards that either create monsters that fight for you or cast spells to damage your opponent. Hearthstone streamlines much of the mechanical jargon that is plentiful in these games. Instead of forcing players to gather resources, each turn increases your pool by one, thus creating a gentle ramp-up in action as the game goes on, ensuring a faster match to the snooze fests that classic CCGs could all too often turn into.
A cool aspect is that the decks all have unique play styles and cards that, when played in certain orders, create interesting combos that, when pulled off correctly, will leave you feeling like a wizard.
Another sweet thing is the manner of communication allowed through the game interface. Anyone who plays competitive online games will tell you stories of the toxic wasteland of chatter and cringe-inducing language that is thrown around on the Internet. In Hearthstone players are limited to a small selection of eight pre-canned 'emotes' to use such as "Well played!," "Thank you," and "Oops."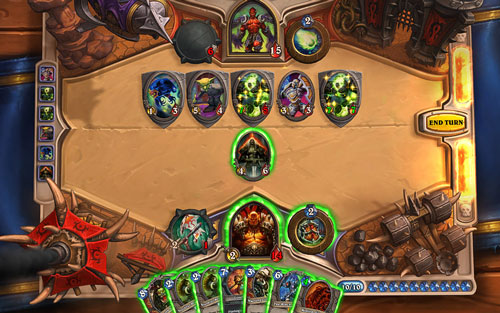 Even if that is too much to deal with, a simple click will squelch even that amount of communication. This small feature has been given much praise for facilitating an excellent competitive online experience that allows you to test your wits without hearing the foul language of a bitter rival.
If collecting things is your jam, then this game has you covered, because as you play, you will earn in-game currency used to purchase booster packs. You can also plop down real Earth dollars, too, if you just want to quickly obtain powerful cards, but the free-to-play scheme is actually paced rather well. I haven't sunk much money into the game, and I have already built a handful of decks that I enjoy playing.
Hearthstone also offers a good method for players to get the cards they want by allowing players to destroy cards for a separate currency that can be used to craft any card in the game. The only downside to this style of CCG is there is no trading, so even though I often have conversations with my friends on good cards and deck combinations, I have to grind to get those cards myself.
All that being said, I do find it has become somewhat of a habit for me now to wake up in the morning and play a few rounds as I drink my coffee. I win some, lose some, but more importantly, I enjoy the mental exercise of playing against the mind of another human being.
If you've played Hearthstone, what do you think of the game? Let John Lindvay know at jLindvay@ErieReader.com, and you can follow him on Twitter @FightStrife.
Sponsored by: Epic WebStudios