Geeked Out: Local Writer Pens New Noir Graphic Novel and Heads Off to NYC Comic Con
The first volume of Moros: A Hard Boiled Hero is out now.
October 1, 2014 at 6:50 AM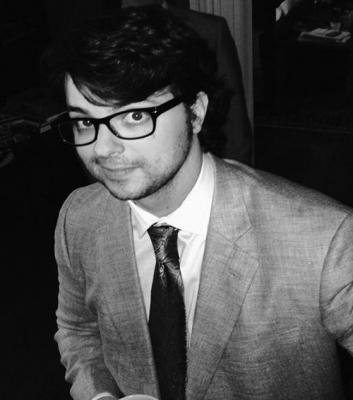 Moros: A Hard Boiled Hero is a rough and tumble anti-hero graphic novel created by local student and aspiring writer Joshua Lucas. Dripping in noir trappings, the first volume of Moros is available now, and with this work, Lucas is looking to take on character archetypes like Batman and Rorschach but give them a more grisly twist. 
The book opens, "In the town of Bay City, like much of America, there is little in the way of hope."  Loosely inspired by Erie, Lucas begins to reveal the world of Moros to us. Bay City is being overrun with a new drug: Juice. When a user is "Juiced up," they are elevated to a hyper, adrenaline-induced state, feeling no pain and able to push their muscles beyond their limits. Juice is turning low-level thugs into mini 'roided-out hulks with a stranglehold around the cities throat.
Enter our anti-hero: Edward Knight, an ex-military-type turned police detective. Like most noir detectives, Ed hates his boss, red-tape, and criminal scum all the same. I would classify Ed as "chaotic lawful," for all you archetype buffs out there. He is the law the same way Judge Dredd or Batman are the law: They also know what is righteous, yet the actions they often commit will have the reader wondering if these protagonists and narrators are truly trustworthy. 
In Ed's case, he's tired of being blocked by corruption and bureaucratic red tape, so he decides to go rogue and become a vigilante. Donning a mask and choosing to fight fire with fire, Ed hits up one of his informants for a package of Juice. The only way to fight the beast, Ed reasons, is to become the beast, as we soon see Ed juice up and raids a drug deal, as he embarks on his path as the title character and goes beyond the law to attempt to restore order to his chaotic city. 
Lucas explains that he wants Moros to go where more traditional anti-heroes, like Dredd and Batman, don't dare. He wants him to be able to embrace the devil, to have the ends justify the means. 
This is something, Lucas admits, that to "anyone who is going to fight crime, is insane. They aren't well." After reading the first volume, I first questioned just why Ed hates his boss. Sure, what anti-hero archetype doesn't like his boss and the oppressively numbing authority – and perhaps the chief is a little smug – but where exactly is Ed's rage coming from? Can this ex-military PTSD-inflicted vigilante be trusted? What will we soon come to know about him – and his new identity: Moros?
"You should be questioning Ed's logic and the way he sees the world," Lucas says. And this is the part of the narrative Lucas seems most interested in exploring. He argues that the prevailing theme of morality in the graphic novel is that nobody's perfect. And perhaps people who are broken, or wrong, bad, evil—whatever you want to call it—can still do good. 
"People have said to me that the story is devoid of morality," Lucas says. "And I strongly disagree with that." 
It is interesting to ponder, however, when does the morality show up in this story? In the first volume of the book, Ed is fighting against his boss, criminals, and his own skeletons. Lucas explains with an historic example:
"Rockefeller, and a lot of the American titans of industry, stepped on the backs of people, and so to speak, ruined a lot of people's lives. But if you look at what they manifest and how many people were helped by industry, you could make a utilitarian argument that what they did was good."
Lucas, like many writers before him, wants to wrestle with this theme of redemption and self-righteous martyrdom, leaving readers to wonder: Can Moros, who is already filthy from the sins of his past, find redemption by embracing the beast? 
I would be remiss if I didn't mention the fantastic drawing by Tamal Saha. Lucas says he had been searching for the right artist for a long time; he found Tamal online through social media, and they now work together remotely since Tamal lives in India. Tamal had the right style and understanding of what Lucas wanted to achieve in Moros, Lucas explains.
It is exciting to see local writers producing content. Lucas is currently prepping for the upcoming New York City Comic Con, which runs Oct. 9 to 12, where he will be showing his comic to fans, as well as courting it around publishers and industry people to help gain traction for his book, as touring with one's work is an essential part of working in industries like comics and video games. Now Erie has a creative ambassador heading to show some of the cool things we have cooking from our home town. 
A digital copy of the first volume of Moros: A Hard Boiled Hero can be found online at: Facebook.com/MorosAHardBoiledHero. 
 John Lindvay can be contacted at jLindvay@ErieReader.com, and you can follow him on Twitter @FightStrife.