Geeked Out: Netflix Presents Marvel's Daredevil
The gritty series packs action and suspense in the 13-episode debut season.
April 29, 2015 at 5:00 AM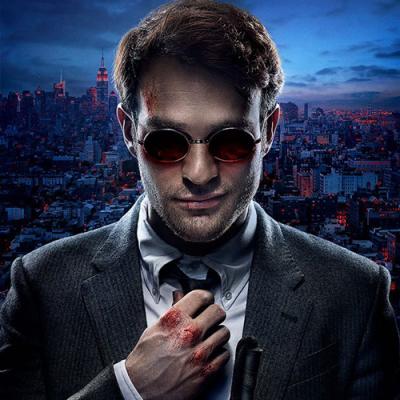 I'm going to be totally honest: I don't know much about Daredevil, the "blind" superhero by night and lawyer by day. I did remember that Ben Affleck – before donning the batsuit this summer – played him in a movie twelve years ago that left many disappointed. And as many Marvel superheroes have been getting plenty of blockbuster screen time, Daredevil went quietly off into the night with its less than heroic box office performance.
But forget everything you know or don't know, because Daredevil is back, as Marvel has released Daredevil season one on Netflix – and everyone is going crazy.
Let me preface this with a bit of what I have come to learn about Daredevil without digging up all of the Daredevil comics or perusing the Internet. His real name is Matthew Murdoch, and he was blinded as a kid while helping an older man avoid a traffic collision that caused radioactive material to splash him in the face. He went on to become a lawyer but took up vigilantism in New York City's Hell's Kitchen.
Other than the 2005 movie, I had no real opinion on the character of Daredevil, but after watching the Netflix series, I would place him in the "chaotic good" box on the Dungeons & Dragons character alignment grid. He is an "ends justify the means" kind of guy, and he's also a violent man.
After he was blinded, his other senses were raised to superhuman levels. And over the years he's watched Hell's Kitchen slide deeper into the dirt, and he wants to protect what he cares about. He understands that while using the legal system is effective at accomplishing some things, pummeling bad dudes and exposing those who operate in the shadows through violence is also a necessity.
The principal antagonist of the show is classic Daredevil arch villain Wilson Fisk, aka Kingpin. Actor Vincent D'Onofrio wplays the part of Fisk and crushes it. The story is about Fisk and Murdoch (played by Charlie Cox) and how they both want the same thing – a better, safer Hell's Kitchen. Spoiler alert: It isn't until the climax of the season that Fisk even realizes that he is "the bad guy" which makes the show even more enthralling as both Fisk and Murdoch do things that a carte blanche "good guy superhero" would never do.
It is interesting to note that the show is built into the "Marvel Cinematic Universe," meaning it belongs on the same timeline as Iron Man and the rest of the The Avengers. Although it's not explicitly explained initially, the show takes place after the alien attack on New York City, referred to in the series as "the incident," where Fisk is working with the government in spending the funds allocated after the disaster to rebuild the city, which is breeding the kind of turmoil and seedy underbelly that has set up a cottage industry on profiteering while attention is being placed elsewhere.
But one of the key things that has everyone talking is the action.
Daredevil is a real bruiser. The series, even at only 13 episodes, has some of the best fight scenes on TV or in film. The hits always have impact that is felt off screen and the sheer amount of punishment taken and given by Daredevil had me gritting my teeth as he was stitched up. In particular, there is a scene in episode two where Murdoch fights his way through a hallway of Russian thugs to save a kidnapped boy in one incredible shot. It is also an homage to the film Old Boy, which had a similar shot. All of the action is given incredible detail to really convey the pain and suffering being inflicted, not in some attempt to glorify violence but to keep it gruesome.
An interesting aside is that Netflix has also released a special audio track for the entirety of Daredevil geared toward the visually impaired. A narrator describes the scenes and actions in between the dialogue, allowing everyone to enjoy – a nice touch to show that this isn't your typical approach to your typical TV show.
Netflix has been swinging hard, trying to change how we consume television shows in the past few years. With grand slams like Orange Is The New Black and House of Cards or with its own strikeouts, like Hemlock Grove, Netflix is working to become a major player in the TV show market. Regardless of your preference, Netflix has changed how we watch these shows. I'm sure they looked at customer behaviors and noticed how we all binge hard on the shows we love. Many of us have fallen into binge sessions, consuming 20-plus hours of a show over a weekend or holiday.
So when Netflix releases its own series, they don't drip them out in the traditional model; we get everything at once, and like the glutton I am, I consume with glee. That is of course if it's excellent, and Daredevil – planted firmly in the ever-expanding Marvel Universe – does a lot right.
John Lindvay can be contacted at jLindvay@ErieReader.com, and you can follow him on Twitter @Fightstrife.
Sponsored by: Epic WebStudios