Geeked Out: Physical Gaming
"As I have grown older and as I look back at the physical media that I sold or simply abandoned, I feel a pang of regret."
August 6, 2014 at 9:00 AM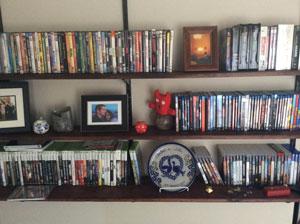 We've been asking ourselves the following question for years: Will physical media be completely replaced by digital media? It is quite the contemplation, and I have found myself on both sides of the argument – for and against going totally digital. Let's jam.
Part of being a nerd or geek is that we love something so much that we want to consume as much of it as possible. Traditionally we house physical shrines to the media or culture we enjoy the most. We all have our thing, whether it is Star Wars memorabilia, classic video game collections, vinyl collections, or rows of boxes stuffed with comic books. We love this stuff so much that in some ways it helps externalize how we identify ourselves as individuals. We wear superhero shirts because we want to signal to those around us just what type of nerd they are messing with. 
There is a grim fact behind this tradition of collection, though; physical media sales are down and are continuing to decline. Physical copies of movies, comics, and games are dwindling and are being replaced by digital copies that are stored on our tablets or computers. 
I used to celebrate the digital age. When I was younger and I saw my massive collection of CDs and all these computer game boxes littered about, I dreamed of a day where I wouldn't need any of it. I dreamed of services like Steam, where my collection of 340 games is just a number on my screen. Pandora, Spotify, and even iPods have helped me alleviate my physical disc woes. Netflix and Amazon Prime have hundreds of thousands of movies all at my fingertips, more than a lifetime of movies all just living up in the cloud.
When you look at it all, it is amazing. But as I have grown older and as I look back at the physical media that I sold or simply abandoned, I feel a pang of regret.
I would wage that many of us who identify as geeks and nerds look at our collection in a specific way. It may be hard to understand for some, but when I look at my collection of video games, I don't just see the games, I see memories. When I look at my DVD copy of Star Wars I remember the days of being sick and home from school watching A New Hope for the thirtieth time. When I see my copy of Brian K. Vaughn's comic book Saga I remember talking to my friend over coffee about it. I don't just see physical media, I see old friends. 
This change of heart has been manifesting for the past few years and typically it flares up when I am tasked to move. The process of packing and unpacking puts many things in perspective, largest of which is deciding what you are willing to lug around with you. The biggest move I had to do before this past month's cross-country trek was to and from Edinboro and Erie. It is easy to hold on tight to the things you cherish when all it takes is maybe an extra trip or two. 
When you expand this process to moving across the country, though, it gets difficult; yet, I've turned the corner, I believe. Being far away from home now has me looking at the mementos I do have from my friends and family in a different respect. I don't just see a giant red d20. I see my old D&D group sitting late into the night around my old dining room table. 
So I doubt physical media will never die out; if anything, it will get only more precious. When I visited Action Toy Man in Erie recently, it solidified this notion for me. There will always be a market for these artifacts. Just as there will always be a sick kid home from school watching his favorite film, holding his favorite blanket, surrounded by comfort creating memories with physical media that will endure long into the future.  
John Linvday can be contacted at jLindvay@ErieReader.com, and you can follow him on Twitter @FightStrife.