Geeked Out: The Apple Watch
Highly dependent upon an iPhone, Apple's wearable device leaves a lot to be desired. 
April 15, 2015 at 7:00 AM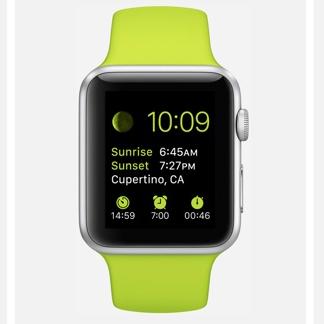 Back in September 2014, Apple announced it was time the tech company got into the watchmaking business during a special event in Cupertino, Calif. In one fell swoop Apple entered the same realm of the James Bond tech-fetishist and Casio calculator watch aficionado, and in the process has begun to make us all rethink what we want from a smart watch.
I'll be the first to say that I am not an Apple evangelist. I was a latecomer to both the iPhone and iPad, and I still don't own a MacBook of my own. Though, since having experience now with all these devices, there is a certain level of appreciation I can give their products and how they all work together.
This is the case with the Apple Watch. It is a physical app/accessory to the iPhone, starting at $350 and goes up to as much as $17,000 for the 18-karat yellow gold case with "bright red modern buckle."
Honestly, I was confused at first. I thought, like some of you, that it was a watch first and foremost. I thought that it had its own native apps, and I figured it would be like having an iPhone and an iPod combined. Occasionally there would be some neat interaction between the other devices, but the watch could just be its own thing.
This is where I was wrong.
The Apple Watch is designed to work in tandem with your iPhone. Without an iPhone, it can still act as a watch and allow you to listen to music — if you have a set of Bluetooth headphones that is — control your Apple TV, hold your Passport information including airplane boarding passes, but little more. However, the most interesting feature of the watch, with or without an iPhone, is Apple Pay, a service that stores your credit card information in Apple mobile devices to then be used to pay for things at retail locations. Basically it replaces those magnetic strips with a digitized version that transmits over a near field communication, so all you need to do is tap and pay.
But other than that, most of the functionality of the watch is tethered to your iPhone. This is what has some people very excited and other people, like me, underwhelmed. To help everyone understand this split, let's envision a real-life scenario we've all had to endure:
You are out at one of the fine libation establishments in our fair city, grabbing drinks during happy hour. As you enter, you pull out your phone and send a group message to some friends that you are out for happy hour and they should come. Perhaps you also do a tweet, and, if you are really into social media, you check in on Facebook/Foursquare/Instagram/ whatever. You slide your phone back into your pocket like a gentleman and proceed to engage in conversation with your local patrons or friends you walked in with.
Then the notifications start rolling in, the constant buzzing in your pocket forcing you to do the arduous task of dragging the phone out and then flipping it the right way to see who liked/favorited/responded to your last blast. This process happens ad infinitum and everyone around you hates your guts.
Does this sound familiar? We've all been there. Some of us just leave the phone on the table now, obviously signaling to everyone else that this moment isn't just for those sitting around the table, but for the whole entirety of our social network that is seated at the table via our phones.
The Apple Watch is meant to eliminate that process of dragging the phone out to allow more discrete interaction with all of our contacts. When you get a notification, the Apple Watch will give you a tap on the wrist letting you know something fresh has come in. However the main complaint I've seen from reviewers is while this is less outwardly distracting, it is still very distracting to the user. While perhaps this is something people will get better at tuning out, all it does right now is make you more aware of all the people you are ignoring, whether it be those in front of you or those communicating with you out in the ether.
All in all, I am excited for the future of wearable tech, but I have yet to see something that is compelling to me personally. Things like fitness wearables are spotty at best, and right now a physical app of my phone seems strange, but then again I am one of the few people who still uses my phone primarily for phone calls. I am a freak, I know. But this doesn't stop me from being fascinated with the potential of devices like the Apple Watch.
The Apple Watch sold out of pre-orders in hours for its original launch date of March 24, and any pre-orders from here on out will be delayed by weeks/months in being fulfilled. So obviously people are pretty excited… are you? I would love to hear what you think about things like the Apple Watch. Are you getting one? Are you excited for wearables? Is it all hogwash? Let me know and perhaps we can figure out what all the hype is about.
John Lindvay can be contacted at jLindvay@ErieReader.com, and you can follow him on Twitter @Fightstrife.
Sponsored by: Epic WebStudios