Geeked Out: Towerfall, SportsFriends, and Lethal League should all be next in your queue of games to play
Here are a several low-profile, multiplayer video games that deserve to be on your list, according to our gaming expert. 
October 29, 2014 at 7:40 AM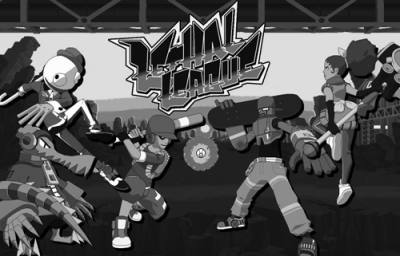 As the weather begins to force us all indoors, I figured now would be a good time to share some of my favorite multiplayer video games, so that as we each recede back into our warm and cozy dens, we can invite some friends over and throw down with a competitive fighting game or two. But I'm not here to talk about the popular franchises of Street Fighter or Mortal Kombat; rather, let's look at titles that are newer and more accessible to fighter newbies.
Towerfall was a game first released on the OUYA, a console that got its funding through Kickstarter and is aimed to get smaller indie games on your TV at a low price. Towerfall has since been released on PS4/PC under the revised name Towerfall: Ascension, and is one of the most enjoyed and celebrated competitive games to be released in a long time. While it has a cute and classic pixelated art style, the game is mechanically deep with a gentle skill curve, allowing nascent players to enjoy the game as much as seasoned gamers who've sunk countless hours into the game.
Towerfall – in short – is a game that pits archers against one another as they jump, dodge, and avoid hazards on a two-dimensional stage. Anyone who's played the classic Mario games will feel at home with the platforming, as it was designed with the authentic experience of sitting cross-legged with some friends sharing in the hilarious scenarios that can occur. Special bomb arrows can cause chain reactions, power-ups will morph the screen, and an awesome rewind-slow-mo-kill cam ends each round of combat. The game has received countless articles of critical acclaim from sites like Polygon, IGN, and Kotaku, so grab some friends and slap down 15 clams and have a night like you did back in the Nintendo 64 GoldenEye days.
Another fantastic title that is on PS3 or PS4 is SportFriends, an amazing four-game bundle. While it may be easy to call the games contained within merely a collection of mini games, you would be woefully underselling the compelling nature of the contents found therein.
Super Pole Riders is a game where players face off as pole-vaulters trying to kick a ball strung across a wire to the opponents' goal line. The catch is the controls are not at all intuitive and physics often work against you.
Then there is Bari Bara Ball, which is best explained as a cross between Super Smash Brothers and water polo. Players fight over dunking the ball for goals while dunking opposing players at the same time.
Also worth noting is the ice-hockey/king of the hill game, Hokra, where teams of two pass a puck around to hold it in their zone for points while dodging the enemy team. This is often the game where the room goes quiet and brows are furrowed with intensity as each team tries to outwit the other.
Finally in this suite of local multiplayer games is Johanna Sebastian Joust, or JS Joust for short. Played with PS4 controllers or the PS3 Move Controllers, players clear the room and play a game that is more physical than it is digital. Imagine holding a glass of water in your hand, and the objective was to get the other players to spill water out of their glass, all the while music plays in the background enforcing a "musical chairs" rule scenario where you must move at the speed of the music.
JS Joust is one of my favorite games of all time. Since it is more a physical game, I love seeing the different stances people take, or what objects/clothing people are willing to throw, pelt or twist at you. All four of these games comprise SportsFriends and you can get that for $15 on the PlayStation Network for your PlayStation 3 or 4.
Finally, the latest and greatest game I have been enjoying with my gaggle of gaming buddies is Lethal League. Currently this "competitive projectile fighting" game is currently only available on PC. With a simple three-button control scheme, players bat around a ball that bounces off the walls of the stage. When you hit the ball, it's tagged with your color, and if the ball strikes any other player, they are knocked out. The twist is each successive hit on the ball increases the speed. Then after a certain point, it becomes more of a game of chicken with the mind of your opponent.
So next time you are looking for an awesome game to throw down on with some friends, why not give one of these newer, lesser known games a chance? I love the nights that end with me and some friends shouting and hollering at a screen celebrating the immense amount of fun competitive video games can provide.
John Lindvay can be contacted at jLindvay@ErieReader.com, and you can follow him on Twitter @FightStrife.