Gem City Playbook: Grounded Art Center
The art venture from Sarah Moody and Ashley Pastore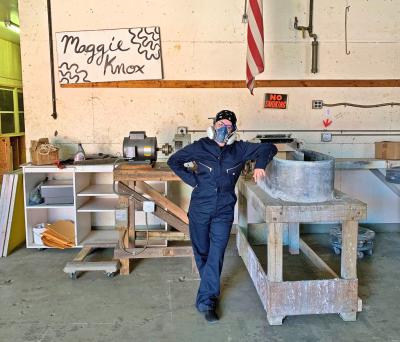 Located in the heart of Little Italy is a classic two-story industrial-style brick building built in 1930, at the beginning of the Great Depression. Outside hangs a sign acknowledging Angelo's Roofing and Construction, but inside something different is astir.
A new collaborative effort spearheaded by Ashley Pastore and Sarah Moody will be opening up this month. Known as Grounded Art Center, the collaboration brings Maggie Knox Western (a contemporary arts incubator, residency, exhibition space and 501c3 non-profit directed and operated by Moody) and Grounded Print Center (a print and paper shop operated by Pastore) into a collective unit that will become a contemporary membership-based organization providing a unique combination of all the above. The space will be dedicated to supporting the work of projects in the arts by providing access to space, equipment, resources, community, workshops, and exhibitions.
Because of this effort, the two also recently won first place (a tie alongside Whitethorn Digital) at the Big Idea StARTup Competition hosted by Ben Franklin Technology PArtners, splitting $50,000 between the two groups.
As for how this all came to be?
Pastore and Moody jumped on a phone call to talk about their experiences. Pastore opens, "I moved back to Erie under a year ago. I finished my master's in fine arts from the School of the Art Institute of Chicago with a degree in printmaking. I really honed in on this idea of a print shop because of being in this super political environment in Chicago. I have a lot of pride in being from Erie because it's a hard-working town. I started thinking that if I'm the kind of person that will leave (Erie) and never return and help influence the culture, then I'm part of the problem." Pastore believed Erie would be a perfect spot for her business. "I wanted to create a print, papermaking, and collaborative workspace. Somewhere that would foster creative thinking to ultimately influence our community as a whole."
Moody's path was slightly different.
"My mother is from Erie, so I've been visiting here my entire life." Moody grew up between New York City and Miami, but often traveled to Erie. "We came to Erie twice every year when I was growing up." She developed an interest in photography at 10 years old, but even at a young age, she clearly had a talent for it — one that stayed with her throughout her life. "I went to college in New York to study." She ultimately received a Bachelor of Fine Arts from Parson's School of Design alongside a Bachelor of Arts from Eugene Lang College. "After college I moved to Miami and started a gallery space called Maggie Knox which was an incubator and exhibition space, and an artist's residency, with programming [featuring] emerging female artists as the focus." She ran that for three years. "I was part of the Miami art community and programmed and worked with many different events inside of contemporary art." Much of Moody's work focused in new development efforts and redevelopment of neighborhoods. "I was making art about it — talking about it and addressing these efforts."
She was also responsible for helping to open MADE at the Citadel — a creative co-working space in the heart of Miami. "All of this was feeding this big vision and dream to open an incubator and creative art space where collaboration and community around the arts was the main focus."
Her sister was diagnosed with osteosarcoma, a rare form of bone cancer, back in 2012 and she would go back and forth from Miami to Erie to be with her. "My sister was treated in Erie until she passed." She ultimately chose to move to Erie. "I moved here in 2017. I became aware of all the revitalization efforts going on and I wanted to be part of it in a big way and wanted to honor my maternal family legacy and felt Erie could benefit from my energy."
Moody and Pastore met through a mutual friend, and ultimately the collaboration of Maggie Knox Western and Grounded Print Center was born. "Maggie Knox Western is named after my maternal grandmother and my family's business — Knox Western — which is still in Erie. Maggie Knox Western is the incubator for creative businesses and Grounded is a print and paper making space with photography that is a collaborative space for Erie."
The duo is also looking to create a link to newer technology. "We want to be a place for artists in Erie to work — activating and programming different spaces in Erie." Currently, there is equipment for printmaking, paper making, and traditional black and white darkroom photography. They will also be selling artwork.
Pastore tells me, "we were both very interested in being in Little Italy because of [its ongoing] revitalization." It was serendipitous experiences that brought them to their current location. "It had everything we needed. The location was great, the space was perfect for what the print shop needed, and the price was right."
"The nature of a print shop is communal. The equipment is heavy and expensive. In contrast to other art spaces, you won't be renting a studio space. This is where all different kinds of people can really collaborate through this kind of medium. It is meant to be a place to communicate with each other."
The memberships will be tiered. Pastore explains: "There will be a monthly membership and a patronage membership as well as other options. You can come and get a day pass, and there will be workshops to learn how to use the equipment. "If you are a [patron] member, this membership will get you access to events we have — more of a donor type of relationship."
They are planning for a late July opening, but as with any business, it's reliant on all the pieces coming together. Moody adds, "We hope Maggie Knox Western and Grounded [Print Shop] add to the revitalization of Erie by retaining student artists and growing the contemporary art community. We want to be a pillar in that effort and continue to grow our equipment offerings, as well as regularly host exhibitions. We also hope to collaborate with many of the other cultural institutions in Erie."
In the end, I am reminded of a quote by Philosopher Alan Watts, "The only way to make sense out of change is to plunge into it, move with it, and join the dance." These two epitomize it.
Rebecca Styn is the Executive Director of the Idea Fund Erie, a nonprofit organization that supports entrepreneurial development and is the proprietor of Room 33 Speakeasy. She is also completing her Ph.D. in Leadership and Organizational Learning from Gannon University. Follow her on twitter at @rstyn.