Gem City Playbook: The Secure Erie Accelerator
How startups like Kwema can reach globally and still stay local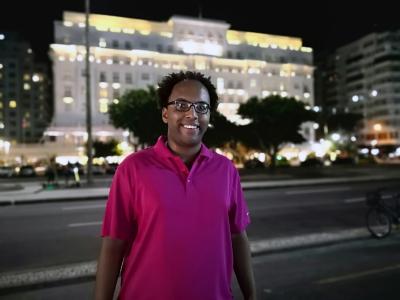 In 2017, the Erie Innovation District took root in downtown Erie.
The organization was created to encourage connections between academia and industry and to develop new knowledge-based businesses — focused on security, intelligence, and safety. The intent is to find groundbreaking technologies offering solutions for civilian defense, securing government institutions, and to create a secure and safe city.
In just over two years, the organization has made great strides.
In July 2018, the EID piloted an initiative in partnership with Quantela, a global data analytics company, to remake a section of downtown Erie as a "secure smart city" — equipped with free Wi-Fi, cost-efficient LED lighting, and security cameras. And during that summer, it graduated its first Secure Erie Accelerator (SEA), with a second one slated to start in June 2019.
For those who are not familiar with the SEA, over 10 weeks, the organization hosted (alongside Singularity University) a business boot camp that brought nine tech-focused startups to Erie. Each received a $50,000 investment from the Innovation District, in addition to intensive training and mentoring. Singularity's global headquarters are located on the campus of NASA's Ames Research Center in Silicon Valley, and SU offers a variety of programs designed to prepare global leaders and organizations for the future.
Of the nine, five chose to stay in Erie. These companies, in one form or another, chose to lay roots in our Gem City. Those five included: SimpleSense, a company that designed occupancy sensors that generate smart routes in an emergency to direct first responders to victims faster; CityGrows, a system where any government can easily set up and manage permits, licenses, requests, payments, and processes online; Rebric, an organization that provides a machine learning platform, currently focusing on addressing money laundering and transaction fraud; SmartDrive Systems, a safe driving device that establishes a zone around the driver's seat to limit phone functionality while driving; and Kwema, a company that developed a discreet and fashionable wearable accessory that has a hidden panic button, and can be integrated to any security protocol.
I had the opportunity to talk to Ali Al Jabry, Co-Founder and COO of Kwema about his business and why he "chose Erie."
For Ali it was a personal experience that drove him to help create Kwema. "Having nieces and sisters, I am fully aware of how insecure this world can be for women. The figures are alarming. Every 98 seconds a woman in the United States suffers an act of physical or sexual violence. And every day in Mexico, nine women are victims of a femicide [the killing of a woman or girl, in particular by a man and on account of her gender]. Our mission is to support these victims and prevent these atrocities from happening."
Ali was attending a Smart Cities conference in Cincinnati when he first learned about the SEA. "I met with someone from Singularity University who was interested in our company and what we were doing. It was the connection that afforded me the opportunity to learn about the SEA. We had kept in touch, and about eight months later he reached out to me recommending I apply as he thought we would be a good fit for the program."
Ali found the program to be invaluable — even during its short 10-week tenure. "I had so many opportunities to meet with fellow founders or mentors over dinner, and being able to share ideas, war stories, problems, and progress was invaluable. Sometimes those sessions went on for hours, but they were highly necessary — and grounding. Today, I make sure to keep that going with fellow entrepreneurs that call Erie home."
As for why he chose to stay in Erie? "The main reason was the sense of community. Right from the onset, I felt embraced and welcomed by varying groups in both a social and professional perspective." The location was also ideal. "The size of the city and proximity to both coasts and Mexico made for a perfect launchpad for our company."
Ali also mirrors what many other transplants feel about our community. "As an entrepreneur, you end up working anywhere from 60-90 hours a week, which means you need to find some time to blow off some steam. The activities that one can do around Erie in a very spontaneous manner are just the perfect answer. From Presque Isle, to watching a Seawolves game, to a quick day trip to Cleveland, the activities one can do are quite high for a city that isn't considered a major city. Did I mention how awesome the summer festivals are?"
Ali's company also recently won a Silicon Labs Award at the International Pitch Competition at SXSW. "Out of 50 companies who participated in the pitch competition — we ended up in the top five and received the only Technical Merit award from Silicon Labs."
Erie doesn't need to be Silicon Valley to be a thriving start-up scene. Rather, we must leverage our strengths to help shape our own distinctive ecosystems and identities. And we are doing just that. Our community already boasts the academic expertise, the technology drivers and the entrepreneurial ecosystem. We fully recognize where we are --- and we are capitalizing on it.
The SEA is currently accepting applications from companies of manufacturing and defense. Interested in learning more? Go to: www.erieinnovationdistrict.com
Rebecca Styn is the Executive Director of the Idea Fund Erie, a nonprofit organization that supports entrepreneurial development and is the proprietor of Room 33 Speakeasy. She is also completing her Ph.D. in Leadership and Organizational Learning from Gannon University. Follow her on twitter at @rstyn.