Gem City Style: Best of Erie 2022
A Q&A with Best Local Entrepreneurs of 2022 Jason and Nicole Lavery of Lavery Brewing Company
January 18, 2023 at 8:00 AM
Jessica Hunter (JH): Tell us a little bit about Lavery Brewing, what inspired you to become a brewer, and how it all started?
Nicole Lavery (NL): Believe it or not, I started enjoying craft beer before Jason and I even met! After we got married, we visited my brother in Michigan, and Jason found a book about homebrewing. He and my brother decided to homebrew a batch and Jason got hooked. I bought him a homebrew kit for his birthday that year and he never stopped. As for getting started: I was interviewing for an occupational therapy position in Limerick, Ireland back in 2008 (we were planning on moving the whole fam). I did not get the position, but Jason and I had already been talking about opening a brewery at some point in our future, so I said let's do it! If we can move our family across an ocean and to a new country, we can open a brewery. And the rest is history.
Jason Lavery (JL): Brewing is in my wife's family's blood. Her cousins own two breweries in the region, Voodoo and the Brewerie at Union Station. Nikki's brother Andrew Oleski is an accomplished homebrew/winemaker and got me into the hobby when I was in grad school. Once I got the brewing bug, I decided this was the life for me. I started apprenticing at the Brewerie at Union Station and we haven't looked back.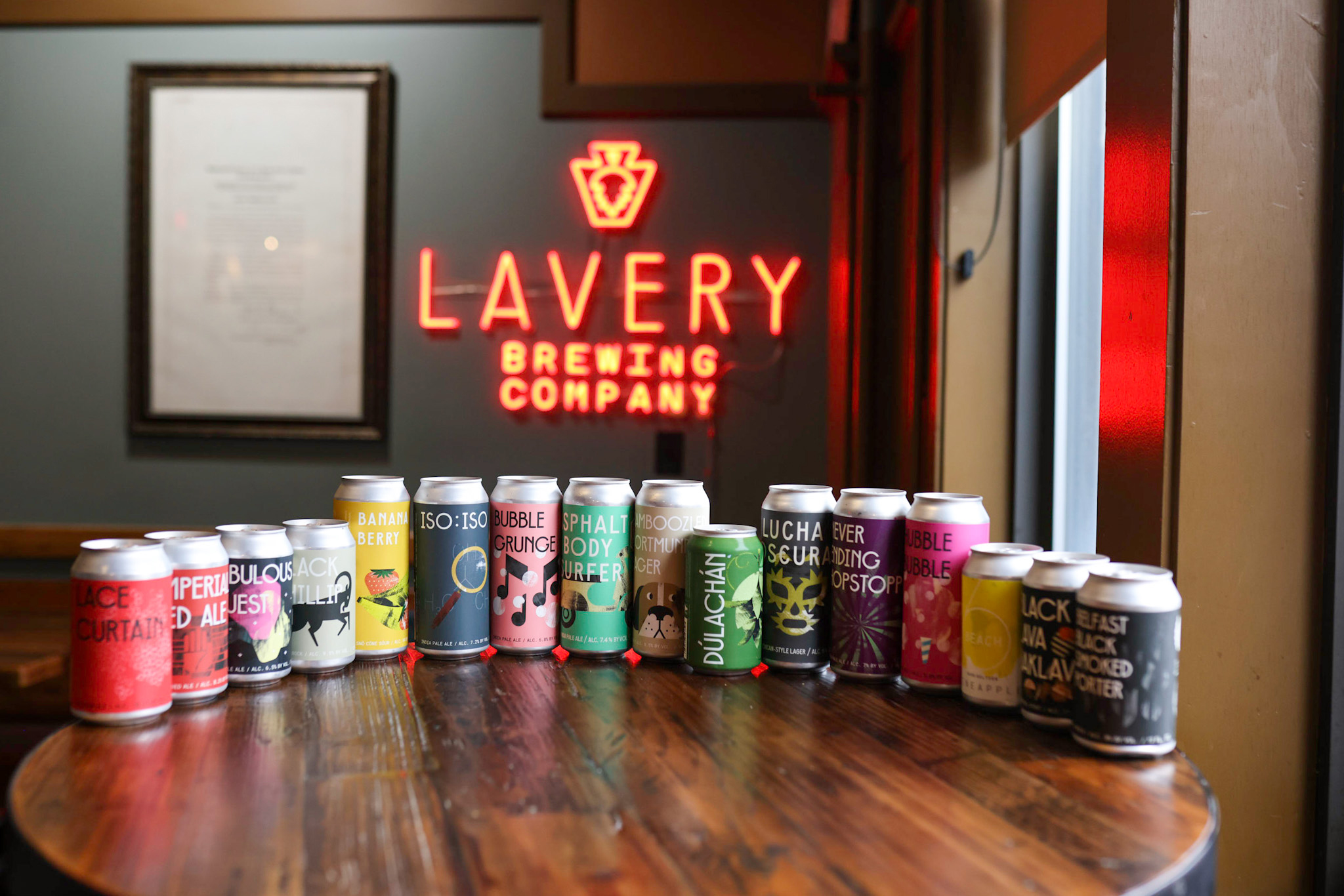 The Lavery Brewing Company produced over 50,000 gallons of beer last year and nearly every drop stayed within Erie County. Supporting the local community is very important to the civically minded couple. 
JH: Beer and breweries can define a city. You've been around now for about 14 years. How have you helped define Downtown Erie?
NL: In my humble opinion, I believe that we have made Downtown Erie a better community. We recently explored our mission and values statements and determined that community and relationships are our number one values. We believe that people come first, and taking care of each other is a top priority. I believe this is echoed in our team, our customers, and the community as a whole, as Jason and I donate both our time and our money to those in our community that need it.
JL: For the past 14 years, we've tried to make beer that is worthy of our hometown. With a mind to the Koehler Brewing past, we've sought to create a brewery that Erieites can be proud of, call their own, and find on tap at almost every bar in town. A lot of people don't realize this, but last year we made over 50,000 gallons of beer and almost every drop stayed in Erie County  — we exported a small amount to the UK. Our goal has always been to create beer so good, fresh, and local that tourists feel they have to come to Erie to taste it. With the amount of awards we've won around the country growing every single year since 2013, our goal is accomplished everyday via beer tourism to the region.
JH: So I think we all agree that being voted best entrepreneurs has been a long time coming, but as you said, you are also very active in the community. Can you tell us about what you do outside of running an extremely successful brewery?
NL: This is a loaded question for me and is a great follow-up to the previous question. On top of being a full-time mother of three kids: Hanna, Donovan, and Meara, I am also a full-time, tenure track professor at Gannon University in the occupational therapy department. When Jason and I first opened, we realized quickly that one of us needed to have "normal" employment for peace of mind, which is why I don't work full-time in the business, but this allows me to pursue my other passions as well. I recently stepped down as chair of the board of L'Arche Erie after nine years, where I also served as vice chair and committee chair of the governance and development committees. L'Arche, which is an organization that assists those with intellectual disabilities, also happens to be the place where Jason and I first met. We both worked there while in college.
I am also very active with my state organization for occupational therapy, the Pennsylvania Occupational Therapy Association. I am the commissioner of conference, served as the co-chair of the mental health task force, and sit on the legislation and advocacy committees as well. I am an elected Democratic committee person, co-chair of the Pink Boots Society, which is a women's run organization that focuses on the education of women in the brewing industry, and a member of the Erie Ale Trail. We do all of this on top of running a successful business, trying to maintain life balance, and traveling around the world!
JL: Nikki and I both serve on numerous boards and are heavily invested in making this community a better place that future generations can enjoy. I'm on three levels of beer boards (local, state and national) with intentions to make sure Erie and Pennsylvania are always at the table when decisions are made. My current board service includes: vice president of the Brewers of Pennsylvania, legislative chair of the Brewers of PA, secretary of the Lake Erie Ale Trail, Brewers Association Brewpub committee co-chair and Government Affairs committee member, and Montessori Regional Charter School Board of Trustees.
JH: We've heard the exciting news for the expansion of Lavery Brewing. Can you share some details for the project and what this means for the future of the brewpub?
JL: It will be a game changer. We built our current pub back in 2013 and so much has changed for us. Not many businesses get opportunities to expand and remake their public spaces like this. Our plans include a longer and more efficient bar, an exposed kitchen with new equipment, new signage, and a complete rethinking of how we use the pub. We will have lots of cozy spaces as well as even more standing bars where people can gather, set down a beer, and snack on some delicious tacos.
JH: If you were a beer, what style of beer would you be and what would you call yourself?
NL: This is a tough question. I would probably be a Belgian Tripel, which is a complex, mildly spicy, but approachable beer. It could be called Gold and Bold! I think those that know me would agree.
JL: I'm obsessed with my family's Northern Irish heritage so I'd probably be a stout. I'd call myself New Ulster Stout — New Ulster was almost the name of Lavery Brewing when we were dreaming this up back in 2009.
For more information on Lavery Brewing Company, their beer, menu, and building, visit: laverybrewing.com
Jessica Hunter can be found at jessicahunterphotos.com