Gem City Style: July 40 Under 40 Issue
40 Under 40 Catch-up: Emily George, David Hunter, and DaVona Pacley
The Reader caught up with three of Erie's 40 Under 40 honorees of years past to check in and see what they're up to these days!
EMILY GEORGE
Jessica Hunter (JH): You were part of the 2018 class. Catch us up! What's new? Tell us about how things have been since you were featured in Erie Reader 40 Under 40.
Emily George (EG):  Hey Jess! I can't believe it's already been five years! A lot has happened and is still in the works. We moved our boutique's location during the pandemic — the Dollhouse at Pointe Foure is now located at 423 State St. in the old Erie Art Museum frame shop which is connected to other local boutiques and the art museum. We are now part of the Flagship City District's Shops at 5th & State redevelopment. And drum roll! This year is a big milestone for the business. It's our 10th anniversary as a brick and mortar (we started up in 2013) and my son Cy is a tween going into middle school.
JH: What challenges have you faced since you were featured; and how did you overcome those obstacles?
EG: Some of the challenges my business has faced were COVID, moving locations, and dealing with the recession. During the pandemic, Pointe Foure had to close its brick and mortar operation for six months and then only partially open for the remainder of the year. I overcame these challenges by offering local delivery on online sales and selling plenty of vintage scarves. When the guidelines eased up and we were allowed to start opening back up we offered private shopping and styling appointments — which we still do! At that time we also worked on our Local LookBook, so that once the world started to open back up, the public would have a pocket-size guide on where to support other local small businesses in our hometown.
Moving is always a challenge and a risk. However, I looked at it as an opportunity to rebrand, refocus, and change our business model. We have spiced our name up, sprinkled in new sustainable merchandise, now carry local plants and fresh flowers alongside our vast inventory of locally sourced vintage golden gems. All things sustainably pretty! We started hosting workshops, like "Build your own Bonsai" with Ashton Ferns and collaborating on photoshoot events with… Jessica Hunter Photography. We have overcome challenges by offering the public more meaningful shopping experiences and events — like our upcoming Summer Citrus Sizzle photoshoot party on July 16 and spearheading Flagship City Boutique Nights which are held every second Friday of the month until September.
JH: What's your advice for other young professionals in Erie?
EG: Adapt and overcome. To succeed despite the challenges — improvise, adapt, and overcome. Repeat this process and persevere until the goal is accomplished. Align your values with your goals and mission. Take risks and dare to own a life you love.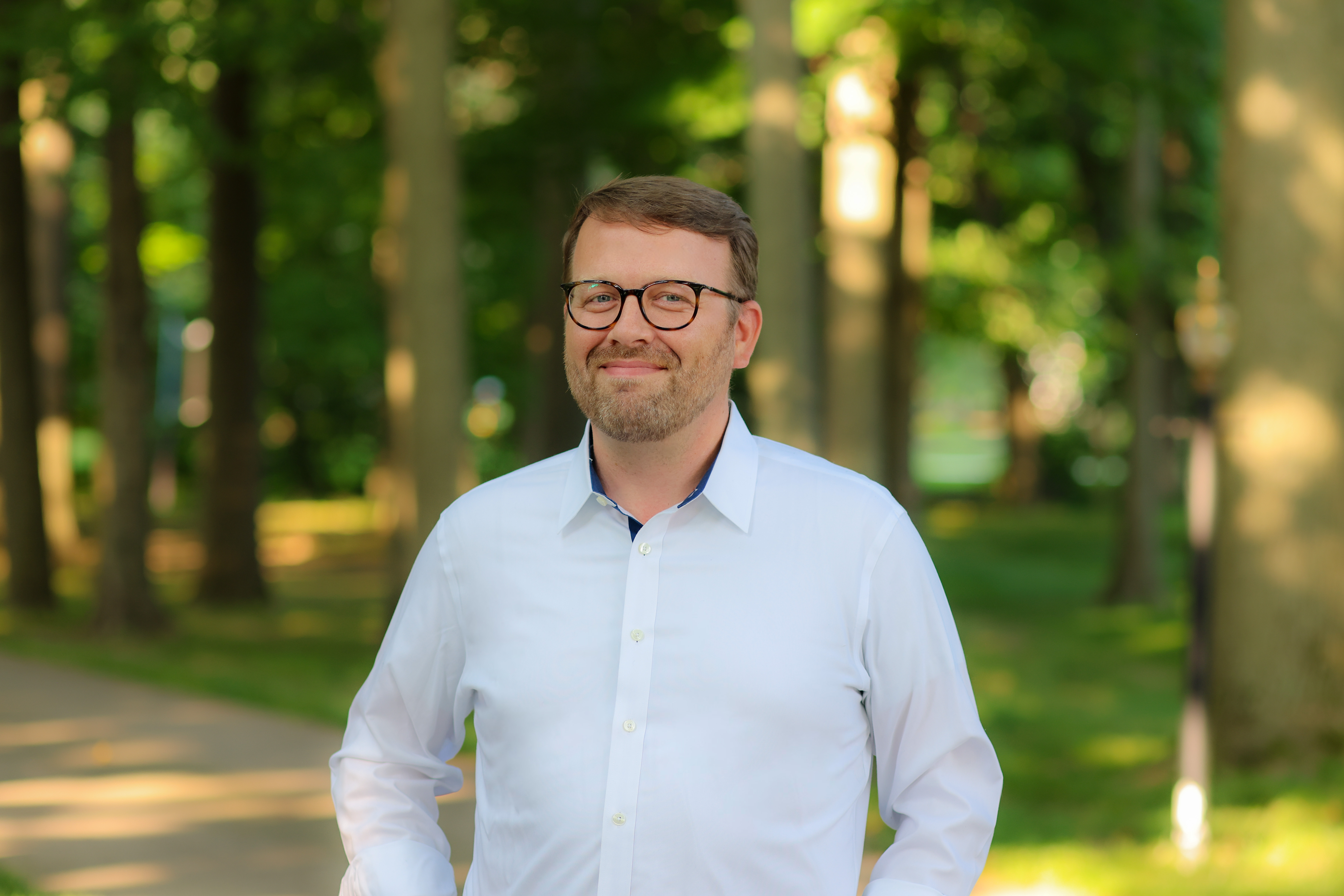 DAVID HUNTER
JH: You were part of the 2013 class — our inaugural class. Catch us up! What's new? Tell us about how things have been since you were featured in Erie Reader's 40 Under 40?
David Hunter (DH): I was just 29 years old at the time I was asked to be part of the inaugural 40 Under 40 class. So much has happened since then; it's hard to even answer this question without writing a short novel. My children are now in their teenage years and my wife is making big things happen with her photography business (and here at the Erie Reader). The business I started with Shaun Rajewski (40 Under 40 Class of 2014), Epic Web Studios, has grown substantially as well. When we first opened our doors back in 2008 we were nervous about hiring even one employee and now there are 18 full-time employees at Epic Web. Plus we offer pretty great benefits like top-tier healthcare, competitive salaries, flexible schedules, and a matching retirement plan; I'm pretty proud of the workplace we've built.
One of the most exciting updates, though, is an entirely new business we acquired last year called LocalFalcon.com. It's a SaaS business (Software as a Service) that shows anyone how they're ranking on search engines within their own city, neighborhood, or region. Local Falcon was started by a colleague of ours who lives on the Canadian side of Lake Erie, Yan Gilbert, and Epic Web Studios acquired the business on July 1, 2022. Since that time we've optimized the platform substantially and we're looking forward to a very bright future.
All-in-all, it's been a pretty amazing 10 years. My family and I have built a really great home and life here in Erie. I'm very happy, healthy-ish (ha), and very optimistic about the future.
JH: What challenges have you faced since you were featured; and how did you overcome those obstacles?
DH: It would be hard to look back on the past decade without at least one mention of the pandemic because that was a trying time for any business. Even though I'm running a digital marketing agency specializing in website development and search engine optimization (SEO), we still like to do things face-to-face and in the office as often as possible. In my experience, it's much easier to celebrate the victories and lament the defeats together as a team than when you only see your coworkers in-person a handful of times each year. Plus, I find the final product is usually a bit more polished when you can communicate with your clients and coworkers in-person; everyone seems to go the extra mile. Even with the difficulties of the pandemic and the realities of remote work, we got through it and came out stronger than when it started.
JH: What's your advice for other young professionals in Erie?
DH: Document and communicate your true needs and wants clearly, or you're almost never going to end up finding success. In my experience, I find strong communication to be the single most important quality a professional can possess. There are so many ways to communicate today, too. If you are nervous about face-to-face communication, then write things out in an email or on Slack. If you're not a strong writer, then try using the phone. Maybe you're better at explaining things visually; that's fine too! As long as you can express yourself in a way that others are able to understand, then your career (and probably your life) is going to be a lot less stressful.
Oh, and keep the faith in Erie! Start a business here. Buy a house here. Start a family here. I promise you will be pleasantly surprised with the support systems that have been created for all of these things and more over the past decade. Erie is actually an amazing place to live, work and play. There are not many places where you can take a 30 minute drive and go to the beach when it's warm and skiing when it's cold (sometimes that can practically happen on the same day in Erie). There aren't many places where you can buy a really nice single family home for under $200,000. There aren't many places where a week-long sleepaway summer camp for the kids is less than $1,000. Did you know your kids can join a sailing club here for just a few hundred dollars and they're out on the water multiple days every single week? The opportunities you'll find in Erie are boundless. Make the commitment to Erie — you'll end up with a pretty amazing life.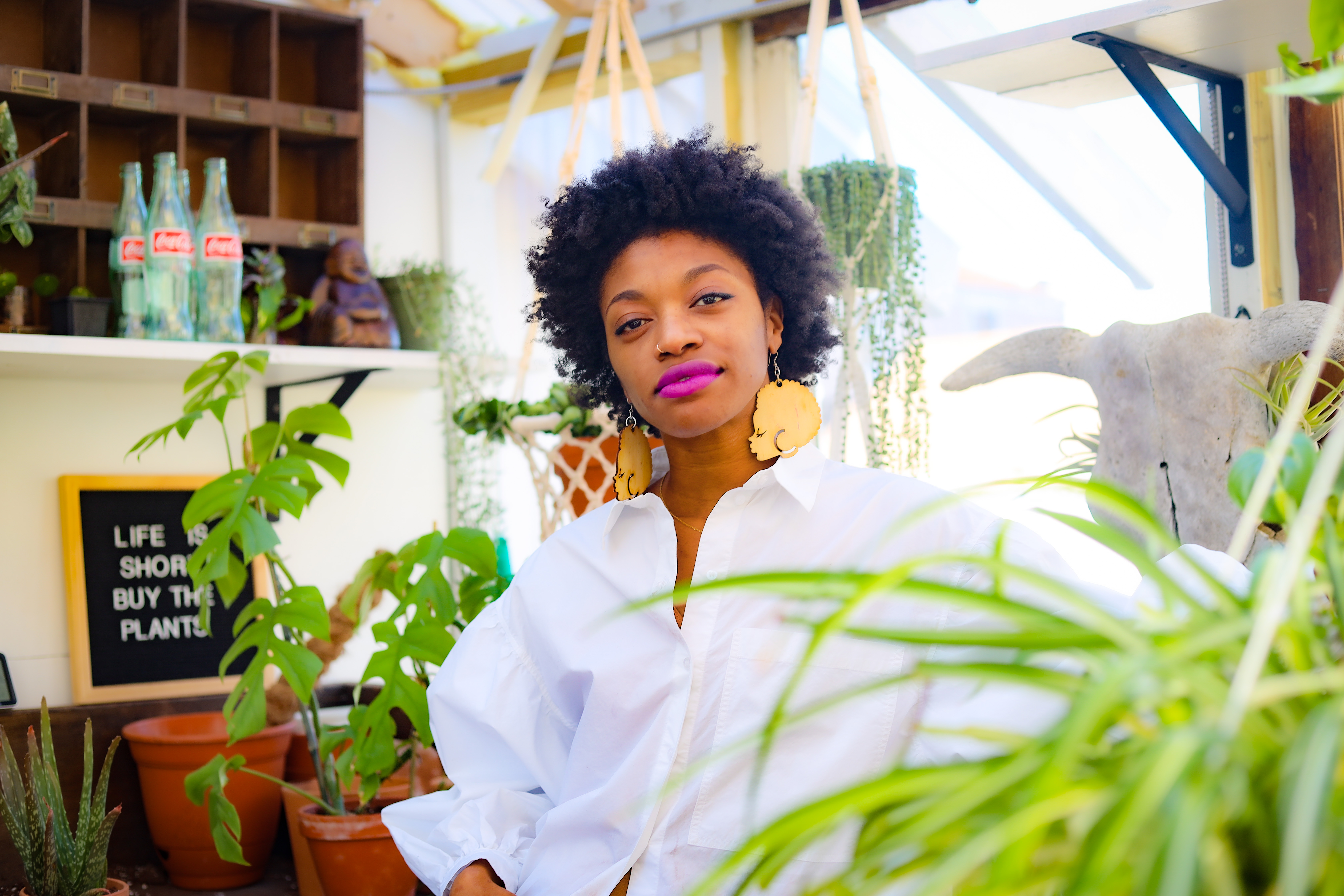 DAVONA PACLEY
JH: You were part of the 2019 class. Catch us up! What's new? Tell us about how things have been since you were featured in Erie Reader 40 Under 40?
DaVona Pacley (DP): Since being featured in the 2019 Erie Reader 40 Under 40, so much has happened. In full transparency, in 2020 I was laid off from my job (at Sarah Reed Children's Center) of five years due to COVID, which was a blessing for me and led me to become a trained birth and postpartum doula. My job has also changed and I now work part-time as the community engagement associate for Erie Arts and Culture and a full-time business owner of Flow Freely — working independently and within a local community doula group, BirthRoot.
From personal experience, as Black and Queer femme, I didn't see folks that looked like me conducting yoga, reiki, or meditation classes here in Erie. I wanted to create an inclusive, diverse environment that supports my fellow Black and Queer folk. In my intention, it was imperative that I provided an open, brave, and intentional healing space for people that also prioritizes our Black and Queer community. My passion is to guide those who are seeking support to explore their own personal truths and be liberated. I offer support as one grows through the journey of transitions in life, whether that be birthing a child, new experiences, new perspectives, and so on. This inspired me to create my business, Flow Freely — a holistic wellness business based in Erie that offers birth companion (doula) support, Usui Reiki energy healing, and meditation services.
Recently, I have partnered with Journey to a Trauma Informed Life's Wellness Initiative, which offers services to their Journey-ers and the community. These services include Reiki energy work, trauma-sensitive yoga classes and meditation sessions in collaboration with local BIPOC and LGBTQ+ providers. For Journey's Summer Solstice celebration, I led a 10-minute guided meditation and loved it!
I also provide Reiki sessions on Mondays and Fridays in Journey's Reiki Room located at 201 W. 11th St. You can learn more about me and Flow Freely by visiting flowfreely.space. Come flow with me!
JH: What challenges have you faced since you were featured and how did you overcome those obstacles?
DP: I have faced and still face many challenges, so that would be a whole article in itself! I would say the top three challenges for me were learning to say "no" to things, opportunities, etc. that do not spark joy, implementing my personal and professional boundaries, and resting without feeling shame for doing so. Also, TIME is more valuable than any monetary or material things!
I overcame these obstacles by taking a step back and reevaluating myself and my environment. I've asked myself: what am I willing to give my time to? Who am I willing to give my time to? Does this add value to me? Does this align with my personal and professional vision or mission?
I'm also blessed to have a support system: my wife, close friends, family, and business mentors. I have folks that care for me and hold me accountable.
Lastly, I sought out a therapist again, I was growing through (still am) a transition in my life. So it was very important to me to take care of my mental health during these changes.
JH: What's your advice for other young professionals in Erie?
DP: My advice for the other young professionals in Erie is to stay true to yourself. It's easy to get caught up in the hype of what others are doing — you can lose yourself that way. Each of us have unique gifts and it's up to us to learn, grow, and develop those gifts so that they can be shared with Erie and beyond.
Jessica Hunter can be found at jessicahunterphotos.com