Gem City Style: October 2023
An interview with Jesse (Olszewski) James - Filmmaker
October 4, 2023 at 12:00 PM
Jessica Hunter (JH): Jesse, for those of us that have not had the pleasure of meeting or working with you, please tell us a little bit about who you are and how you got to where you are today.
Jesse (Olszewski) James (JJ): I've always had an innate desire to create in various forms. This enduring passion has been a guiding force throughout my life, leading me through diverse chapters that include explorations in visual arts, theater, and even a stint as a magician. However, it was in the world of filmmaking that I discovered my true calling, where I could artfully craft captivating narratives through the medium of film. The sense of fulfillment I derive from this choice is something I still find astounding.
Today, I'm widely recognized as a go-to person in Erie's vibrant film community, or better known as a "fixer." This role entails helping productions secure the resources they require, whether it's essential equipment, a skilled crew member, or the perfect location that welcomes a film crew onto their property. Over the past decade, I've dedicated myself to refining my skills as a filmmaker while also lending a hand to fellow creators in our region, empowering them to transform their cinematic visions into reality.
JH: Describe your experience with the film industry in the Erie region. What are some resources in the area that may have helped your growth as a film professional? How does Erie compare to larger film markets?
JJ: My experience in the Erie film industry has been both enlightening and enriching. Having worked in both larger and smaller markets, I've noticed a distinct character to the narrative projects that emerge from Erie. Technological advancements and the wider availability of filmmaking tools have leveled the playing field between smaller and larger markets when it comes to the actual production of films. The scripts and stories still rely on a blend of talent and skill, and marketing a film remains a unique challenge. However, what sets Erie apart is the palpable passion that infuses our local projects.
In Erie, our filmmaking community is close-knit. Most of us know and respect one another. When we come together to collaborate on each other's projects, we tap into something truly special.
For aspiring filmmakers, it's crucial to know that Erie offers a wealth of support organizations. The Greater Erie Film Office, a program of the Film Society of Northwestern Pennsylvania, has been instrumental in my growth. It's designed to connect productions with Erie's resources, whether it's actors, crew members, locations, equipment, or guidance on project success.
If you're more inclined to watch movies, the Film Society hosts regular film series at various venues and has revived the esteemed Eerie Horror Fest, offering curated film lineups and celebrity guest appearances. CAM Erie provides an incredibly affordable annual membership that grants access to their staff and facilities, including a professional recording studio, a large green screen cyclorama, editing suites, field equipment, a podcast studio, and more. They also offer training to learn and utilize these assets effectively.
In terms of education, Penn West Edinboro offers a four-year film program, while Penn State Behrend has its multimedia DIGIT (Digital Media, Arts, and Technology) program. I've had the pleasure of meeting numerous aspiring filmmakers from these universities.
WQLN plays a significant role in various media initiatives, highlighting and educating the public in ways that should make Erie residents proud. Their docuseries Chronicles, to which I've contributed in several episodes, showcases Erie's rich history while maintaining a production quality akin to a large network series.
Lastly, I must acknowledge the incredible filmmakers and production companies in Erie who have contributed to my growth as a filmmaker. Collaborating with these talented individuals and organizations, including Distorted Vision Productions, R Frank Media, Oddity Productions, Lyons Den Productions, Grant Larson Productions, FDF Productions, and Maple Street Productions, has undoubtedly made me a better filmmaker and enriched my experience in the Erie film industry.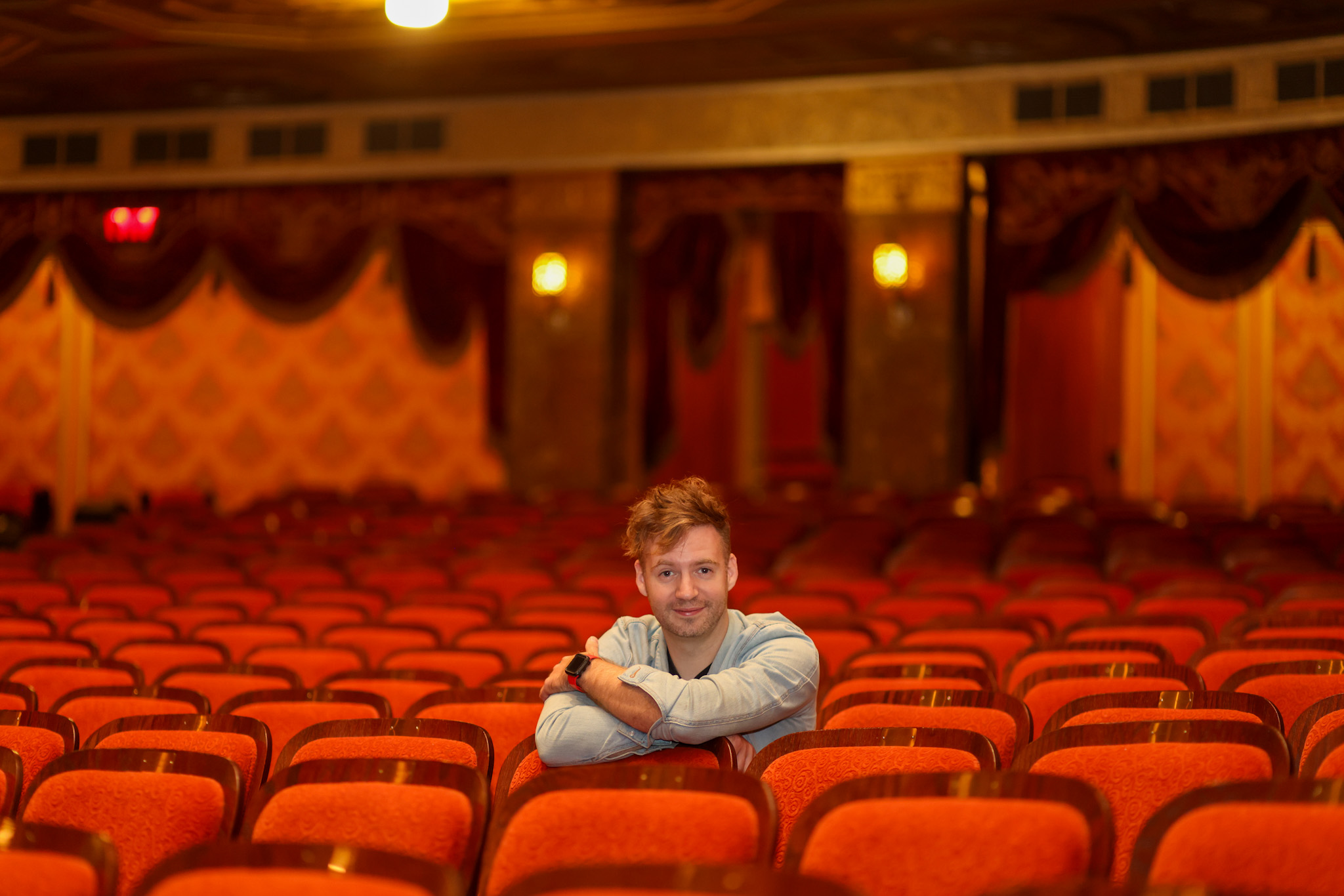 Photo: Jessica Hunter
JH: Can you shed some light on the pros and cons of indie filmmaking? Do you have any tips or advice for someone just starting out their careers in film, television, commercial, or new media?
JJ: Indie filmmaking is a journey filled with both challenges and rewards. One of the most significant hurdles is often funding, as enhancing production quality typically requires more hands and creative minds on board. Moreover, indie filmmaking can be a lengthy process. As an example, my filmmaking partner, Jim Morton of Distorted Vision Productions, and I tackled a 10-minute short film during the pandemic. Surprisingly, it took us over a year to transform the concept into a finished film. Nevertheless, the dedication and hard work invested ultimately paid off, and we are immensely proud of the end result.
For aspiring filmmakers, my advice is to approach your journey strategically. While it's tempting to jump straight into creating a 90-minute feature film, I recommend starting with smaller projects. Keep that feature script close to your heart but begin by producing shorter pieces of content. Focus on making a five-minute short as exceptional as possible, then move up to 10 minutes, and gradually increase the duration. This incremental approach allows you to refine your skills and build confidence before taking on a feature film.
Learning to leverage resources is essential. This involves not only financial aspects but also borrowing, bartering, and collaborating with others in the industry. By developing your skills as a producer in addition to improving your screenwriting and directing abilities, you'll gain the expertise to create high-quality projects even on a shoestring budget, giving your work that Netflix-level polish.
Above all, my single most crucial piece of advice is to immerse yourself in the filmmaking community. Join the crews of other filmmakers, even if it means starting as a production assistant. Offer your assistance, be a valuable team member, and absorb as much knowledge as possible while on set. This approach allowed me to transition from traditional day jobs to working full-time in the film industry. It's hands-on education that can't be replaced, and it can open doors to paid opportunities as you build your career.
JH: You directed, wrote, and produced "The Visit" part of WQLN PBS's Chronicles series which recounts the infamous UFO sighting on Erie's Presque Isle Peninsula in 1966. I was able to watch you in action and work alongside you as the production designer for the episode, such a unique and memorable experience! Can you share a little bit about that project?
JJ: "The Visit" has truly been the most demanding and rewarding production I've ever been a part of. It was another collaborative effort, co-written, co-produced, and co-directed by my partner Jim Morton and myself. We're immensely thankful to WQLN and the Chronicles team for entrusting us to take the reins on this episode.
I vividly recall the phone conversation with Chronicles Executive Producer Mike Berlin, where he gave us the green light and creative freedom for this Halloween episode. We didn't have to stick to the traditional documentary style, so we chose to tell the story in a narrative fashion. This decision led us to assemble a cast of about 50 actors from the community to recreate a bustling 1960s Presque Isle beach. Our journey also involved sourcing period costumes, securing a vintage classic car for the pivotal scene, maneuvering that car onto the sand, and employing advanced special effects to bring to life what the group of teenagers claimed to have witnessed.
Throughout the process, our commitment was to portray the events as accurately as possible, and this included countless research sessions at the Blasco Library's Heritage Room. I can't emphasize enough how much of a team effort this project was, from our dedicated cast and crew to the unwavering support of the Chronicles and WQLN staff. And, of course, a special mention to you, Jessica Hunter — your invaluable contributions to the production were instrumental in achieving the level of detail to our sets that we aimed for.
Regarding the event itself, and having thoroughly delved into every available article and statement, I continue to grapple with the question of whether it was an elaborate hoax or a legitimate close encounter. Intriguingly, in the past few months, there has been a surge of extraordinary information emerging from our government and various sources concerning Unidentified Aerial Phenomena (UAPs) and potential extraterrestrial encounters. While I may remain uncertain about the events of the 1966 sighting, the recent revelations unquestionably add an intriguing layer to the mystery, making it a topic that continues to captivate audiences.
For those interested, WQLN will be airing "The Visit" again this Halloween season on Oct. 7.
JH: Your genre of choice seems to lean more towards mystery, horror, thriller, fantasy and science fiction. I love all of the supernatural and suspenseful vibes! What draws you into this type of work?
JJ: That's because you have good taste, Jessica! For me, it's all about the extraordinary and the otherworldly. You see, I find the everyday world a bit, well, mundane and monotonous. There's nothing quite like the thrill of a hero's journey, filled with passion, danger, and triumphs.
As a defense mechanism, my mind seems to have compensated by developing traits like an overactive imagination, a penchant for excessive daydreaming, finding solace in introverted moments, and an insatiable hunger for introspection and people-watching. When the real world falls short, I take reprieve in the rich tapestry of stories that play out in my head. And my mission? To bring these imaginative tales from the depths of my subconscious into reality through the magic of filmmaking. It's a real form of alchemy, and it's become my true passion.
JH: Jesse, what is the last horror movie that actually scared you? What is your favorite horror movie and why?
JJ: Great question, it seems like it can be challenging to find truly fear-inducing films in today's saturated market. For me, the some recent movies that genuinely gave me the creeps were Insidious and Sinister.
When it comes to recent favorites, I have to give the crown to Hereditary. It's another film with divided audiences, but personally, I think Ari Aster did a masterful job. He began by crafting a hyper-realistic portrayal of a dysfunctional family grappling with unimaginable loss. Then, he cranked up the tension by introducing a blow after blow of supernatural threats with a truly gruesome climax. It's a 5/5 for me!
Finally when thinking of my top-tops we have to look to the classics. Jaws, Alien, and Aliens are undoubtedly at the top of my list. However, if I had to pick an all-time favorite, it would be John Carpenter's The Thing. This film, in my opinion, epitomizes Lovecraftian horror by presenting a creature so otherworldly and enigmatic that it defies human comprehension. The sense of dread and paranoia it evokes is truly unmatched in the genre.
Jessica Hunter can be found at jessicahunterphotos.com