Get Your Phil-- with Hot Sauce!
Red, Hot, and Gershwin-- or-- Hot, Gershwin, and Red? Either way, the Erie Philharmoic delivered.
April 27, 2011 at 12:00 AM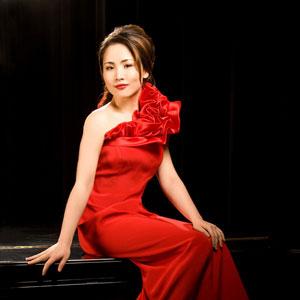 Well, it wasn't Red, Hot, and Gershwin.
Instead, it was Hot, Gershwin, and Red.
Judging by the lengthy standing ovation, this was just fine with the nearly packed house at the Warner Theatre. I can say that with a degree of certainty because I stood there clapping—for quite some time—too.
But can I make a scary confession that you hopefully won't hold it against me?
If the Erie Philharmonic program notes hadn't told me, I'm not so sure I would have noticed that Red came third in the line up, not first.
Who wrote what? Was it Glass, Gershwin, or Shostakovich?
OK, so I think I know a thing or two about music—I show up to listen to it wherever it is and whenever I can, I occasionally flirt with the idea I might one day start a band, and I was in my high school's marching band—don't think I don't see you judging already. But as far as music theory and music appreciation classes, I count myself absent.
But I've seen the Phil before. In fact my wife and I had been there just a few weeks back when the Phil took us on a tour of the magical music of Disney—a night we both thoroughly enjoyed.
Judgments and ignorance aside, though, "Red, Hot, and Gershwin"—however you order it—was an amazing night for Erie music, even if you, like me, happen not to be so well versed in the classics. And with the welcoming nature of the folks at the Phil—they'll even turn their heads if you accidentally clap out of unbridled excitement in between movements—Erie might just be the perfect place to say, 'can I be part of this?' and be welcomed into the fold. Besides, these folks aren't afraid to serve hot sauce before a show—so if what you have in mind are a bunch of stuffy-looking people in penguin suits, you need to reconsider and get some tickets for the next season.
The Erie Philharmonic closed out the 2010-2011 symphonic series Saturday, April 16 by taking a tour through the 20th century, which included pieces from Glass, Gershwin, and Shostakovich. So make that a night of modern classics.
During a night where three was the magic number, there were two standout moments: Di Wu on piano for 1/3 of the night, and the Phil's percussion section during all three pieces.
The Phil began at the end—the end, that is, of Philip Glass's "Heroes" symphony with "V2 Schneider." At least so the program told me.
Apparently American composer Glass churned this score out in 1996 after considering David Bowie and Brian Eno's influential work in the '70s.
The story goes that Bowie and Eno decided they wanted to stretch the medium known as pop and rock 'n' roll. What better a way to stretch it even farther than to arrange the work for classical instruments? At least that's how Glass saw it, as he set six movements to six different themes he saw in Bowie's "Heroes" album.
Of those six moments, the Phil offered up the last movement: "V2 Schneider," which Bowie apparently dedicated to a German keyboardist.
History and back stories aside, it was clear that the Phil, conducted by Daniel Meyer, was having fun—especially the guys and gals holding the sticks. The percussion parts were driving yet playful. Without overpowering the orchestra, the percussion added color and vibrancy that moved the melodies along nicely. In short, it was hard not to tap a toe. 
After a quick intermission, The Phil welcomed Wu out as the featured pianist for "Concerto in F Major for Piano and Orchestra." Apparently Gershwin originally planned to name the piece something less generic, but thankfully for those not as fluent in classical music—me especially included—the title made it clear why suddenly a very large piano and a very small lady were taking the center stage.
A camera was set up to broadcast Wu's playing on a screen above and it became increasingly difficult to attempt to remove one's eyes from the screen as Wu played on through the three movements, fueled with passionate intensity. Wu demonstrated control and passion as sometimes it seemed she was all but caressing the keys while at other times you might swear the keys were about to turn to powder under the pressure of her pressing fingers.
And her hands. Sure, it might have been from my balcony angle, but I swear Wu has the smallest, daintiest hands I've seen. And sure, it could have again been my angle—or the fact that I found myself holding my breath during her more intense and intricate runs—but I was at times convinced that someone had pressed fast forward on the big screen feed.  
As not to keep me hypnotized for the remainder of the evening, the Phil took an intermission. They also turned off the screen.
The Phil closed the evening with Dmitri Shostakovich's "Symphony No. 5, op. 47, in D Minor." When Meyer introduced the piece, he began speaking of "Lady Macbeth." With two degrees in English, he had my attention. "Lady Macbeth," he paused. "Of Mtsensk."
Oh. Not the one I was thinking of.
Meyer went on to explain that Shostakovich faced oppression from Stalin and the Communist heads of Russia since that work portrayed law enforcement in an unflattering light. Facing the fear of being ostracized and expelled to Siberia, Shostakovich responded with his "Symphony No. 5," which according to Meyer, received nearly a half an hour of standing ovation at its debut, thus restoring his claim to composing fame in Russia.
But Meyer noted that Shostakovich may have written the piece tongue-in-cheek. While on the surface, it appears to glorify things Stalin would approve of but on a deeper level it challenges authority. Meyer said we could decide.
Aside from deciding what Shostakovich might have meant, I appreciated Meyer's telling of the tale. For someone unfamiliar with Shostakovich or his work, I appreciated hearing the method behind the madness, so to speak, from an expert. Any Meyer transferred his knowledge without coming across as condescending, which put me at ease that I likely wasn't the only one in attendance that hadn't heard that story before.
Again the percussion work stood out. It acted as the guide through all four movements. From the marching cadence of the snare drums to explosions of timpani and bass drums, the movements progressed from stormy heaviness, to a playfulness in short stints, to a brooding but building slowness, to a crippling cacophony that resolves as the D-Minor changes keys to D-Major in lovely harmonies.
With such a triumphant ending, it's easy to see why Shostakovich received just praise. But with the tornado of activity resolving in major chords, the decision to content with meaning sits heavily in the laps of audience members, eager to stand and applaud out of sheer musical goodness.      
Maybe it was the smoldering of the coals left on my tongue from the hot sauce sampling that took place before the show. Maybe it was the knockout performance from Tony Grey that casually happened right outside the doors to the balcony before the show. Maybe it was going in expecting something Red, Hot, and Gershwin only to get something Hot, Gershwin, and Red. Maybe it was the percussionists. Maybe it was Wu. Maybe just the fact I was looking for good music on a rainy spring Saturday.
Regardless, I found it: great live music, a new appreciation for a genre I'm still not all that familiar with, and hot sauce. Thank you, Phil. I'll be back for more.