Getting The Band Back Together with Cult Classics at Kings Rook
January 16, 2019 at 11:45 AM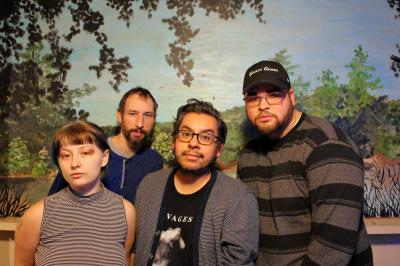 Friday, Jan. 25th
Later this month, dreamy folk-pop collective Cult Classics will be introducing themselves to the Kings Rook Club stage for the first time. The performance will be the group's first in about two months — a much-deserved break for the hard-working crew. And what better place to make their return than at one of Erie's busiest and most beloved venues. The members (songwriter McKenzie Sprague, guitarist —and Erie Reader managing editor — Nick Warren, drummer Michael Hibbler, and bassist Brent Knight) are no strangers to the venue, having played there in various other incarnations, yet not their proper four-piece lineup.
Knight explains the process behind the band's preparation for the show:
"This show presented a small challenge, one that we were definitely up for. For our kind of band, filling a whole night of music isn't exactly the norm, and I'm newer in the band as well, having joined in September. Our sets usually have maybe one cover in there, but it's overwhelmingly made up of original songs."
"We also don't rely on group improvisation as often — we're not a jam band," Knight laughs. "We've been working overtime this winter, and have added a handful of new songs to our setlist, including some covers that we love by artists like The Weakerthans, AJJ, and Regina Spektor. There's a little fun injected there."
No admittance into the club after 2 a.m. will be permitted. This show follows the release of Cult Classics' self-titled debut EP, released early last year. Considering their three-hour-long set contains several new songs, there's no doubt fans will be hearing from the beloved locals again sooner rather than later. — Aaron Mook
10 p.m. to 2 a.m. // 1921 Peach St. // Free Show // 21+ // facebook.com/kingsrookclub