Glimpse 2 and Human Flux Break the Rules at Erie Ale Works
Glimpse 2 and Human Flux take the stage at Erie Ale Works November 11th. 
November 11, 2015 at 10:01 AM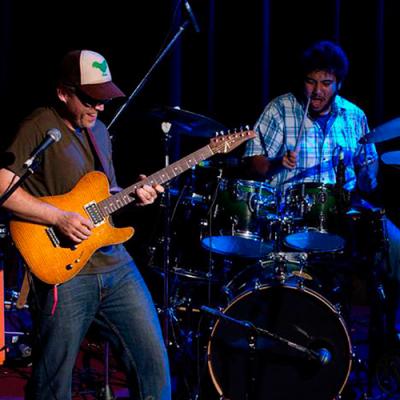 Wednesday, Nov. 11
Jazz musicians have long been a rebellious lot. They break rules (of musical convention). They talk back (improvise). And they're routinely out past curfew (playing smoky jazz clubs and lounges into the wee hours of the morning).
Glimpse 2 and Human Flux won't keep you up too late on a school night when they come to Erie Ale Works, as they open their sets at 7 p.m. But they will sass you. And if you can stand to be challenged, you might find you like it.
Mike Sopko, guitarist of Glimpse 2, will take that tone with you – but he will just as soon play coy ("what tone?"). Glimpse's sound occupies a space somewhere between free jazz atonality, post-rock majesty, and jazz fusion ferocity. Drummer-accomplice Hamir Atwal can set heads to bobbing with a steady groove, but just as easily dizzy with sudden time-signature shifts and unorthodox meters. Alternately accessible and difficult, Glimpse 2 is a great gateway band to ease yourself into the ongoing Electroflux Experimental Music Series.
The trio of Stephen Trohoske (bass), Adam Holquist (keys/synth), and Ian Maciak (drums) round out the bill as Human Flux, purveyors of "postmodern, post-fusion, post-punk dubscapes." You can expect to hear a mix of covers and originals through this kaleidoscopic musical lens. — Matt Swanseger
7 p.m. // Erie Ale Works, 416 W. 12th St. // eriealeworks.com