Global Summit XII Lineup Announced
Former President George W. Bush highlights speaker lineup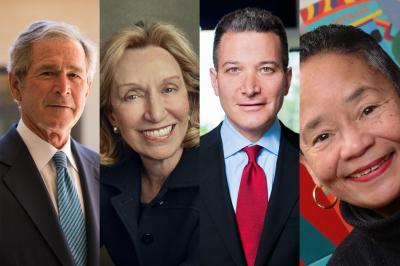 Between 2001 and 2009, George W. Bush spent well over 2,000 nights in the White House. In 2020, he will be spending at least one night visiting our house as the keynote speaker of the Jefferson Educational Society's Global Summit XII. 
The think tank's annual speaker series has brought many prominent names to Erie over the years, but none so prominent as the 45th Governor of Texas and 43rd President of the United States. His time in the Oval Office saw many ups and downs — he is remembered fondly for unifying the nation after the Sept. 11 terrorist attacks, but also remembered unfavorably for his handling of challenges like the Iraq War, Hurricane Katrina, and the Great Recession. Since leaving his role as the head of the federal government's executive branch, Bush has authored three books, including his personal memoirs (Decision Points), a biography of former U.S. President George H.W. Bush (41: A Portrait of My Father), and a tribute to veterans entitled Portraits of Courage.
In total, Global Summit XII will feature eight programs and 14 speakers, all of them considered influencers or thought leaders in their respective fields. Due to the uncertainties surrounding COVID-19, the official dates and times of the programs will not be announced until mid-September. "We will hold it once we know it's safe for everyone," promised JES President Dr. Ferki Ferati. Until then, interested parties can put their names on a waiting list for ticket registration at jeserie.org. JES members will be given first priority. 
Whenever the event does happen, Dr. Ferati thinks attendees will be pleased. "We are so proud and excited to bring to our members and the Erie region our best summit lineup yet. We have been working on this summit for months and we think people will be delighted with the caliber of speakers and diversity of programs." 
Speaking of which, here is the complete lineup:
Former U.S. President

George W. Bush

, feat. an intro Q&A with former Pennsylvania Governor, U.S. Director of Homeland Security, and Erie native

Tom Ridge
Synthia St. James

(visual artist, author, keynote speaker, and educator)

Clayola Brown (union and civil rights leader, labor activist, and President of the A. Phillip Randolph Institute), discussion moderated by Dewitt Walton (District 10 Council Representative, Allegheny County)
Doris Kearns Goodwin (Pulitzer-prize winning author and world renowned presidential historian)

First Ladies Panel Discussion featuring:

Barbara Perry (Director of Presidential Studies at the University of Virginia's Miller Center)
Stacy Cordery (New York Times bestselling author and professor at Iowa State)
Anita McBride (Executive-in-Residence at the Center for Congressional and Presidential Studies in the School of Public Affairs at American University)

Chiefs of Staff Panel Discussion featuring three former chiefs of staff

Mack McLarty (Bill Clinton, 1993-94)
Andrew Card (George W. Bush, 2001-06)
Denis McDonough (Barack Obama, 2013-17)

Jeffrey Rosen (President of the National Constitution Center and professor at the George Washington University Law School)
Robert Pape (political scientist at the University of Chicago, specialist in international security affairs, and 2020 Thomas B. Hagen Dignitas award winner)