Go Hogwarts Wild At Potterfest
Plenty of magic happening at Edinboro festival
September 27, 2017 at 2:45 PM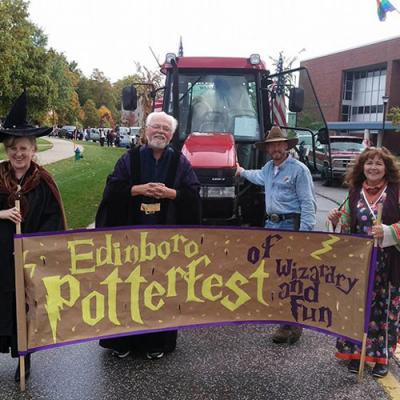 Wednesday, Sept. 27
It's time to crawl out from your cupboard under the stairs and let the magic happen. Potterfest has woven its spell on Edinboro's campus for the seventh year, with its effects lasting through month's end. Whether you ride a broomstick or a Prius for fuel economy, you would be remiss not to make a sweep of the area before the enchantment expires.
If it's bucolic charm(s) you're after, then you could do worse than Wednesday's Magical Farmer's Market. From 3-6, craft vendors will offer their magic-themed wares to would-be wizards and Muggles alike. The Real Magic Steve, a proven wizard, will be twisting balloons into virtually any shape or form from 4-5:30. Featured speaker John Granger, who has made a career of analyzing literary form, will share his thoughts on J.K. Rowling's beloved Harry Potter novels at the Pogue Center (8 p.m.)
In regards to fantastic eats and where to find them, visit Flip Cafe for butterbeer and Potter pastries throughout the week. As for Fantastic Beasts and Where to Find Them, you can either catch a showing at the Pogue Cinema or participate in Thursday's cosplay march, departing from Centennial Hall to downtown Borowarts at 5 p.m. (be sure to keep your briefcases latched tight).
Friday will feature the Harry Potter Educators Workshop (conducted by James Howell at Butterfield Hall) and the debut of Potter 7.0, the latest in a series of original parody plays produced by Edinboro students (7 p.m. at Cole Hall). An encore performance will transpire Saturday evening (same time and place).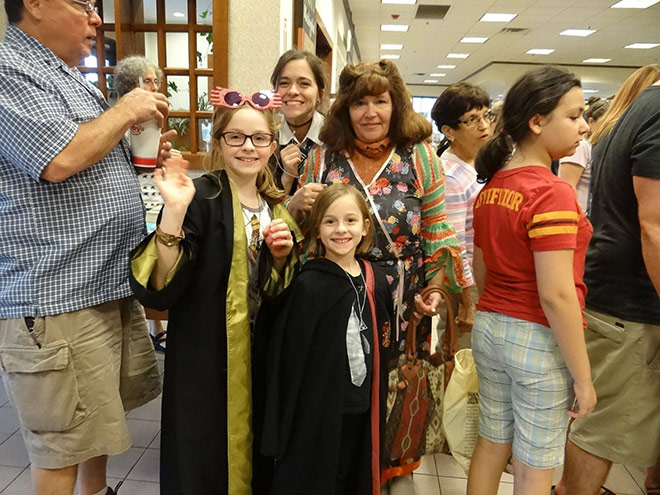 The concluding Saturday of Potterfest is, as usual, highlighted by the Quidditch tournament. Gravity prevents a truly authentic reproduction of the sport (in the novels, Quidditch is conducted on flying brooms), but there is plenty of levity just the same. The game is a curious mash-up of rugby, dodgeball, and tag. Teams are composed of seven players, three chasers (who attack their opponents' hoops with a "quaffle"), two beaters (defenders who hurl "bludgers" at the chasers to send them back to their own endzone), one keeper, and a snitch (enters the field every 18 minutes to play keep away; if the other team snatches his/her "tail," or flag, the game ends).
Snicker if you must, but even for the Muggle majority, the profound cultural impact of Harry Potter doesn't figure to wear off anytime soon. — Matt Swanseger
Potterfest continues through Sept. 30 // Full list of events, times, and locations at potterfest.cs.edinboro.edu/Schedule // 219 Meadville St., Edinboro