Good Samaritan Decorates West 8th Street
Stranger plants flags in westside neighborhood.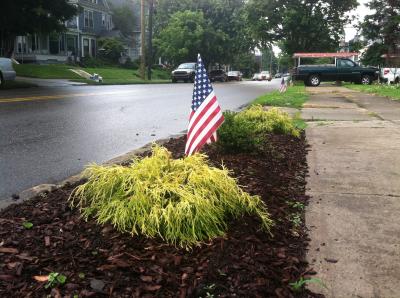 On the Fourth of July, the residents of West Eighth Street - between Liberty Street and Raspberry Street - woke to find they had been the recipients of a good samaritan spreading patriotic cheer. Both sides of the street were lined with American flags.
The flags were placed intermittently along the residential corridor that has, from time to time, been the scene of drug activity and gunfire. The flagging was a reminder that someone remains invested in this west side community.
"It was a nice thing," says Fred Dash, who has lived on West Eighth Street since 1969. "I think someone did that once before, but it's been a long time. It was nice to see."
The gesture was in many ways symbolic. But such symbolism is important for a community in transition.
In this case the value of the symbol is not exclusively tied to the American flag, which is rightfully celebrated during the independence day weekend. Instead, it reflects the pride that citizens of Erie have for their communities, even if only a few blocks at a time.
Clifford Geertz was a renowned anthropologist whose most celebrated work focused on what he termed symbolic anthropology. Essentially what that means is that people use cultural symbols to make sense of their worlds, their communities.
During this summer season when the city has experienced such an increase in gun violence, among the many economic challenges that plague Erie and its future, the flags seem to be as much about the intended celebration of patriotism and nationalistic pride so familiar to this holiday weekend as they are intended to represent one person's insistence that the Gem City will continue to shine even if it picks up a few scuffs along the way.