Grossman vs. Vanco - Who Won?
Erie County Executive and Erie Art Museum Director face-off over Hassam sale.
February 8, 2012 at 4:01 PM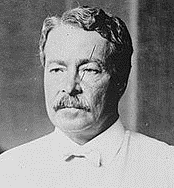 Earlier today, the Jefferson Educational Society saw their inaugural Jefferson Debate Series successfully begin, thanks to Erie County Executive Barry Grossman and Erie Art Museum Director John Vanco's discussion of the proposed sale of "Summer Afternoon, Isle of Shoals," by American impressionist painter Childe Hassam.
This event was not exactly a debate, per se. Each side took 25 minutes to explain their position on the painting, which conservative estimates value at $1.5 million or more. Rebuttal and cross-examination were not permitted, nor was the question of who actually owns the painting – be it Erie County or the Erie Art Museum – due to anticipated litigation.
After a light lunch that featured some truly delicious brownies, the crowd filed in to the auditorium to find Grossman and Vanco seated in blue velvet-lined wooden thrones. Once everyone settled in, TV cameras flanked the audience. Beneath a giant sign adorned with the classic Thomas Jefferson quote, "Information is the currency of Democracy," and directly below a marble bust of Jefferson himself, Dr. William P. Garvey patiently explained that the role of a think tank like the JES was not to advance a particular position, but to provide the information that would allow the informed citizens of our county to make up their own minds instead.
Vanco won the pre-game coin flip, so Grossman spoke first, occasionally looking at notes scribbled on a yellow legal pad atop the rostrum.
With the polished oratorical skill of a seasoned trial attorney, Grossman first established himself as a lover of art and as someone who had spent his life as a preservationist. "But a funny thing happened on the way to the forum," he said, channeling his inner Mel Brooks – he was elected County Executive, and soon found himself in the awkward position of advocating the sale of the painting after learning the true financial position of the library that houses it.
As an example of his torn loyalties, he cited his outrage over Waldameer Park's original carousel; although a priceless yet valuable piece of functional art that held significant meaning to generations of park visitors, it was sold a number of years ago. However, all proceeds from the sale of that $1.2 million carousel were reinvested into Waldameer, possibly helping preserve the park at a time when similar parks were closing nationwide. This event, he said, influenced him greatly in his consideration of the Hassam painting.
Grossman went on to infer that opponents of the sale have repeatedly failed to prove that the painting truly has a cultural connection to Erie. He said that despite living here for almost 65 years, "No one has ever stopped me and said, 'Which way to the Hassam?'" He correctly pointed out that there are no signs downtown which read, "This way to the Hassam," and he also revealed that at one point, this precious cultural treasure was stored in a bank vault for over a decade. After disparaging the cultural value of the painting, Grossman went on to denigrate its quality, stating that the painting is not a truly inspiring work like others he has seen – like the works of Frida Kahlo and Sandro Botticelli, or Picasso's Guernica.
In closing, Grossman suggested a compromise to Vanco, who sat by listening patiently and looking every bit the regent atop his magnificent wooden throne. Grossman offered to sell the painting, create an "airtight" endowment to augment the library's collections, and donate $250,000 to the Erie Art Museum for the purchase of art from local artists.
Vanco got his turn soon enough, and after several minutes of difficulty with his laptop presentation, he began by referring to a Barry Grossman quote from a newspaper story earlier this year. In effect, the quote said that  "999 out of 1000" people would not notice if the original painting were replaced with a copy, seemingly bolstering Grossman's position that the painting has no significant connection to Erie.
Vanco then launched into a lengthy, professorial presentation on the history of the Erie Art Club – now known as the Erie Art Museum – and the history of the painting. This presentation was interesting and informative, but was chock-full of subtle allusions to the Erie Art Museum's purported ownership of the painting.
As many in the crowd wondered where Vanco was going with all of this, it suddenly became clear in the last 5 minutes of his presentation as he showed slide after slide of news stories chronicling the numerous attempts over the past few decades to sell the painting. He then clicked through dozens of letters to various newspapers opposing the sale, which he labeled a "non-creative" way to solve the county's cash crunch.
Finally, he ended with a bang – Vanco offered to donate $1000 – the original price of the painting – personally, towards an endowment or trust; he then opined that he could find 499 other citizens to do the same thing. In fact, he said, he would not be the least bit surprised if he could find 999 – a not-so-subtle jab at the Grossman quote he opened with earlier.
The last few minutes were dedicated to questions posed by attendees, which were hastily scribbled onto notecards with golf pencils and passed up to Dr. Garvey at the podium. Unsurprisingly, most questions dealt with ownership issues, which could not be discussed. However, the last, most poignant question from the audience was actually addressed to the audience: "Have you ever been to the Blasco Library to view the Hassam?"
Overwhelmingly, that answer was yes.
So who won this debate? As Jefferson himself might say, we are all richer for having been given this information by Grossman and Vanco. Both men were genteel, both men were fair, and both men raised good points, but both men exposed flaws in their reasoning. Grossman seems to feel that the painting is not essential to the cultural identity of our area, and he fails to realize the principle of the matter – that any entity in the business of hawking its possessions has deeper problems than short-term cash flow. Vanco, on the other hand, appears confident that ownership of the painting lies with the Erie Art Museum; in the event that a court rules against him, he's hung his hat on Erie's fickle, dwindling "donor class" to pony up and save it.
Regardless of how the proposed sale of the Hassam eventually shakes down, it is clear that the winner of this debate was Democracy, and by extension, the Jefferson Educational Society. Hopefully, their debate series will continue to deliver relevant, engrossing discourse like this years into the future.