Guardians of the Galaxy: Reviewed
There's just something so irresistibly, intoxicatingly cool about Guardians
September 11, 2014 at 9:31 AM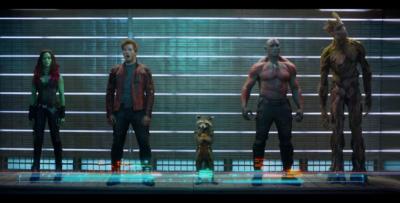 When Guardians of the Galaxy hits the screen with 10cc's "I'm Not in Love" playing over the image of a young boy sitting idly in a hospital (he's visiting his dying mother), it's clear that it's no ordinary wooden comic book adaptation turned money-grubbing exploit.
In the past few years alone, we've been graced with seriously impassioned, effortless adaptations in the form of lighthearted The Avengers to the brooding force of The Dark Knight trilogy.
With these in mind, there's just something so irresistibly, intoxicatingly cool about Guardians… Maybe it's Chris Pratt, who still has lingerings of the loveable loser Andy of Parks and Recreation. Maybe it's the music, which, I believe it's safe to say, is some of the only music you'll hear in a Marvel adaptation that makes you want to straight-up dance. It could even be hearing Bradley Cooper hilariously voice a genetically modified raccoon.
My guess is you won't care what it is.
Back to the beginning: director James Gunn gets to us right off the bat with alarming pathos. We learn that the kid in the hospital is Peter Quill, and the mixtape is a special gift from his mother containing all of her favorite pop songs. We see Peter's mother, gaunt and hairless, as she speaks to Peter and gives him a second gift moments before she dies.
The disgraced Peter then runs crying onto the hospital's lawn, where he looks up to see what can only be the tractor beam of an alien space ship engulfing him.
The film takes us twenty-six years into the future, where an adult Peter (aka Starlord), now a career thief, wanders through a cave on planet Morag while gleefully fighting off space-lizards to the tune of Redbone's "Come and Get Your Love."
When Peter finds the mysterious, coveted orb for which he's been searching, he's met by Korath (Djimon Honsou) and his henchmen working for Ronan (Lee Pace), the evil emperor who plans to use the orb to destroy the entire planet of Xandar.
Peter escapes narrowly, but when he makes it to Xandar to cash in on the orb, he's confronted not only by Gamora (Zoe Zaldana), a rebel against Ronan who volunteers to go after the orb when she figures out what Ronan plans to do with it.
Things don't go as smoothly as she plans, and soon Rocket Raccoon (voiced by Bradley Cooper) and Groot (a genetically modified walking, talking, brutishly powerful tree voiced by Vin Diesel) come into the picture as small time thieves who are after Peter for the 40,000 units on his head.  A scene is made, and soon they land themselves in high security prison, where they gang up with Drax the Destroyer (Dave Bautista) to formulate a ridiculously complex breakout that involves launching the prison's control center into the galaxy to Peter's abandoned ship.
But after it's opening, Guardians loses us for a bit with the typical visual and narrative complexities of any sci-fi mega-blockbuster; yeah, it's a weak complaint, but I think anyone could have gone for more pop-rock hits and Bradley Cooper's raccoon speak in lieu of hyper-determined intensity. But even when it loses its cool, it's hardly a compromise to brandish unwavering theatrics when a movie is self-aware enough to have its main character be met with confusion when he dances before an evil extraterrestrial Warlord.
Guardians of the Galaxy is, to its credit, perhaps a "sci-fi movie for people who don't like sci-fi." When things aren't exploding through space (the space explosions aren't a criticism, by the way), writers Gunn and Nicole Perlman add enough humor and heart for even the biggest Breakfast Club and American Graffiti advocates. The movie itself, in story, and in direction, is indebted to the only time that Peter remembers of Earth, and of his mother -- it shows in the music, in Peter's remembrance of his Mom (he risks his life to save his mixtape to keep her memory), and even in an ingenious reference to eighties staple Footloose.
Deservedly so, Guardians has received attention for being the first of Marvel Studios films to feature a female writer. Perlman's skill is remarkable, and it's encouraging to see the gender barrier broken on a genre and industry that's long been dominated by males. It's truly something to remember, even if her movie doesn't sweep the awards circuit.
At this point, you're a bit late (Guardians of the Galaxy was released Aug. 1), but it's not a movie that's timing out anytime soon (expect heavy quotations for a while), and the experience of it certainly isn't either. If you've been collecting tickets from this year's other summer megahits, there's hardly a better one to call your last than this one.