Hangin' Out at the South Pier
"Happy Days" had Inspiration Point. Erie has the South Pier. Cornell Green set out to see what's going on there. Here's what he found.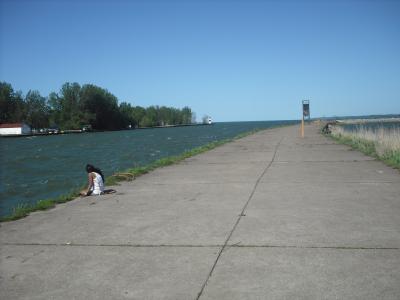 Natalie peered through the windshield at the trees above, as the car cruised down the narrow, winding trail. Soon, she and her crush came to what looked like a dead-end.
"I didn't know where we were going," the plucky, now thirty-something redhead who requested to be referred to only by first name, said of the experience.
After a quick right turn, the car coasted into a quiet, dimly lit area. Before her, lay a moonlit view of Presque Isle bay. Above her loomed a majestic cavalcade of stars.
Before this, The East High Sophomore hadn't heard of Erie's South Pier. Her date, an Erieite who was just a bit older than her, had suggested it. It didn't disappoint.
"It was mysterious," she said wistfully. "After we 'hung out' in the car for a while, we walked to the end of the pier in the dark. It was exciting."
For Charles Mathis, the secluded area where Presque Isle turns back to kiss the northern coast of the Gem City, is all too familiar.
"That was the spot," Mathis said grinning, peering sideways, from pool-shark-like eyes. Full of witty retorts, he often punctuated with hearty laughs. "Everybody knew about it. You know in 'Happy Days,' how they had a make-out point? It was like a make-out point out there. We went out there to have fun."
Research confirmed the mid-'70s to mid-'80s sitcom Happy Days did include such a place. Inspiration Point, as it was called on the show, was a romantic hangout for a group of '50s-era teenage Illinoisans, rocking and rolling through their working-class ripening years.
But the mystique of Presque Isle Bay lured region-goers much, much earlier.
During the late 1700s, Erie's Bayfront set the stage for Pontiac's Rebellion, a fierce war between Great Lakes-area Native American tribes and British colonists waged over Great Lakes land amidst British expansion. Later on, when the area was just a natural land formation, Erie shipbuilder Daniel Dobbins used the cover of the Presque Isle Peninsula to conceal the covert shipbuilding operation that was constructing a U.S. military force to battle the British. The Battle of Lake Erie, an important naval victory for the Americans in the War of 1812, was fought west of Erie, near what is now Cedar-Point amusement park. Then, Presque Isle and the Erie coast were connected by a sandbar that prevented British ships from storming the bay while fighting ships were constructed. A pier was built there shortly after the war.
If history is any indication, the Pier was both exciting and secluded even then. But regardless of the history, the Pier's meaning varies depending on who you ask.
In Jeff Warren's eyes, it's just a fishing spot. The 42-year-old Harborcreek resident said he'd been fishing there since the now paved, tree-lined parking area, was "nothing but a dirt lot." Warren appreciates some of the pier's improvements, including the wheelchair access ramp. The lakeside snack-cart salesman started using a wheelchair in his teens.
Warren said he's seen minor romantic squabbles along the pier, and even saw the Coast Guard, guns drawn, escort a large boat toward the US Coast Guard station nearby. Still, his main focus has been fish.
"The fishing was a lot better back in the day," Warren said. "It's been improving lately though."
Scattered reports confirm that Presque Isle Bay is a jackpot for sportsmen looking to catch bass, perch, and crappy. Apparently some of this abundance is the result of local organizations working to enrich and preserve natural species.
But while romantic activities have not been his main focus at the pier, Warren admits he has seen clues that some of the area's visitors have used the pier as a "late-night love rendezvous."
But Mathis says no matter how much fun he and his friends had at the pier, they were still careful not to rock the boat.
"It wasn't a trouble spot." Mathis said. "If there was too much trouble down there, it wouldn't be a secret spot anymore."
Natalie agrees. "The seclusion makes it better. It was nice."
Though she visits now with her kids, Natalie said she rarely hears talk of the pier. It almost like a backyard clubhouse—but for grownups. Mathis said when he used to frequent "the spot," sometimes a young lady might tell a crush where it was. Other times, it was the guy. Either way, it's sort of an inside game. It's not the kind of place you just stumble into.
I won't give you step-by-step instructions on how to get to the pier because as Mathis said, the less secret a secret becomes, the less mysterious, the less remote.
So when you make it there, you'll have to define your own magic—your own intrigue. Maybe you'll find it there fishing. Maybe you'll find it in an epic marine battle. Maybe you'll find it with your crush.
But if and when you do find it, try not to make too many waves. Because the less secret, a secret…
Well, you know.