Harbor House
With three other successful locations throughout Erie, the U Pick 6 family welcomes its newest member.   
October 28, 2015 at 1:30 PM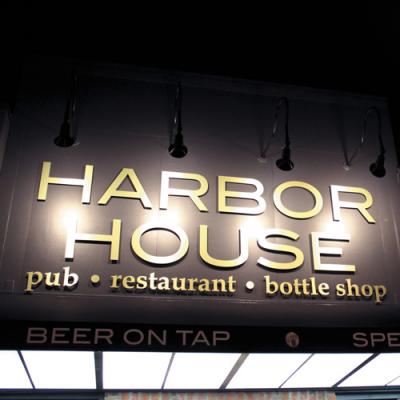 Most any worth-a-damn cook or barkeep will agree that when it comes to offering up truly delectable cuisine and libations, it's just like that Curnonsky dude said: "Simplicity is the sign of perfection."
And the keepers of the U Pick 6 family of Erie pubs, restaurants, and bottle shops know this, man.
With three other establishments throughout the city — U Pick 6 Beer Store on Peach Street, Tap House on State Street; and the Public House on West Ridge Road — the U Pick 6 crew has carved out quite the niche in Erie's burgeoning gastropub scene. Each location features vast arrays of great craft brews and dishes cultivated to accompany them.
The scene got even more gastronomical earlier this month when the freshest addition opened: the U Pick 6 Harbor House on Buffalo Road. For that, on behalf of all Gem City-area devotees to the arts of good eating and good drinking, we at the Reader tip our collective hat to you, folks.
Heading into this piece, I knew business partners John Melody and Russ Stachewicz, along with their 140-plus employees, are very busy people these days. So when I touched base to set up a visit to Harbor House, I said something like "no worries, John. Just do your thing while I'm there, and I'll take it in as I see it."
At Harbor House a few days later, what I saw looked pretty damned good: Tap after tap and bottle after bottle of fine, fine beers: a revolving cast of quality, and barely a single run-of-the-mill macrobrew among them. Plus seriously bangin'-looking pizzas fresh out of a beautiful wood-fired oven, along with other enticing-looking dishes being delivered from kitchen to tables. And, an atmosphere accentuated all around by earthy brick, soft lighting, and dark hardwoods. It's the picture of chilled-out elegance.
Beyond that, I saw one sure sign that these folks are doing some things very well: A pub chockfull of people, with nary an empty table in sight.
"Business has been very good," Melody said as we found a couple of seats front-and-center to that gorgeous brick oven. "There's been a lot of anticipation for the place."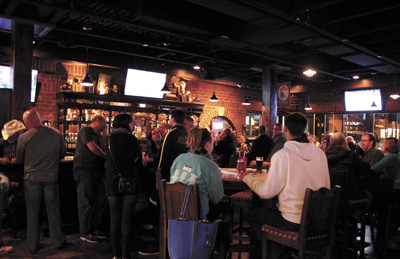 So far, "the feedback has been just wonderful," he said. "It's refreshing when you put a reasonably substantial investment into something and people are receptive to it."
And receptive Erie's pub-going public has been:
"I am liking it here!!!" one visitor recently posted on Harbor House's Facebook feed.
"Had a great Saturday lunch there," said another. "My Turkey Avocado and Matt's Pub Club were awesome … gotta love the homemade pepper chips … and, oh yeah, the BEER was good too!"
"Only a week open and they got it together already," said another. "It's awesome!"
That kind of simple, honest appreciation from happy customers seems to be exactly what Melody, Stachewicz, and company are aiming for in their quality-centric endeavors at Harbor House and the other U Pick 6 establishments.
After all, Melody said, "at the end of the day, it's the people who make the pub."
Writer/photographer Ryan Smith can be reached at rsmith@eriereader.com, and you can follow him on Twitter @ryanmsmithplens.