Heart of Darkness
Whacky Shack, Pirates Cove designer Bill Tracy's spirit remains at Waldameer
Bill Tracy spent a lifetime cleaning skeletons out of his closet, and those who were lucky enough to have been recipients of his goodwill are eternally grateful.
Whether you "ain't got no body" or carry around the full complement of flesh, there is no question the late amusement industry designer's macabre creations help formed the soul of many summer experiences. In Erie, they still do — The Whacky Shack (1970) and Pirate's Cove (1972) are two of only eight Tracy attractions still in operation, and represent half of those (mostly) fully intact in the world. What they lack in G-forces and adrenal thrills they make up for in morbid curiosities and charm — to remove them from Waldameer Park would be to partially lobotomize it, to scoop signature personality traits from its skull and scatter to them to the wind like an upturned bowl of Dippin' Dots.
Like the unmistakable musk that permeates the passageways of the Pirate's Cove, memories of Tracy attractions indelibly lodge themselves into the rafters of amusement park patrons. Bloggers Wayne R. Bahur and Brandon Seidl, co-founders of the Bill Tracy Project, are two such people. Growing up, the Pittsburgh native Bahur was mesmerized by Kennywood's Le Cachot ("The Dungeon") and Waldameer's offerings. After beginning his research into Tracy's legacy, he stumbled across a kindred spirit in Seidl, who had meticulously cataloged the inner workings of The Haunted House at Trimper's Amusements in Ocean City, Md. on his own website (ochh.net). Together they shed an ultraviolet light on the uniquely, humorously dark imagination behind Tracy's vision.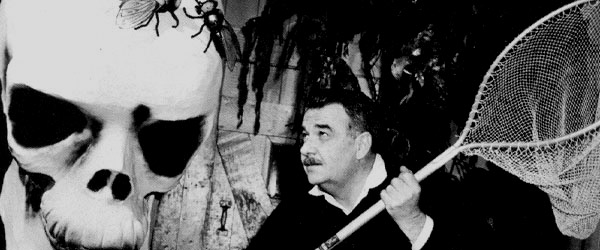 Contributed Photo
Bill Tracy, regarded for his goofy and macabre sense of humor, often posed for his own catalog advertisements.
Tracy was born on July 16, 1916 in Toledo, Ohio, the son of lawyer Newton A. Tracy and housewife Juanita L. Tracy. As with many children brought up in devoutly religious households, Tracy had a rebellious streak and a passion for testing boundaries. He lobbied for a field trip to an insane asylum (his mother eventually acquiesced) and visited graveyards hoping to bridge the barrier between living and dead. His preoccupation with the creepy and unsettling would stick with him until his death in 1974. It would also allow him to carve out a major niche as the foremost designer of dark rides and attractions of his time.
Tracy first garnered attention as an artist after his sculpture "Jonah and the Whale" was featured in the Syracuse Ceramic Show at the Museum of Fine Arts in Syracuse, N.Y. and the Life magazine article (Nov. 11, 1940) that covered it. After further refining his talents, he served as Art Director for the Ringling Bros. and Barnum & Bailey Circus in Sarasota, Fla. from 1952-54, where he designed motley floats, props, and costumes. As a sculptor, he was an early champion of a lightweight, unbreakable, weatherproof, and inexpensive colloid-treated fabric called Celastic, which he would implement in much of his work. During that same time frame, he signed a contract with Macy's Department Store to build window displays and floats for their famous Thanksgiving Day Parade. His designs were often sold for profit after the parades, a testament to the appeal of his work.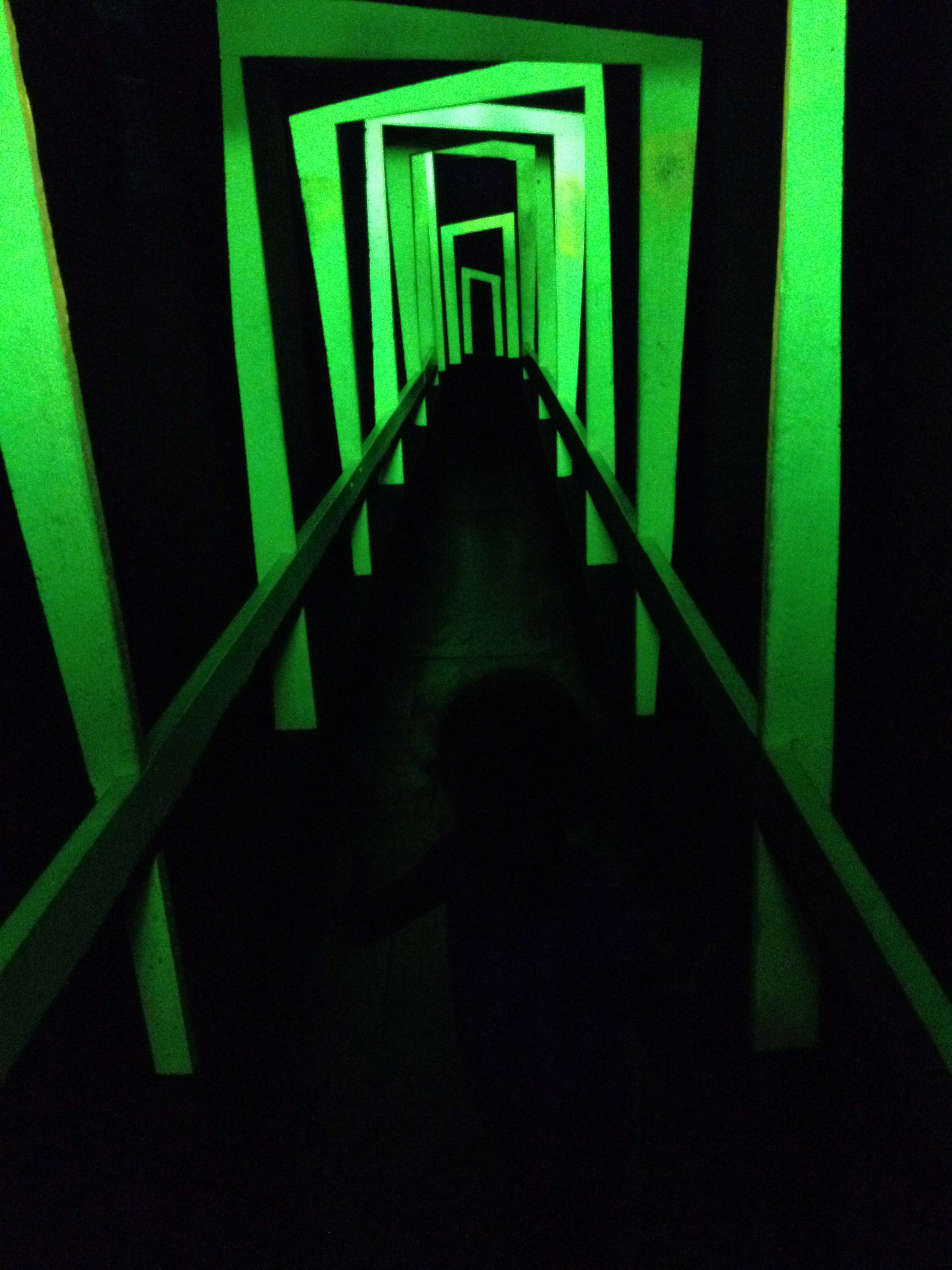 Contributed Photo
 The diminishing hallway effect, seen here in Erie's Pirate's Cove, was characteristic of Bill Tracy's use of optical illusions in his dark attractions. 
Encouraged by his successes with the Ringling Bros. and Macy's, Tracy would establish his own company called Tracy Parade and Display Company (later shortened to Tracy Displays, Inc.) The Bamberger's Thanksgiving Parade of 1955 was a seminal project to Tracy's professional and creative development, utilizing a series of alternating incandescent and ultraviolet lights to create special effects. It was unprecedented at the time and would become a mainstay of the dark rides and attractions Tracy began designing later on as a freelancer for established manufacturers such as Pretzel Amusement Ride Co., who incidentally would become his biggest competitor after he again established his own entity in 1960.
Through the appropriately-named Outdoor Dimensional Display Company (or O.D.D.), Tracy bolstered his reputation for whimsically outlandish and outrageous designs and built serious cachet with amusement park owners, beginning in the Northeast (O.D.D. was headquartered in North Bergen, N.J.) By ramping up advertising and promotions via catalog (e.g. 1962's "We Work In The Dark," referring to the craftsmanship transpiring under black lights), word-of-mouth, and appearances at NAAPB (National Association of Amusement Parks, Pools, and Beaches) Conventions, Tracy was able to parlay his original visions into approximately 80 design contracts across the United States. Tracy himself participated in nearly all aspects of the process, including supervising and assisting with the installation of the projects on-site. His specialties included dark rides (e.g., the Whacky Shack), walkthrough funhouses (e.g., the Pirate's Cove), and kiddie dark rides.
Changing times and financial challenges (O.D.D.'s assets were seized due to IRS debts) saw Tracy's operations shift headquarters twice, first within the Dark Ride & Display Division at Universal Design Limited (Wildwood, N.J.) in 1964, then as Amusement Display Associates, Inc. in 1966 (backed by Messmore and Damon, designers and builders of full-scale mechanical animals, dinosaurs, and monsters for film). Tracy was a master at both conceiving new rides from the ground up and adapting them to circumstances, even those seemingly hopeless (disused buildings, etc.), which earned him the nickname "The Wizard of the Worst Case Scenario." His dark rides consisted of three key elements: an elaborate facade to lure patrons in, complex interior stunts and props (with "triggered" events) often moribund in nature, and a ride system.
Erie's Whacky Shack exemplifies many of the hallmarks of vintage Tracy. The facade stands nearly five stories tall and intrigues passers-by with what Bahur and Seidl characterize as a "Dr. Seuss meets Scooby Doo" aesthetic, featuring rotating flowers, rolling eyeballs, scrolling windows, crooked roofs, and a sense of being generally off-kilter. The riders' minds are toyed with through the use of tricky optical illusions, creepy props (severed heads and rats), and startling surprises (the bang doors the car crashes through). The "Hush Puppy" ride system, which was state-of-the-art at the time, allowed the cars to navigate all sorts of uncanny twists and turns, enhancing the effect. And of course, traces of Tracy's sense of humor can be found throughout his works — many Erieites can recite The Whacky Shack's "instructions" by heart.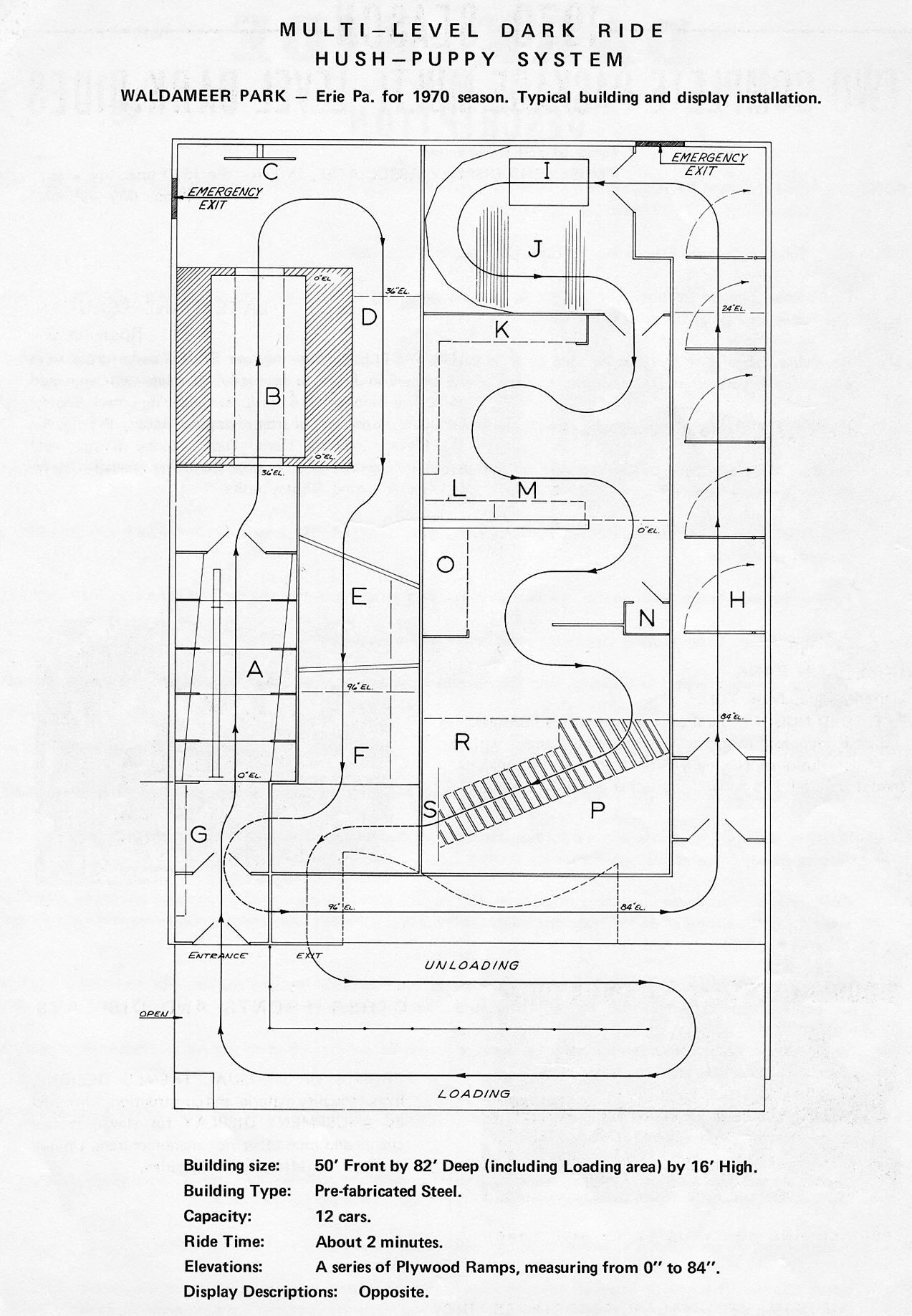 Contributed Photo
The original blueprints to Waldameer's Whacky Shack, which opened in 1970.
So beloved was the Whacky Shack that Waldameer owner Paul Nelson commissioned Tracy to build another attraction, the Pirate's Cove in 1972. Pirates, sharks, and skeletons populate warped corridors and tilted rooms patrons have perused (among other activities) for decades. The TLC the Waldameer staff administers to these attractions is a major reason Tracy's work is not extinct:
"Thanks to Waldameer, they are meticulously maintained for many to hopefully enjoy for years to come. They give Waldameer much of its character and are truly unique and historic amusement park attractions the likes of which will never be designed and built again.  In my opinion they are as important as historic roller coasters, antique carousels, and other vintage rides and must be preserved," says Bahur.
One contingency "The Wizard of the Worst Case Scenario" didn't account for is the lassitude or outright negligence of many amusement park owners. To be fair, though, many of the Tracy's older creations were built in structures not exactly up to code — without modern sprinkler systems and with a surplus of continuously operating mechanical props, grease, and wood for kindling, much of his portfolio literally went up in smoke. With Erie's Whacky Shack and Pirate's Cove (there were other Tracy attractions bearing the same name, but with totally different layouts and stunts) coming towards the end of Tracy's career, they stand a much better chance to remain standing.
Waldameer has been in Erie's bones since 1896. Even if Bill Tracy's contributions aren't the park's backbone, they continue to send tingles down the spine — or, failing that, at least a smile to the face as we are properly greeted as Earthlings.
For more information and insight into the life and accomplishments of Bill Tracy, as well to view a host of cool artifacts, visit billtracyproject.com
For a full schedule of Waldameer park and Water World hours, visit waldameer.com/calendar
Matt Swanseger can sometimes be found on the SkyRide avoiding responsibility, or at mswanseger@eriereader.com