Helping Hands: Collaborative Efforts to Make Erie Safer
The local initiatives that are playing a role in making the city a safer place.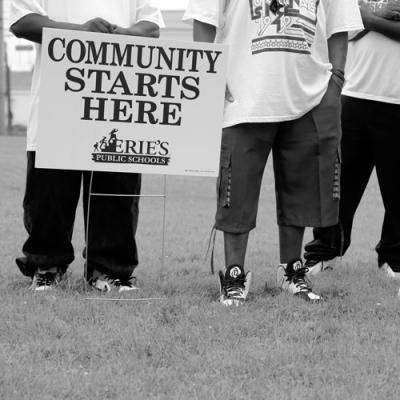 When I arrive at the Erie Police Department on a Tuesday morning in mid-June, Chief Randy Bowers has good news. When compared to the previous year, violent crime during the first five months of 2015 appears to be on the decline in Erie.
As our conversation begins, he shares some comparative data. According to EPD statistics, between January 1 and May 31 in 2014, there were 178 reported shots fired in the city of Erie. This year, during the same time period, there have been 157. Of the shots fired, the EPD accounted for 29 people who had been hit by a bullet in the first five months of 2014. This year, there have been 20. Aggravated assaults by firearms are also on the decline – there were 32 at this point in 2014, and 26 this year. The numbers are nearly identical for armed robberies with a firearm – 32 by the end of May in 2014, and 27 in 2015. None of these numbers are ideal, but the overall trends are encouraging.
Chief Bowers is quite humble about these achievements: "We're not doing it alone. What's very important, I think, in Erie is that we have good relationships in the community." He's quick to stress the importance of communication and collaboration, noting that "people have to trust their police in order to help the police."
To maintain that trust, Bowers encourages police officers to regularly attend Neighborhood Watch meetings. He also cites the importance of the EPD's Ride Along program, informally created in 2014, which allows members of the local clergy to "ride along" with police officers during shifts. Once each month, at L.E.A.D. meetings (that's short for Law Enforcement Agency Directors) overseen by Assistant United States Attorney Marshall Piccinini, all of the police chiefs in the Erie area come together to share ideas and information with local representatives from the FBI, the Bureau of Alcohol, Tobacco, and Firearms, the Marshall Service, the Coast Guard, Border Patrol, the IRS, Customs, the Postal Inspectors and the District Attorney's office. Thanks in part to its emphasis on collaboration, the EPD was able to retrieve 175 illegal firearms in 2014.
The list of people, programs, and organizations working together to make Erie safer is too long to list, let alone describe with any real complexity. Don't expect a comprehensive overview of those efforts from this article. Instead, here is an admittedly-incomplete introduction to a few local initiatives that are doing encouraging work...
Creative Community Connectors (aka The "Blue Coats")
Creative Community Connectors has gone by many names during its decade of local service.
In the mid-2000s, under the leadership of the late Pastor Robert L. Gaines Jr. of Abundant Life Ministries, it was called "The Non-Violence Initiative." Gaines worked closely with County Councilman André Horton to create an after-school program designed to reduce crime in Erie's most at-risk communities. Next, Horton reached out to an old friend named Daryl Craig who was active with an outreach ministry in Buffalo called Back to Basics.
As luck would have it, a job transfer brought Craig back to Erie. Inspired by the Back to Basics model, the three men began to address the needs of young people in our low-income neighborhoods. One of the earliest successes of the Non-Violence Initiative occurred when Craig and Horton helped de-escalate a gun conflict at East High, which drew the attention of the Erie School District's then Assistant Superintendent Bob Oliver.
This lead to an expanded partnership with the school district (as well as City Councilman Curtis Jones, Jr.) to "help the schools by providing a community presence," according to Craig. Presently, in addition to after-school mentorship, their services include grief counseling, truce negotiations, student trips to the YMCA, court advocacy for young people who demonstrate a willingness to change, and an end-of-the-year "Fun Day," which allows children from low-income families to spend an afternoon at Waldameer Park and Water World.
When its members began wearing blue jackets with "Non-Violence Initiative" written on the back of them, students at Wayne Middle School gave the organization its second, informal name – the Blue Coats. The nickname is emblematic of the initiative's down-to-earth approach, which has encouraged at-risk youth to really open up to them. Craig notes that "most people, especially our young people, don't need anybody to tell them when they're messing up... But what usually helps to address that is when you, sincerely, communicate to them that – regardless of what they're doing – you believe in them, and that you see something greater."
Craig and Horton are careful to avoid taking a tone of judgment with the students they mentor. Instead they prioritize positive affirmation and honest, direct conversation. "Sometimes it's moral in nature, sometimes it's spiritual in nature, and sometimes it's just the cold, hard facts," according to Councilman Horton.
The success of the Blue Coats in our community was recently rewarded through a $300,000 grant from the Erie Community Foundation. The funding has lead to the group's final name – Creative Community Connectors – as it achieves 501 3c non-profit status. There are currently about 20 "Blue Coats" at work in our region, several of whom are supported with stipends made possible by the grant.
Safe Harbor Behavioral Health
It's difficult to consider public safety in our community without addressing the connections between mental health and dangerous behavior. In 2014, for example, the Erie-Times News reported that, among the inmates at Erie County Prison, "a full 30 percent or more of the average daily population of 620 prisoners suffer from a serious mental illness."
Fortunately, Safe Harbor Behavioral Health of UPMC Hamot (SHBH) provides our community with important resources to help ensure that conflicts are resolved peacefully. According to Dr. Mandy Fauble, Vice President of Clinical Operations, SHBH is "the region's largest outpatient mental health facility," whose core mission is dedicated to "helping people with serious mental illness and helping children with emotional disturbance."
Safe Harbor offers a variety of services, including case management for approximately 300 individuals with serious mental health problems. They also operate a Crisis Center on West 12th street, where free and confidential counseling is available 24 hours a day, either by phone, through walk-in services, or through an 8-bed residential unit. For more urgent problems, a mobile crisis unit is available to "respond anywhere in Erie County, any time day or night," according to Fauble. They also work closely with the police, responding in the field when officers encounter people "engaged in behavior that feels unsafe to the community but is rooted primarily in a behavioral health concern."
Through a partnership with Mercyhurst University and UnifiedErie (the EPD's collaboration with the District Attorney and the U.S. Regional Attorney), Safe Harbor was able to participate in a grant project called "PCIT Across Pennsylvania." PCIT stands for Parent Child Interaction Therapy, a technique designed to help parents with young children between the ages of 2 ½ and 7 who display oppositional behavior.
PCIT differs from traditional counseling techniques because the therapist observes the parent from outside the room (via a two-way mirror) and communicates directly with her or him through an earpiece. Fauble notes that one of the dangers of traditional counseling is that "the therapist can, in some ways, usurp the authority of the parent." By moving the professional out of the child's sight, Fauble argues that "it really reinforces that the parent is in the position of authority in the household." From there, PCIT trains parents to improve their child's self-esteem and anger management skills through positive reinforcement.
The Erie County Reentry Services and Support Alliance
When working to improve public safety, it's important to ensure that criminals don't return to a life of crime when they complete their sentences. According to recent data from the Justice Center of the Council of State Governments, 40 perfect of the prisoners released in Erie County in 2013 ended up behind bars once again within three years.
To address this issue, Erie Together, an initiative designed to encourage local businesses, organizations, and individuals to fight poverty, has recently established a planning group to "to support the successful reentry of formerly convicted county, state, and federal offenders into the community, so their transition is as smooth as possible and they can reach their highest potential," according to Project Facilitator Mary C. Bula.
The group, which consists of "criminal justice professionals, social service providers, the faith-based community, ex-offenders and others," has proposed the creation of The Erie County Reentry Services and Support Alliance (ECRSSA) to help individuals who have recently been released from prison. Although the Alliance is still in the development stages, the group has been working with Pennsylvania CareerLink of Erie County to encourage employers to hire ex-offenders. ECRSSA's proposed strategy is nearing completion, and they will soon begin identifying community leaders for implementation.
Clearly there is plenty of work to be done to make Erie as safe as possible. But important local alliances are approaching the problem from an inspiring variety of perspectives. When it comes to violent crime in Erie, there are more helping hands available than we may imagine. We just need to reach out to them.
Dan Schank can be contacted at dSchank@ErieReader.com