Hidden Messages of the Best and Deepest Kind
Don't miss what Sergei Isupov has to say.
March 15, 2017 at 3:15 PM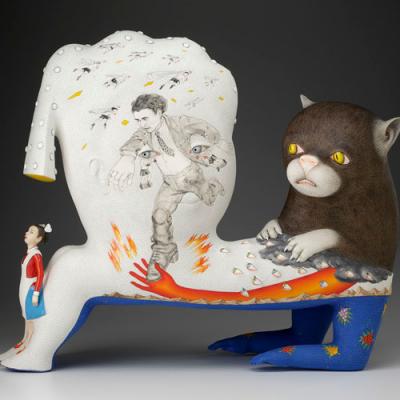 The ceramic pieces in Sergei Isupov's exhibit Hidden Message, in the main gallery of the Erie Art Museum until April 2, don't give up their secrets very easily, if at all. The pieces range from small and intimate to imposingly monumental; their allusions seemingly straightforward at times and, upon closer inspection, feverishly mysterious. In general, an unnerving disjointedness prevails.
The raised arms of the impressively large and muscular bronze-colored torso in "Da Hem, Hem Da" positioned at the entrance to the exhibit send a clear signal that one is about to enter a different world, one that will take the viewer on an unexpected journey through cypher and ambiguity.
"Da Hem" and "Directions" nearby are forcefully vertical human forms creating a stern authoritarian presence. Their placement suggests Isupov plans to overwhelm us with bulk, but he doesn't really need size to challenge our perceptions of the human condition. His works right around the corner do the same with layered stories, none of which are spoken in complete sentences.
Slippery in intent and meaning, his smaller slab-built pieces defy conventional physiology. Animal heads adorn human-like bodies, two humanoids share a body, and animals and humans are joined by amorphous shapes representing the activities going on between them. In most cases here, nothing can be taken at face value.
"Speech of the Wild Animal," for example, is an enigma. Human legs with extended thighs emerge horizontally from a bear's torso (with its own blue legs). Balanced on the human's ankles is a small female figure garbed in a red and blue dress, white pinafore and white bows in her hair. Perched on top of the thighs is a flattened human head. On the front, a man runs across the face. On the back, a man and women float, coiled into one another. Rather than feet, the woman's legs end in a fish tail. On both sides of the thighs, large painted red arms reach down toward the knees. There are multiple stories here, with layer upon layer of meaning.
Isupov's mastery of clay is unmistakably evident in all of his works, but more so in those where he stretches the material to its limit, creating fantastical shapes appearing to defy gravity. In "Spark," a small work in which a bride and groom fly above their base, their legs extend six inches out, a technical feat marking him a master builder. That same sense of technical daring can be seen in "Full Moon," where two women's bodies emerge from a man's ripped-open chest, their legs pointing up and down, completely free of supports. As in all his works, here the technical serves the suggestion of manifold stories emerging from one figure, as if his dreams or inner self are ripping their way out of his ordinariness.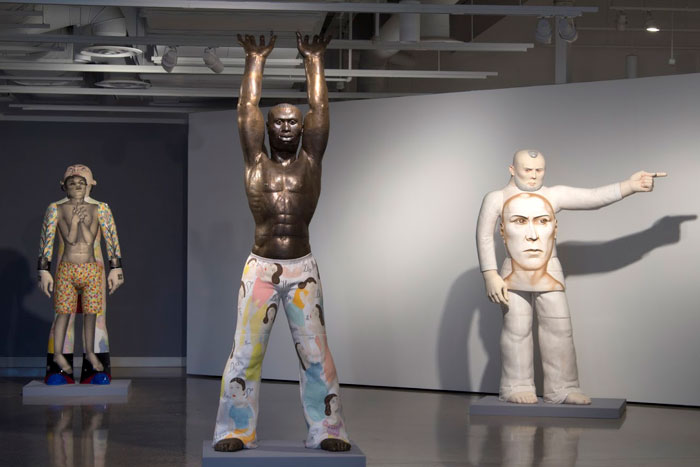 Two of his smaller, simpler works, "Sauna" and "Bathing Day," are brief respites for the mind, but still contain noteworthy and beautiful details. In both, two women sit on a bench, the warming stones across from them glowing and steaming. They differ though, in that in "Sauna," the women seem happy in one another's company and content to pass the time. In "Bathing Day," there is more urgency and sorrowfulness in one woman's face.
The Russia-born Isupov seems to have authoritarianism on his mind quite often. The giant of "Direction" stares down at the viewer with a chilling sternness, and the suggestion of external control is clear in "Dates on Feather Pillow" and "Disrobe," where hands, much larger than the bodies in the works, reach toward the figures to grasp or point. All insinuate an uncomfortable and unwelcome control over humanity, which seems perhaps even more disconcerting in these unsettled times.
Isupov plays with androgyny, dreams, demons, and more. His works can evoke fear, unease, and distress. He gets to the heart of humanity's darkest and most hidden moments. He shows us how while there can be one life, it has many stories. He exposes all the things we carry inside us that no one sees, how we slip back and forth between different kinds of creatures, and how the complexities of life can offer richness but at the same time sorrow and apprehension.
Amid this apparent melancholy, though, is the proposal that once we let those demons out into the light of day, we may be better able to face them, which conjures an optimistic radiance.
So while Isupov's works ask many questions and provide very few answers, it is deeply human, compelling, and satisfying to experience. Don't miss this show.
Mary Birdsong can be contacted at mBirdsong@ErieReader.com, and you can follow her on Twitter @Mary_Birdsong.