Hillary 2016: Breaking the Country Mold
Hillary's SuperPAC is on the move and it's not pretty. 
December 7, 2014 at 12:18 PM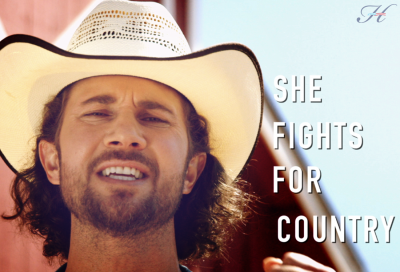 Warning: The following video will be the most disturbingly surreal thing you see this year.
It was paid for by the Stand with Hillary "Super PAC," which is preparing the nation for Hillary Clinton's next, and presumably final, run at the White House in 2016.
I'd like to point out a few cultural observations that will distinguish Clinton 2016 from Clinton '92.
First in 1992 Bill Clinton broke the political campaign mold by using Fleetwood Mac's "Don't Stop" as a campaign anthem. Incorporating the Rumor-famed band as the musical soundtrack of his presidential bid may have been somewhat Freudian on the part of the campaign and its staff, but it set him apart from the elder Bush and Ross Perot, neither of whom cared to be culturally relevant.
Stand with Hillary has already eschewed the aura of independence by wrapping itself in the shroud of pop-country music, which many politicos see as the great equalizer between the "everyman" and out of touch politicians from coast to coast.
Furthermore, Clinton '92 ran on a campaign addressing the economic realities facing the country in the post-Cold War era. Remember James Carville's mantra, "It's the economy, stupid." (Although attribution of the quote has been disputed from time to time, it does have ragin' cajun appeal.)
Hillary 2016 is running on, well, Hillary. As you'll see and hear in this contrived poli-ballad, Hillary is just like your beautiful country wife. She waxes your rusty car with her blue jean wearing buns as you sit on the porch pretending to be Blake Shelton
Symbolically, the music video is also very strong...and literal. We, American's, are apparently "Learnin' hindsight's always right." Which I interpret to mean that we would be better off if we'd elected Hillary in 2008, say nothing of the fact that a video promoting an Ivy League educated presidential contender uses the term "Learnin'."
What we're learnin' is that Hillary will be running on Bill Clinton's coat tails and her time as first lady rather than her time in the Obama Administration.
Let's just hope, like the man from Hope, that other PACs and campaign committees don't read this as an effective communication tool. If pop-country ballads with musicality-less lyrics are the future of elections in this country, the terrorists may have won. God help us, one and all.
Contact Jim Wertz at jWertz@ErieReader.com or follow him on Twitter @jim_wertz.