How One Former New Yorker Returned to Erie to Write
Local native and former creative director of TED advises on how to get those creative juices flowing
Someone on Twitter challenged his or her followers to write the first sentence of "your great pandemic novel" — the book you've finally gotten around to writing because you now have oodles of time on your hands.
This was my tweet, for a book that would be more memoir than fiction: "The twice-widowed bride and the divorced groom got married 37 years after their first date."
Then I got stuck, so I asked my husband, the divorced groom who married me, the widowed bride, to pitch in. I'd write one sentence, he'd write the next line, until we had completed our masterpiece.
At least Eric, my husband, has a couple of books under his belt, including Baseball Stats, written for Scholastic and co-authored with Jeff Shermack.
But who was I kidding? I haven't even been able to finish a single book during the pandemic, let alone write one, even though in early March I checked out a stack of enticing library books, including The Library Book, Susan Orlean's nonfiction narrative about a fire that torched the Los Angeles Public Library in 1986.
And instead of diving into Summer of '69, a guilty-pleasure beach read by Elin Hilderbrand, I've frittered away time reliving the summer of '68 by playing Hair, the "American tribal love-rock musical," on my retro turntable. I want to psych myself up for the day when we'll all have hair "shoulder-length or longer."
I decided to unjam my brain from reader's block by catching up with author Doug Chilcott, who moved away from Erie after college, enjoyed an amazing career in creative enterprises involving writing and marketing, then returned to Lawrence Park in January 2019 to work on two novels.
Now 56, Chilcott has also been inspired to write a collection of short stories, based on his "radical change" of leaving New York City to move home, invest in a house, and buy his first car.
Chilcott moved back to Lawrence Park because he was ready to take "a self-funded creative sabbatical." He has worked as vice president/associate producer for Pop-Up Magazine, as creative director for TED Conferences, and as associate creative services director for The New Yorker.
I met Chilcott through Diane Chido, president of DC Analytics. In January 2019, about the same time that Chilcott moved here, Chido asked me to participate in her five-part lecture series at the Jefferson Educational Society. Her idea was to encourage local leaders to apply lessons from international peacekeeping and nation-building strategies to solve regional problems in Erie.
Months later, when I ran into Chido at the grocery store, she spotted my TEDxErie T-shirt and invited me to hear Chilcott speak to the Rotary Club of Erie on Sept. 11. As the Rotary's program chair, Chido seeks out programming that examines "Erie's renaissance and the importance of inclusivity as an integral part of the process, not something we slap on later," she said.
Chilcott spoke at the Rotary about how the Technology, Entertainment and Design (TED) Conferences grew into a global phenomenon, but I knew I'd like the guy when I queued up in the local Sheraton buffet line. That's where I met his mom, Rosemarie Chilcott. She introduced herself by saying that one of her daughter's best friends is the sister of my friend, Mary Solberg. It was such a delightfully Erie way of making connections.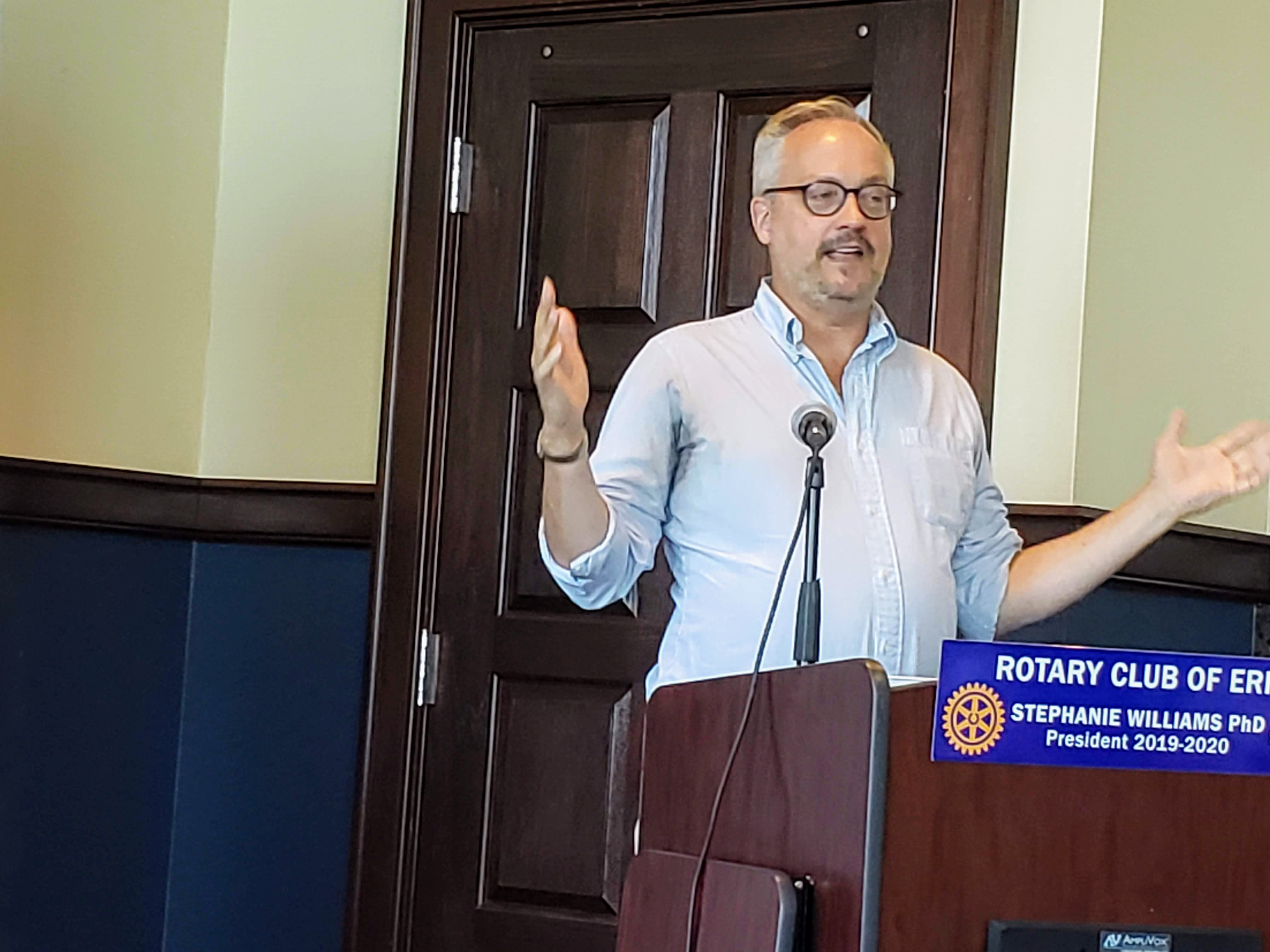 I'm also always interested in meeting people who have boomeranged back to Erie. Some, like Chilcott, bring their talents and energy back temporarily. Others, including Chido, make a longer-term commitment. She has lived in Erie, her hometown, since 2003, but she uprooted herself in 2015 to join the U.S. Army War College in Carlisle, Pa., working at the Peacekeeping and Stability Operations Institute.
"I went to Carlisle on a one-year contract, sold my house, took the leap, and stayed for three years," she said. In addition to her consulting work, she is an adjunct teacher at Gannon University.
The Army War College has several Erie connections. Jim Breckenridge, former dean of Mercyhurst University's Ridge College of Intelligence Studies and Applied Sciences, is the War College provost. Kris Wheaton, a former intelligence studies professor at Mercyhurst, is a professor of strategic futures at the War College.
Chido considers Wheaton as one of her most influential mentors, and his wife, Judy Wheaton, has become her dear friend. When the Wheatons were preparing to downsize to move to Carlisle, they advertised their baby grand on Facebook. Chilcott bought the piano for his new house in Lawrence Park.
Judy Wheaton was tickled that her family's piano would be in good hands. "This guy is such a treasure," she said. "He values relationships, music, and art."
Wheaton knows what it's like to relocate to a new place. A military brat who married a man in the military, she's moved 16 times in her life, she said.
"She was so upset that she had found such an interesting person just as she was leaving, so she handed him over to me," said Chido. Wheaton had a wine-tasting party to introduce Chilcott to some Erie people, including Chido, whom she describes as a great writer with deep community connections in Erie.
Chido said it can be a challenge to relocate, "especially in a place like Erie, which is so tribal."
I wrote a column long ago about someone who was charmed by Erie's "Mayberry RFD" values, and I once screened a job candidate for the newspaper who said that Erie reminded him of Beverly, the Irish-Catholic neighborhood in Chicago immortalized by the Rev. Andrew Greeley in his Blackie Ryan novels. I view Erie as an amalgam of small-town values and big-city culture. Chilcott is at home in both settings.
The youngest of six children, he grew up in Lake Cliff in Lawrence Park. A voracious reader, he was also immersed in theater, band, and music in high school. His late father, Richard, was a "big storyteller" who also loved to change the rules when they were playing cards or board games. "In many ways, that's what creativity is. You are constantly adding something," he said. But in writing or other arts, you shouldn't become so obsessive with tweaking that it cripples you, he said.
Following graduation from Wooster College in Ohio, Chilcott spent that summer in London, bartending with his college roommate at a seedy pub that he suspected catered to prostitutes. His first novel is based on that experience. "In the book, (the pub) actually is a brothel. It connects all the characters in the pub … it's a fun social romp about two American kids," he said.
Living in New York, Chilcott would set aside Fridays to write about 2,000 words for his novels. Confident that he had some "momentum" with both works, he decided to take advantage of Erie's lower cost of living to move home and finish them. Working three to four hours a day, he's upped his output to 2,000 words a day, and now the novels and his short stories are about 75 percent complete.
Of course, he misses New York. He visited there in mid-March, just as the full impact of COVID-19 was being unleashed. "New York is just the best city in the world. To see it struggling is challenging," he said.
Still, the skills he honed as a New Yorker in "being wildly over-observant" serve him well here as a writer. He recognizes that stories pop up everywhere. One of my favorites about Chilcott is the anecdote about how he announced his homecoming to his mom.
During the summer of 2018, he found a house near Elbow Park in Lawrence Park that interested him. Later, he asked his sister, Karen Barringer, and his best friend, David Anthony, to walk through the house with the real estate agent. "I bought the house without being inside of it," he said.
Chilcott, an "urban planning junkie," likes the fact that Lawrence Park is a planned community, designed by pioneering urban planner John Nolen for General Electric Co. workers. "As a New Yorker, I needed to have a little bit of urban density," he said. He likes the fact that he can walk to the Lawrence Park Dinor, which is on the National Register of Historic Places, along with most of Lawrence Park Township.
His sister used a ruse to get their mother to Chilcott's new house, telling her that a friend was thinking of buying it. Chilcott greeted his family at the door. His mother was surprised to see her son in town. Then as a recording of Chilcott playing cello came from a little speaker in the dining room, Chilcott announced to his mom: "Welcome to my house," he recalled.
"It's a nice chapter of my life to be back here," he said
I asked Chilcott for advice for aspiring authors.
"There are stories all over the place, if you just look close enough," he said. When he observes people, he also sees their story — or a potential story — hanging over their heads, like a thought bubble.
Chilcott reassured me that it's OK to think small and to be "really efficient" in your writing. Tell a story in three paragraphs, he suggested. Or write your story as a screenplay, in three parts.
Chilcott already has one book to his name. "Alas. In the 1990s, I ghostwrote a book for Kermit the Frog, Kermit's 501 Fun Facts for Kids," he said. "I got to visit the Henson headquarters and see some of the Muppets in their natural habitat (which was a gorgeous townhouse off Park Avenue!)."
Now I'm really envious. In college, I liked to sing Kermit's poignant and perceptive signature number, "It's Not Easy Being Green." I had learned it by watching Sesame Street with my four-year-old brother. I liked the music so much that my future third husband bought me the first Sesame Street album as a Christmas present in 1970. I pulled that out of the cupboard when I excavated Hair.
Liz Allen and her husband, Eric Compton, have only written 280 words and eight paragraphs in their great pandemic novel. You can reach her at lizallenerie@gmail.com.