Howie Glover: Digital Dreamer
From destructive days with the guns and the drugs and the fights and the nights in the Greybar Hotel, the renowned videographer is now building a bright future for himself in Erie.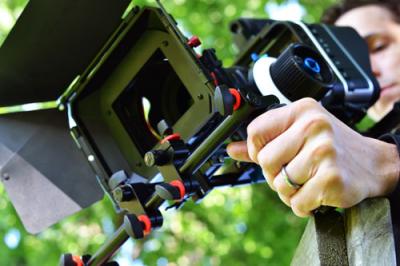 "A gun went off in the house," Howard Glover chuckled, with a look that conveyed astonishment and embarrassment. "The bullet went through the wall right next to us, and that's when I said, 'I'm done, dude,' and I threw all my shit on the table."
Born in Manhattan but raised in the tough neighborhood of Sunset Park, Brooklyn, Howie Glover, 42, found ways to get himself into plenty of trouble by the early '90s. "At that point in my life, I sold drugs for a little while, and did some messed up stuff," including a few days in jail, he sheepishly admitted.
But nowadays, Howard Glover's no longer ripping down the rafters of the republic.
Nowadays, Howard Glover's a builder.
During daylight hours, he's a family man, devoted friend, and professional carpenter who works at General Electric helping design and build full-scale mockups of locomotives out of wood.
By night, he fabricates with film, photos, and pixels as part of Erie's vanguard of talented videographers.
And since those destructive days with the guns and the drugs and the fights and the nights in the Greybar Hotel, Howard Glover's been building something else, too.
"My stepfather was a custodian for years, and my mom, she was a working-mom with four kids in the house. The neighborhood was pretty rough. Lots of fights, lots of scars," Glover sputtered shortly and softly. He's rail thin and pale, with spiky dark hair, a face just beginning to show some wear, and a thoughtful, meditative stare.
Late in his high school career, Glover and his family moved from Brooklyn to Bay Shore, Long Island, which is like going from the front lines to the green zone. An avid skateboarder, Glover experienced "complete culture shock" as the constructs of his physical and interpersonal landscape dramatically changed. All his friends, and all his favorite skating spots, he said, were gone.
"But it kinda worked out because I wound up meeting my best friend of 25 years now, [retired pro skateboarder and skate shop owner] Matt Bell," he mustered, in his mild Brooklyn accent. 
"Howie looked like he was 12," Bell said of their first meeting in a mall, when Glover was 18. "He definitely had that 'I'm from Brooklyn' attitude, and he never had a problem knuckling up. He fit right in from the moment we met."
After graduating from Bay Shore High School, Glover worked on and off in landscaping, and said college was never a consideration for him; only one thing really was.
"Skateboarding," he said. "I chased that dream. Then, about 1991, some of my buddies started quitting; sponsorships weren't there at the time, the business of skating kind of took a nosedive, and I wound up quitting skating, and joining a gang."
After the incident with the gun, Glover had decided to remove himself from the gang lifestyle, but much like quitting any self-destructive habit, one often needs a surrogate to occupy the idle hands. Glover's placebo?
"Skateboarding," he repeated. "I just went back to what I was doing before. And most of my other friends ended up doing the same thing. I think it was about 1995; I got back in to skateboarding and landscaping and everything started heading in a great direction - that's when I first started getting into film. My Godmother [film industry veteran Sabrina Wright] is a prop master and that was my connection; I worked on a Wesley Snipes movie called Fly by Night. So I got my first taste of that, and I was like, 'Wow, this is pretty cool.'"
One day, Glover's friends asked him to pack up and drive with them to California, where his buddy Bell was to be interviewed by legendary skate magazine Slap. Upon arrival, Glover found himself surfing the couches of Chad Muska, Tom Penny, and Ronnie Creager – three of the biggest professional skateboarders in the world at the time.
"We just clicked with these guys, and they let us stay there. They were all making $100,000 a year, they had this nice house three doors down from Dennis Rodman on Newport Beach, and they were like, 'Yeah, we don't care, stay as long as you like.' Another person that wound up living there was Jackass' Bam Margera."
Glover skated in Southern California for a year and a half but returned to Brooklyn – new girlfriend in tow – once he tired of the laid-back California lifestyle. The two of them then bounced over to Boston, again crashing in a house full of skaters. One of those skaters happened to be a shutterbug, so Glover began to take an active interest in photography.
A short time later, back in Brooklyn, his girlfriend purchased a camera for him, something he couldn't afford for himself at the time.
"She was like, 'Here, go do something with that,' so I filmed skating. Non-stop. Every single day. Eventually I sold footage to lots of companies for skate videos."
Frantically filming, he found less and less time for skating, working 80-hour weeks as a production assistant on projects like the first Spider-Man movie, Dennis Leary's Rescue Me, Sex in the City, and The Sopranos.
"No more skateboarding," he laughed.
But it still wasn't steady enough work, so he joined some friends in applying to become a union carpenter in New York City.
"I quit film completely," Glover said, recounting his four years of carpentry school in Manhattan; at the same time, he separated from the girlfriend who had bought him the camera, and isolated himself.
After holing up for a few years and concentrating on his studies, Glover said that he was sitting on his couch one morning, drinking beer and playing a fishing simulation game on Nintendo with a friend. His sister came by to use his computer because hers "wasn't working," and she was not happy with what she found.
"She's like, 'You guys are f—-ed up. You guys have to do something with yourselves,'" Glover laughed. "After a few minutes, she starts asking me random questions, and like an hour later, she was still asking me questions. I was like, 'What are you doing?' and she said, 'Oh, I filled you out an eHarmony profile.' And the first person I met," he said as a flash appeared in his eyes, "became my wife."
Although Glover's abnormal eye for skateboarding had always driven his desire to film, he would go on to make his name – at least locally – in a completely different genre.
Glover glowed as he described the natural law of attraction that led to his courtship with Melissa Benz, an Erie native who then moved to New York with her 6-year old son to be with Glover. And, in a story that has been repeated more than once in these very pages [see: jazz bassist and Erie resident Tony Grey], when they became pregnant with their first child together, Glover and Benz left New York and sought refuge in a simpler, safer, more supportive environment - good ol' Erie Pa.
"I didn't even have a cellphone," he laughed again. "I just worked, came home, played with the kids. No film, no nothing. And then one day, I picked up a newspaper, and I saw a DSLR camera."
His passion rekindled, he bought the camera and started looking for side work. In 2009, a promising lead with the HBO series How to Make it in America fell apart, though, when his decade-old demo reel was deemed not recent enough and not high-def enough.
"And I said, 'That's never going to happen again.'"
Glover hit the half-pipes and empty swimming pools with renewed dedication, shooting skaters in their natural habitat – the concrete streets, stairways, and parking lots of America.
Erie skater Mike Berdis – who recently won the Nike Skateboarding "Best Trick" competition in New York City – was just 12 years old when Glover started filming him; he's 18 now, but he's old enough to recognize what makes Glover's work special.
"He was the man in New York before he moved here – I know that much," Berdis, the skater pictured on this issue's cover, said reverently. "He's an awesome filmer and an awesome guy. He's always trying to give back, that's for sure. He's been in the game forever, and he has the eye, you know? He's always looking at things in a different way than normal people."
Although Glover's abnormal eye for skateboarding had always driven his desire to film, he would go on to make his name – at least locally – in a completely different genre.
"I shot a music video way back in 2000, and I thought, 'Well, that was fun!'" Glover smiled. That experience led him to his initial foray into the huge hip-hop scene in Erie, and it wasn't long until his inbox started blowing up after shooting, directing, and producing a string of videos for local artists, starting with Zeek Diamond and growing to include Aberian Kelevra, Lake City Fresh, Lazyrus, The Lower East Side Connection, Spethz [with ample aid of frequent Erie Reader contributor "Monster" Mark Kosobucki], and Whodat Peez, among others.
"Howie has top notch quality along with film experience and creativity," said C. Brown, an Erie Reader 40-Under-40 alum and just one of a host of local musicians Glover's shot. "I know with him, he will create a visual that will help convey my message. Any musician would miss out if they didn't want to work with him."
One who didn't miss out is legendary hip-hop figure and artist SKAM2?. SKAM2? has worked with Detroit-based hip-hip group D12 as well as Eminem, even drawing album covers for both and earning a mention in Eminem's mega-hit "Stan."
SKAM2? is currently collaborating with Glover on an upcoming single called "Bagadat." He's notoriously picky on who he works with, but said that Glover's determination "to do whatever he can to get the best out of what is at his disposal" is what drew him to Glover. "Whether he's got to study about it, search for it, or build it, he lives on that extra mile and is definitely not afraid to get his hands dirty," he said.
Glover's work – issued under the name Threegloves Productions – is worthy of such high words from these well-known performers. Most notably, the cuts from shot to shot and scene to scene in Glover's creations are so seamless and timely that they almost seem to drive the music, rather than vice versa. An audio track put to Glover's eye becomes bigger than itself, like adding extra floors to the top of the Empire State Building.
"A lot of it's cut to the beat," Glover revealed. "It goes back to a skateboarding thing that I used to do; I started cutting right on a beat, or a hit, or something like that, and people really liked the way it looked, so I just got creative with it."
When the only tool in your toolbox is a hammer, everything looks like a nail, but this proud member of the United Brotherhood of Carpenters and Joiners of America Local 81 knows that sometimes it's the 220-grit sandpaper that makes all the difference.
"I think people overly use certain techniques sometimes, and I like to change it up," said Glover. "Some videos I've done, I've completely stayed away from that style, just to see the reaction."
John C. Lyons – the dean of local filmmakers – reflected on Glover's creativity, albeit from a more philosophical perspective. "Howard's filmmaking style is a breath of fresh air for our region," he said. "His energy and enthusiasm comes across in each frame; as a viewer, you feel very 'in-the-moment' with the musicians in his videos. You're in their world for those 3 to 5 minutes, and you get wrapped in that youthful energy and spirit. He intrinsically knows how to get that experience across from lyric to visual."
As Glover draws the mental blueprints for each level of his structured, soaring productions, the thing that continues to serve as his foundation is the same thing upon which all media is built.
"I like stories," Glover said. "Whodat Peez's video is my biggest production. We spent ample time doing that, and we had a lot of people helping us out, like [local photographer] Jessica Yochim. It's kinda cool because for a while I was definitely under the radar, but now, I surround myself with really good, down-to-Earth people."
Howie Glover has come a long way from courting destruction on the brutish Brooklyn boulevards; he's built a successful career from the scrap wood of those dangerous days, and he's built a solid life in Erie for himself and his family.
"I'm a strong believer in, you know, if you hang out with negative people and they're doing negative stuff, that negative stuff is going to come back around sooner or later and bite you," he testified, unknowingly thumbing the long thin scar on his jaw given to  him by a beer bottle decades ago.
Accordingly, that other thing that Glover's been building this whole time – in addition to a family and career – is a positive, productive vibe among the local artists and creators he encounters.
"That unity mentality was already there when he moved out to Erie," Peez said. "He came up with an idea to put together a group of talented artists from different walks of life – which is harrrrd to do in hip-hop. He goes to all these shows and takes pictures of everyone and never asks for a penny, and he purposely puts people in pictures together – people who would have previously never spoken to each other – and it gets them to start speaking to each other and networking. He got Jonny [Evans] from L.E.C., Dommy [Doo] from Random Union, C. Brown, and me, and he sat us down and explained his vision; through his positive way of thinking, it got us all to band together as the group Madworld. I will always be thankful for that and for meeting a cat like him."
Sitting at his desk each night, surrounded by the tools of his trade – cameras and computers and lenses and lines of cable connecting them all – Howard Glover has grand plans for the future. Plans that were once unthinkable to a tough kid from a bad 'hood. And as his career in film continues to rise from the ground like great girders of steel soaring skyward, Glover remains grounded and humbled in the knowledge that, most importantly, he's fostering a much-needed sense of community in his adopted home town, he's fomenting harmony among the souls he encounters, and he's building from scratch the digital dreams of dozens and dozens of doers, including himself.
You can see a retrospective of Howard Glover's work on Wednesday, July 23 at the Film Society of Northwestern Pennsylvania's "FILM at the Erie Art Museum" series. For more information, visit www.filmsocietynwpa.org, or Glover's website, www.3gloves.com.
Cory Vaillancourt can be reached at cVaillancourt@eriereader.com or on Twitter @VLNCRT.