I Was a Creature of the Night
Personal confessions of a Rocky-addled mind
October 11, 2017 at 1:30 PM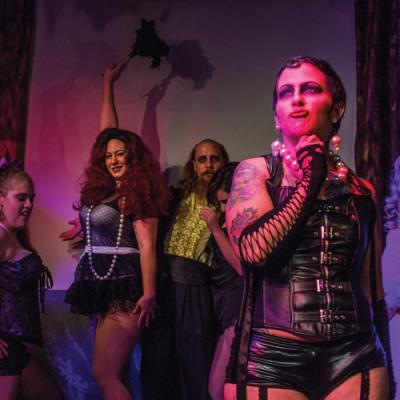 This is the third year in a row that I've been in the Rocky Horror Show. It is also — for the foreseeable future — the last.
In 2015, the Performing Arts Collective Alliance (PACA) resurrected Richard O'Brien's classic musical. In the wake of the film's 40th anniversary, it was an auspicious time to do so. The film — which holds the continuing record for the longest theatrical run of all time — even saw a slight resurgence in popularity. The original cast did a small press junket, and it was announced that the film's iconic star, Tim Curry, would be appearing in FOX's (ultimately lackluster) made-for-TV reboot. And just like that "spark, that is the breath of life," something special was being born. 2015's PACA run sold out every single show that year.
This was far from the first time the Rocky Horror Show had graced an Erie stage. Starting in 1992, the now-defunct Roadhouse Theatre (which is now the current home of Basement Transmissions) mounted the production for several years. In 2006, they condensed the show and brought the performance to Sherlock's. That was the first time I saw it live. Up on the stage were fellow musicians I knew like Josh Zimmer, "Morbid" Rob Burke, and the late, ever-talented Jon Miller. It was punk rock, and I loved punk rock. It was weird, wild, raucous, and catchy as hell. I had seen the movie as a teenager, by myself, taped off of a commercial-free screening courtesy of VH1, but that simply did not do it any justice. People were shouting things at the actors like a well-oiled machine. The energy was undeniable, and I wanted to be a part of it.
"Don't dream it, be it." That's a message in the final act of the show which tends to sincerely hit home for fans. It would be a few years, but it was time to finally "be it."
In 2015, it had been years since I had played music on a stage. Thankfully, I was lucky enough to be acquaintances with a few people who had heard about the production and auditioned for it. Thanks to Brit Soule — who has three Rocky-inspired tattoos, and had just gotten the role of Dr. Frank-N-Furter (a scientist), I noticed that the band was still being formed. I jumped at the chance, and a few phone calls later, I was in. Guitar was, and is, my first choice when it comes to instrumentation, but I was overjoyed to be able to fill the bass desires the show's plight required.
It's no underestimation to say that the show changed my life. There's something special about this show that keeps people coming back. There's an unadulterated embrace of individuality, a sexual liberation, and a celebration of weirdness alive in Rocky Horror. The show put the word transsexual into the public's consciousness decades before we would truly start to understand the idea. While this show is anything but delicate with touchy subjects — quite the opposite, in fact — it approached gender issues with a unique understanding far ahead of its time. Perhaps it's thanks to the perspective of the show's writer, Richard O'Brien, who plays Riff Raff (a handyman) in the film. He described his own gender identity, explaining that "all my life, I've been fighting; never belonging, never being male or female, and it got to the stage where I couldn't deal with it any longer." It's that feeling of a lack of belonging that might connect just about every Rocky fan. It's for the gay kids, the trans kids, the goth kids, and the punk rockers. It's for the nerds, and the bikers, and the groupies. Let the Betty Munroes and Ralph Hapschatts (aka the "squares") of the world have their mainstream pop. Rocky is for the misfits.
And that music. It was punk rock before the Ramones ever played a note, it's a soundtrack somehow lying perfectly between early 1970s David Bowie and … early 1970s Elvis Presley.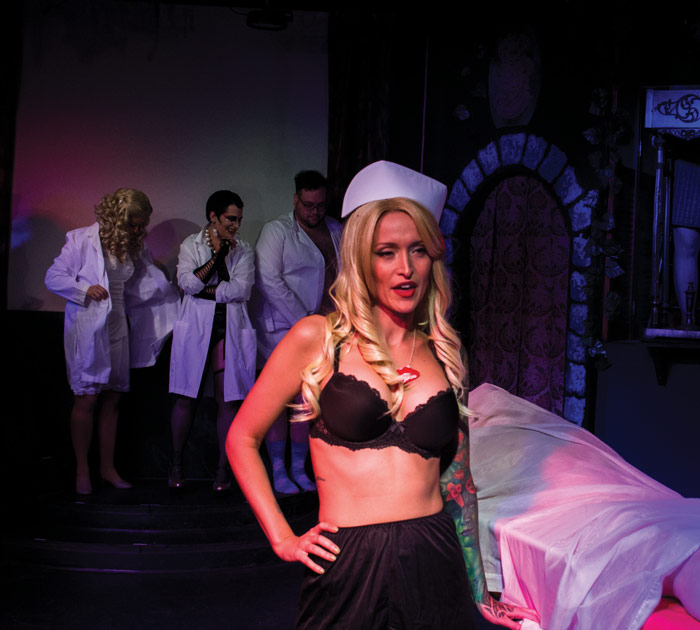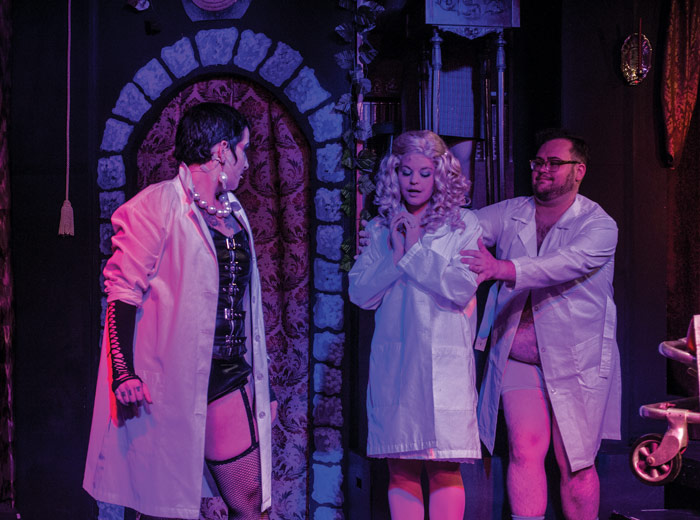 While on the surface, it's a story about "two young, ordinary, healthy kids," Brad Majors (a hero) and Janet Weiss (a heroine), who become suspiciously stranded, going to a nearby castle, whose owner just happens to be bringing his specially-created muscleman to life. It's a plot with, admittedly, many holes. It's part love letter, part satirical throwback to science fiction B-movies that thrived during the 1950s.
Beyond that, it's about finding yourself. It's about casting off inhibitions, and making your way through life's bizarre obstacle course of sexual identity. It's also one of the most inclusive experiences in modern American culture.
Whether you find yourself in the pews of PACA, or the seats of Cleveland's Cedar Lee Theatre, or Pittsburgh's Hollywood Theater in Dormont, you'll hear a whole slew of "callbacks." In PACA's production, "popcorns" are part of the chorus who also help aid in the audience participation, interjecting quips at key moments. In a unique blend of Mystery Science Theater 3000 and cheerleading, the audience interacts with the movie, spouting off well-worn jokes along with the occasional improvised witticism. For a start, feel free to shout "asshole" anytime Brad is mentioned, and "slut" when Janet's name is brought up and you'll fit in just fine.
The people involved with this production have poured their hearts into it. Soule lives and breathes her role, the five foot tall riot grrl diva towering above everyone on stage. There's Graham Scott, who has played keyboards for the show since its Erie inception in the 90s. Aimee Kast and Adele Crotty have developed a deep friendship thanks to the show, referring to themselves as "the real life Magenta and Columbia." Beginning the PACA tenure as stage manager during the first two years, Annie Rosenthal is now playing the show's narrator. George Silkworth is so devoted to his role as Riff Raff, that he's taken to shaving his head in the character's recognizable hairstyle. Everyone is putting their own special touch to the show, from "popcorn girl" McKenzie Sprague's callbacks and vocal harmonies, to drummer Morgan Brace's special sound effects work.
Local theatre can be a special thing, it can bring people together and help them express their creativity in fresh ways. It builds community and friendships that can last a lifetime. Backstage at nearly every single production, there's a story somewhere. This epic tale finds itself nearing its final chapter.
Opening night has come and gone. The weekend of Friday the 13th will see the return of Chris Gaertner and Earl Kunsman as Brad and Janet, reprising their roles from last year. There are a few weeks left to catch the show before Halloween arrives, with midnight shows every Saturday. So, come along — the master doesn't like to be kept waiting.
Tickets available here

Every Friday and Saturday in October at 8 p.m., with midnight shows every Saturday, special service industry night Sunday, Oct. 29 at 8 p.m. // 1505 State Street // $15 in advance // 18+ // BYOB // paca1505.com

Nick Warren (a musician) seems to be a young, ordinary, healthy kid, and can be reached at nwarren@eriereader.com