Ideas for a Green Christmas
We generate an additional 5 million tons of waste during the Holidays. Here's one way to help.
December 23, 2015 at 8:58 AM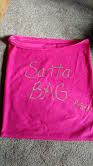 Erie's lack of snow is not the "green" I'm referring to but an eco-friendly version of the holiday. For anyone committed to making a difference in the climate change dialog, we know we all must do our part, and it begins this season with the simple reusable holiday bag.
The Clean Air Council states: "In the U.S., an additional 5 million tons of waste is generated during the Holidays. Four million tons of this is wrapping paper and shopping bags." To better visualize the scale of waste, consider what I found on Intercongreen.com: "At 4 million pounds, that's over 333 million square feet, or about 5,787 NFL football fields worth of wrapping." Ho Ho NO! 
Knowing that we need trees to remove the growing carbon buildup in our atmosphere makes me wonder how many trees we lose each year for the sole purpose of wrapping gifts. Pablo Paster on treehugger.com states: "30 million trees are cut down just to wrap our gifts!" Granted we do enjoy the loveliness of a well-wrapped gift but it need not come from tree pulp!
The reusable bag I made 20 years ago and pictured here is still in use and is super easy to make:
Determine size of bag needed;
Cut fabric in a rectangle twice the size you need;
Roll end(s) to make a small hem. Stitch hem leaving an opening for a drawstring, or skip this part by using pinking shears;
Fold right sides together, sew each side. Invert.
Done! 
Pinterest has lots of other great ideas, and some do not require sewing at all. Not only will this help save trees -- our world's best filtration resource -- but the money spent on a throwaway product is approximately $2.6 billion annually as estimated in The Atlantic. I know that money could surely be used to make our environment cleaner or given to families that do not have the luxury of gift exchanges.
Visit: use-less-stuff.com for more reduction ideas and Climate Reality for other ways to help.