If We Were You
The best things to do in Erie over the next 14 days.
April 17, 2013 at 7:01 AM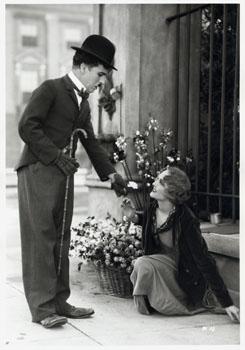 WEDNESDAY 4.17
FILM at the Erie Art Museum presents: "City Lights"
Come see the master of silent film Charlie Chaplin in his classic masterpiece, "City Lights."  In this film, the Tramp falls head over heels for a blind flower girl and sets out to earn the money for an operation to restore her sight. Get to the Erie Art Museum early for drinks, food, and friends.
When: 7 p.m.
Where: Erie Art Museum, 20 E. Fifth St.
Contact: Facebook.com/FilmErieArtMuseum
THURSDAY 4.18
Drips & Beats
Another month, another healthy dose of Drips & Beats at the crooked i for all you music lovers out there. This time around, The Box Street Couture is serving up five helpings of hip-hop, with B. White and Mayo of Pittsburgh group The 58's and Baltimore's Height leading the way on a night full of beats.
When: 10 p.m. to 2 a.m.
Where: the crooked i, 1013 State St.
Contact: facebook.com/thecrookedierie
FRIDAY 4.19
Seth Meyers and Chris Hardwick at Penn State Behrend
Gather around for your first chance to see Seth Meyers at Penn State Erie, The Behrend College. Meyers, most commonly known for his Weekend Updates on Saturday Night Live, will be bringing his comedy styles to the area with the assistance of Nerdist's Chris Hardwick, who will open the show.
When: 6 to 11 p.m.
Where: Penn State Behrend, Junker Center, 4701 Station Road
Contact:  brz5011@gmail.com
B.T. Unplugged
There's nothing wrong with being loud and proud, but sometimes we all need to go back and enjoy the basics. That's why Basement Transmissions is hiding all the amps for a Friday acoustic show where artists like Jerry Gaff and Luke Koozemeesh can let the bare essentials of a song shine.
When: 5:30 to 10 p.m.
Where: Basement Transmissions, 1501 State St.
Contact: basement-transmissions.webs.com
SATURDAY 4.20
Erie Station Dinner Theatre presents: "Go Bingo"
Come be part of the fun that is "Go Bingo" at the Erie Station Dinner Theatre. "Go Bingo" is the tale of the Great Mill Creek Flood of 1915 that wiped out rival churches and causes them to coincide in one church.  Enjoy a tasty dinner, full bar, and bingo prizes to the tune of exciting music.
When: 5:30 p.m.
Where: Erie Station Dinner Theatre, 4940 Peach St.
Contact: 864.2022
Conehead Buddha
Brought into this world back in 1993, the New York-based genre-blending jam band Conehead Buddha is ready to summon us to the crooked i for a show worthy of a Highmaster. With their ska-influenced jams, it won't be hard for the members of Conehead Buddha to endear themselves to the Erie natives.
When: 10 p.m. to 2 a.m.
Where: the crooked i, 1013 State St.
Contact: facebook.com/thecrookedierie
SUNDAY 4.21
"Dr. No"
We're not going to muddy ourselves by delving into the reverential fanboy mythology surrounding Sean Connery, but Sean Connery could punch you in the mouth while making sweet, sweet love to your wife at the same time and make you thank him for both of those things. See him as James Bond at the Taylor Little Theater on the campus of Mercyhurst University for the 1962 price of 70 cents, for which you can thank Sean Connery while he's...oh nevermind.
When: 2 p.m.
Where: 501 E. 38th St.
Contact: 824.3000 or pac.mercyhurst.edu
MONDAY 4.22
It's Buck Night at the Uht
What's better than a night at the ballpark? A night at the ballpark with dollar beers, of course! And that's not all you'll get at this, the first Buck Night of the Seawolves' 2013 season. With dollar Smith's hot dogs, dollar soda, dollar popcorn, and tickets as low as $5, this is a deal that cannot be beat. So gather up your friends and family and come on downtown to cheer on the Seawolves as they head into this three-game home stand with the hated Bowie Baysox. See you at the Uht!
When: 6:35 p.m.
Where: Jerry Uht Park
Contact: 456.1300
TUESDAY 4.23
PA Department of Environmental Protection: Educating for Sustainability
Feeling a little blue with an Earth Day hangover? Well, just because Earth Day was yesterday doesn't mean you have to stop caring about the environment and our education thereof -- you can still be green the day after! Join The PA DEP's sustainability coordinator, Guy McUmber, at the Jefferson Educational Society to hear about the DEP's recent efforts to develop a verdant curriculum and community-based greening programs within schools in our area. After all, being green isn't just about one day -- it's about a sustained, enduring plan so that we can all enjoy our Mothers Nature and Earth.
When: 7 to 8:30 p.m.
Where: The JES, 3207 State St.
Contact: 459.8000
WEDNESDAY 4.24
FILM at the Erie Art Museum presents: "Upstream Color"
In the final installment of the spring season, FILM brings us "Upstream Color," a romantic thriller with a science fiction bend. The movie tells the story of a man and woman who are drawn together, entangled in the life cycle of an ageless organism. Identity becomes an illusion as they struggle to assemble the loose fragments of wrecked lives. FILM doesn't start back up again until June, so don't miss it.
When: 7 p.m.
Where: Erie Art Museum, 20 E. Fifth St.
Contact: Facebook.com/FilmErieArtMuseum
THURSDAY 4.25
"Natural Impressions" Mixed Media Student Art Exhibit
Here's a chance to meander through the student art display and see Presque Isle in new and colorful ways. Enjoy the artwork from students from first grade to college level enrolled in public, private, or homeschooled. Types of art include photography, paper, canvas, clay sculptures, and short digital videos.
When: 10 a.m. to 6 p.m.
Where: Tom Ridge Environmental Center, 301 Peninsula Drive
Contact: 833.7424
Erie Dance Conservatory's Spring Gala
Hey, you! Yeah, you! Did you read Leslie McAllister's profile of Sarah Purvis on page 19 yet?! If you haven't, go read it -- we'll wait here. If you have, let's be polite and wait for the others. Oh, hey -- you're back! Everyone's here now! It's impressive what Purvis has been able to accomplish, right? So here's your chance to meet her and the EDC troupe, as they host their Spring Gala. There's cocktails and catering by Make It Fabulous, and live music by Monk's Brew, which are included in the ticket price of $35 per person, or $60 per couple, so that's a win-win-win.
When: 6:30 to 9 p.m.
Where: Erie Art Museum, 20 E. Fifth St.
Contact: 476.7123
FRIDAY 4.26
Presque Isle After Dark: Long Pond Trail
Have you ever wondered what Presque Isle State Park looks like after dark? If so, join the Park Naturalists for a nighttime stroll along the Long Pond Trail. The journey is 1.5 miles long – and don't worry, you won't need to bring your flashlight or headlamp. Discover new information about creatures of the night as you search for owls, listen for coyotes, and scan the water for beavers. Enjoy the sounds of the night as you take this darkened stroll.
When: 7:30 to 9 p.m.
Where: Presque Isle State Park, East Pier parking lot
Contact: 833.7424
Hanzel und Gretyl
As far as we know, Kaizer Von Loopy and Vas Kallas of industrial metal duo Hanzel und Gretyl won't be hunting any witches when they come to town. They will, however, be filling Sherlock's with crushing guitar riffs and thumping bass lines, so there's no need to be disappointed by the lack of Jeremy Renner.
When: 9 p.m.
Where: Sherlock's, 508 State St.
Contact: 453.7760
SATURDAY 4.27
Walk for Autism
Join the Autism Society of America as they host a two-mile walk for support of the awareness of autism. Take the journey however you please; whether it be on foot, bike, or rollerblades, everyone is invited to participate. Weather permitting; there will be gift-basket auction free lunch, and an arts and crafts tent.
When: 10 a.m. to 2 p.m.
Where: Presque Isle State Park
Contact: 455.3540
Bitchwax, Mala Sangre, and Elementra
Despite Kurt Vile's comments on punk ideals being "totally irrelevant" these days, there are plenty of rockers out there to prove him wrong. In fact, local speedpunkers Bitchwax are teaming up with Mala Sangre and Elementra to put on a rollicking good show to show Vile just what punk can still be. Also, you can check out our review of Vile's "Wakin on a Pretty Daze" on page 16, because he also makes music.
When: 5 to 11 p.m.
Where: Basement Transmissions, 1501 State St.
Contact: basement-transmissions.webs.com
SUNDAY 4.28
Eric Brewer and Friends Music Video Shoot
By now you've likely already heard about how great local jammers Eric Brewer and Friends are and all that jazz. You may even know about their latest album "Seeing Sideways" that came out earlier this year. If so, then you'll be happy to hear that band is making a music video at the crooked i during a free show this fine Sunday, so get a piece of the filming magic and some live tunes all in one place.
When: 8 p.m. to midnight
Where: the crooked i, 1013 State St.
Contact: facebook.com/thecrookedierie
MONDAY 4.29
"Tornado Alley" roars into TREC
We Erieites get our fair share of severe weather, but lucky for us tornadoes aren't usually part of it. It's one of the reasons we're one of the safest cities in the U.S. (knock on wood). But tornadoes are one of the most awe-inspiring exhibitions of Mother Nature's raw power ever seen on planet Earth, and now we have a front row seat. This new film on the Big Green Screen documents two extraordinary missions seeking to encounter the very birth of a tornado. Buckle up and enjoy the ride.
When: showtimes daily at 11 a.m., 1 p.m., and 3 p.m.
Where: Tom Ridge Environmental Center, 301 Peninsula Dr.
Contact: 838.4123
TUESDAY 4.30
Erie Art Museum Spring Show
The way Rebecca Styn sees it, is that this art show is well worth your time. In fact, she's got a nice writeup featured in the pages of this very issue. She spoke with museum director John Vanco and this year's juror Alexis Rockman about the exhibit and the process. So do yourself a favor, and take your lunch break at the museum. Swing by the Wave Cafe for some good eats and then peruse the museum to see the featured from artists within a 250-mile radius of Erie. We guarantee you'll see it as well worth your time too.
When: 11 a.m. to 5 p.m.
Where: Erie Art Museum, 20 E. Fifth St.
Contact: 459.5477