If We Were You
Our hand-picked favorite things to do over the next few days.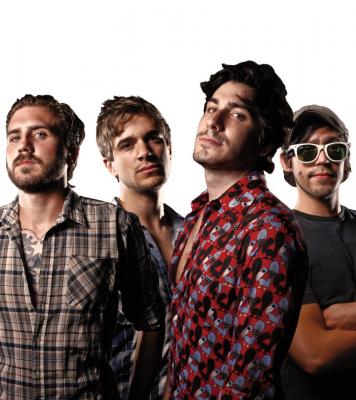 WEDNESDAY 5.01
Edinboro University's Annual Student Art Show Opening Reception
If the Erie Art Museum's Spring  Show left you wanting more, you're in luck! The students of Edinboro University are putting their best artistic endeavours on display for your viewing pleasure.  This opening reception is free and open to the public.
When: 5 to 7 p.m.
Where: Edinboro University's Bruce Gallery, 215 Meadville St. Edinboro
Contact: 732.2513
THURSDAY 5.02
Come Fly With Me
Fly on down to the Erie Art Museum and check out the fifth annual art show fundraiser. Enjoy the silent auction, which displays more than 40 birdhouse-themed designs, all created by artists from the local area. Listen to the tunes of K.T. and the Sunshine Man while enjoying a cash bar and appetizers. No worries, there will also be silent and live auctions and basket raffles.
When: 5 p.m.
Where: Erie Art Museum, 20 E. Fifth St.
Contact: 453.5921
Chasing Moira w/ Falling Hollywood
It's a good thing you picked this fine paper up right when it came out on newsstands, because there's this super cool show happening at Sherlock's with local jamsters Chasing Moira and folk-rockers Falling Hollywood that's sure to be a jolly-good time. And if you didn't pick up the paper in time to see this posting, well, there's always next time.
When: 9 p.m.
Where: Sherlock's, 508 State St.
Contact: 453.7760
FRIDAY 5.03
Illuminerie: Retrospective/ 2000-2009
In our last issue, we featured a Scalized cover and a Cory Vaillancourt-penned story about Erie artist Todd Scalise and his permanent installation at the Erie Art Museum. Now you have the chance to see the formative works that lead to Scalise's distinctive HIGHERglyphics style, with pieces on display previously exhibited in New York, Santa Fe, and Paris. And to make it better? All the art on display will be for sale, so you too can display some Scalise work in your home, office, restaurant, business, or wherever it is you like to look at good art. 
When: Artist gallery talk at 6; Opening reception at 7 p.m.
Where: Urraro Gallery, 135 W. 14th St.
Contact: 455.6240
All An Act Theatre presents: Michael Parker's Hysterical farce "The Sensuous Senator"
Join the cast of the All An Act Theatre as they perform the comical tale of Senator Douglas as he makes a run for Presidency on a morality stance. This plot takes an interesting twist when Senator Douglas's wife goes out of town and the good senator invites his girlfriend over for the night. When the senator's girlfriend is unable to join him for the night, he invites another lady friend over and the adventure begins. Head down to the theatre to find out what comical twist awaits the senator.
When: 7:30 p.m.
Where: All An Act Theare, 652 W. 17th St.
Contact: 450.8553
Lipbone Redding w/ Zack Orr
Now, before you get on our case about how the human lip doesn't contain any bones, you should probably check out singer-songwriter Lipbone Redding play before you judge his name. The Big Apple-based musician is known for his funky rhythms and lip-tromboning will be playing with local favorite Zack Orr, with just a suggested donation of $10 asked of you, and for a show like this, giving back shouldn't be too hard. 
When: 8 p.m.
Where: Erie Art Museum, 20 E. Fifth St.
Contact: 459.5477
SATURDAY 5.04
MS Walk
Help raise support for the people of our community by participating in the Erie 2013 Walk for MS. Join the community as walkers journey three miles through Presque Isle State Park, and give your support for the people living with MS. Registration & Check-In starts at 10 a.m. and the walk begins at 11 a.m.
When: 10 a.m.
Where: Presque Isle State Park, 1 Peninsula Dr.
Contact: 412.261.6347
MJT
One man, three letters, decades of experience. Yeah, that's one way to describe MJT, but since you lovely Reader readers might want a little more 'splaining from us, we'd probably say that the Wilco- and Paul McCartney-influenced acoustic plucker makes for a great listen while you sample the tasty brews and get in some delicious chews at the Brewerie.
When: 9 p.m.
Where: Brewerie at Union Station, 123 W. 14 St.
Contact: 454.2200
SUNDAY 5.05
Muddy Roots Road Tour
Come one, come all to the mysterious and magical Muddy Roots Road Tour! We've got the spectacles for all you folks, both bespectacled and not. Check out rockers like the fiery Joe Buck Yourself, the frenzied energy of Sean Y Zander, the sweetly dark sounds of Rachel Brooke, and the rambunctious Viva Le Vox. It'll be a feast for your eyes and ears, so swing by the crooked i and check out the festivities.
When: 10 p.m.
Where: the crooked i, 1013 State St.
Contact: facebook.com/thecrookedierie
MONDAY 5.06
DC rockers Melodime play free show at Edinboro University
You may have never heard of this three-piece "from a farm outside Washington D.C.," but that's no reason to blow off their free show tonight at the Pogue Student Center. Melodime plays rootsy, original southern rock, with a real appreciation for the past. They're also donating the proceeds of their new album to less fortunate children who have the desire to play an instrument, but lack the resources. A great cause and a free show from a great sounding band. Check them out at melodime.com.
When: 8 to 10 p.m.
Where: Pogue Student Center, Scot Cinema, Edinboro University
Contact: edinboro.edu
TUESDAY 5.07
Destination Erie Workshops
Have a vision for what Erie is? Want a say in Erie's future? Don't want to be locked out of the conversation when it comes to shaping the place we all call home? Today, you have two chances to have your voice be heard in hopes of building a more sustainable region by addressing the economic, social, and environmental challenges Erie faces in the 21st Century. Remember, we're all the key to Erie's future success, and if we don't take advantage of these workshops, we're locking ourselves out of our own future. For more details and information, visit PlanErieRegion.com
When: 9 to 11 a.m. and 7 to 9 p.m.
Where: St. John's Parish Center,  1001 Main Street, E. Girard,  Fort LeBoeuf High School, 931 N. High Street, Waterford
Contact: 451.6200 and 451.6200
WEDNESDAY 5.08
Remarkable American Women: Ida Tarbell 
Born in Erie County, Ida Tarbell was an author, teacher, journalist, and one of the leading muckrakers of the progressive era. She is known for being largely responsible for the breakup of Standard Oil. Learn all about her remarkable life at this lecture at the Jefferson Educational Society.
When: 4 to 5:30 p.m.
Where: JES, 3207 State St.
Contact: 459.8000
Destination Erie Public Workshops, Day 2
If you're interested in helping to plot Erie's course for the next 50 years, but you just couldn't find the time yesterday, you're in luck. As you've no doubt read elsewhere in this very issue, today and tonight the Destination Erie tour bus is making stops in Harborcreek and downtown Erie to get our input on what we think the vision for our region should be as we move forward into the 21st century. First up is a morning meeting at the Fairfield Social Hall, followed by an evening gathering at the Avalon Hotel. Two more opportunities to make your voice be heard. Don't miss out.
When: 9 to 11 a.m.
Where: Fairfield Social Hall, 4896 East Lake Road
Contact: planerieregion.com
When: 7 to 9 p.m.
Where: Avalon Hotel-Niagara Room, 16 West 10th Street
Contact: planerieregion.com
THURSDAY 5.09
Crooked Bass
Sometimes you just need to listen to something loud, something that really thumps along, something which so much bass that it'll leave your head shaking. Good thing this edition of Crooked Bass features the talented Neckbrace, along with 814 Bass Crew stalwarts NatasK, Ghost Alive, and Matter.
When: 10 p.m.
Where: the crooked i, 1013 State St.
Contact: facebook.com/thecrookedierie
FRIDAY 5.10
The Riverside Inn Dinner Theatre presents "Always Patsy Cline"
Head down to the Riverside Inn Dinner Theatre to see the tale, based on a true story, of the legendary country singer Patsy Cline. Follow her friendship with Houston fan Louise Seger in this old-fashioned country musical. Featuring Cline's unforgettable hits, this play is full of country humor and true emotion.
When: 7 p.m.
Where: The Riverside Inn Dinner Theatre, 1 Fountain Ave.
Contact: 800.956.9490
The Albrights w/ Chrome Moses
If you were to ask someone what each one of their family member's favorite Buffalo-based band was, they might say "Mommy's Albrights, Daddy's Albrights," which might be a little weird, but you'd be a fool not to surrender to the bluesy-pop mix of the The Albrights and their opener Chrome Moses.
When: 10 p.m.
Where: the crooked i, 1013 State St.
Contact: facebook.com/thecrookedierie
SATURDAY 5.11
Hiking Along the Erie Bluffs State Park
Journey through a morning of hiking and adventure as you stroll along the Erie Bluffs State Park. Take in the sites of vernal pools and spring wildflowers on this three mile hike over moderate terrain. Gather in the Erie Bluffs parking lot and be sure to bring your camera for this unforgettable adventure.
When: 10 a.m.
Where: Erie Bluffs State Park, off route 5 near Lake City.
Contact: 833.7424
 SUNDAY 5.12
Mother's Day Butterfly Celebration 
Being a parent, especially a mother, is all about letting go. Little by little, the laundry list of things mothers do for their children gets smaller and smaller as children get older and older. Celebrate that symbolic release with a literal release of Painted Lady Butterflies at the expERIEnce Children's museum. 
When: 1 to 4 p.m.
Where: 420 French St.
Contact: 453.3473 or eriechildrensmuseum.org
MONDAY 5.13
Get twisted at the Erie Playhouse
Tonight and tomorrow only, join the Erie Playhouse for a special Composer Lyricist Concert. The show, called "Twisted Broadway" promises to be a fun one, and features a who's who of Playhouse performers. They'll be singing the songs we all love, but herein lies the twist. Men will sing songs written for women, and women will sing songs written for men. This is a show not to be missed for fans of the Playhouse, and you have two nights to catch it.
When: May 13 and 14, 7:30 p.m.
Where: Erie Playhouse, 13 W. 10th St.
Contact: 454.2852, erieplayhouse.org