If We Were You
If we were you, here's what we would do - May 15 - 28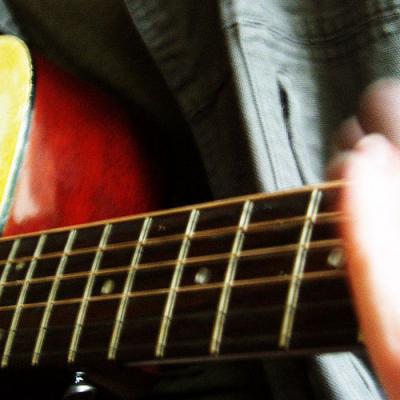 WEDNESDAY 5.15
Smokin' Joe Robinson Returns to PACA
Hot on the heels of a highly regarded performance at PACA last January, Aussie guitarslinger Joe Robinson - who is just 21 years old - returns to PACA for another smoldering engagement, this time with the Eric Brewer Trio opening. Reserve your seat online for just $15, or purchase a ticket at the door for $20.
When: 7 p.m.
Where: PACA, 1505 State St.
Contact: PACA1505.com
THURSDAY 5.16
May Worlds Collide
Concerts don't have to always be expensive. Instead of dropping triple-digit buckeroos on one band, you could shill out just $5 for a small army of them. Don't believe us? Check out May Worlds Collide at Basement Transmissions to see a diverse group of acts covering everything from hip-hop to acoustic pop.
When: 5 p.m.
Where: Basement Transmissions, 1501 State St.
Contact: basement-transmissions.webs.com
Drips & Beats
Another month means another Drips & Beats at the crooked i which means another night of hip-hop heaven for all you grinders out there. This latest edition of the thunderous Thursday calls Pittsburgh's Proseed to the stage, along with local acts Devious, Whodat Peez, Heresy, Rush, and Hibias the Sovereign, as well as body painting and a silent art auction for Big Brothers Big Sisters.
When: 9 p.m.
Where: the crooked i, 1013 State St.
Contact: facebook.com/thecrookedierie
Edinboro Art and Music Festival
This popular three-day festival going on all over downtown Edinboro will fill your day with with entertainment in a folk-like atmosphere. Celebrate Appalachian spirit with locally-crafted food, artisans' tents, and live music. Admission is free, so money shouldn't be an excuse not to enjoy fine art and great live performances. This event comes but once a year, so make sure you stop by.
When: all day, May 16-18
Where: 111 Erie St. (Art Show)
Contact: edinboroartandmusic.com
FRIDAY 5.17
The Musical Adventures of Flat Stanley JR
Check out the YouTheatre's rendition of the classic 1960s Jeff Brown children's book. The Erie Playhouse hosts the story of Stanley, a boy who gets flattened by a bulletin board above his bed and seeks to become his normal self again. This is sure to be a lighthearted musical adventure that the whole family can enjoy.
When: 7 p.m.
Where:  Erie Playhouse, 13 W. 10th St.
Contact: erieplayhouse.org
Patron Saints and Other Paintings by Jacqueline Welch
Do you consider yourself a dog lover? Jacqueline Welch may be the artist that will tickle your canine fancy, as she has a gallery display at the Erie Art Museum full of paintings featuring dogs. These paintings range from the simple message of a dog as a lifelong companion to a dog taking the place of a human in a historical event. If that doesn't sound like something that you would be interested in, you probably have cats, right? The exhibit extends through Sept. 15.
When: Museum Hours 11 a.m to 5 p.m.
Where: Erie Art Museum, 20 E. Fifth St.
Contact: erieartmuseum.org
SATURDAY 5.18
London Underground
What do you call a mix of Neil Young and electronica? NeiltroniYoung? Electroneil? Youngtronica? According to Mike Edgerly, you can just call it London Underground, his newest musical adventure with his wife Laurie. The talented duo will be taking the stage at The Brewerie, so make sure to catch some Youngtronica to pair with your brews.
When: 9 p.m.
Where: The Brewerie at Union Station, 123 W. 14th St.
Contact:  454.2200
Bike Around the Bay
The 11th annual installment of this event benefits Environment Erie's education programs.
Participants can take a 10, 30, or 50 mile bike tour around the city. The prices are $20 for an individual and $40 for a family, but prices increase by $5 after May 8. Come get some exercise and support a good cause.
When: 8 a.m.
Where: 1 Holland St.
Contact: environmenterie.org
Erie's Largest Nautical Flea Market
Need some equipment for that boat that can finally be used now that the lake has thawed? Come to the Nautical Flea Market to find well-priced sea supplies and see the changes that have been made to the Presque Isle Yacht Club. Vendors are overstocked on marine supplies, so help these guys get some of their money back while saving some of yours at the same time. Erie is a great city for both fishing and boating, so it's time to take up one (or both) of these hobbies.
When: 8 a.m.
Where: 120 W. Front St.
Contact: 838.7749
SUNDAY 5.19
TREC Garden Tour
Just in time for gardening season, join Garden Coordinator Jen Salem for a tour of the gardens at the Tom Ridge Environmental Center, where she'll also discuss ways to utilize plants that are native to this region in your own garden at home!
When: 10 to 11:30 a.m.
Where: TREC, 301 Peninsula Dr.
Contact: 833.7424 or TRECpi.org
TUESDAY 5.21
SeaWolves vs. Harrisburg Senators
Okay, we're pretty sure this doesn't mean that the Howlers are taking on Sean Wiley and company from the Keystone State's capital. But we are sure that the first 500 kiddos through the gates each get a free Smith's hot dog, a bag of Utz potato chip, and a Pepsi fountain drink, as part of the "Kids Eat Free Night." So gather up the family and head down to the ballpark and enjoy a game and celebrate foregoing the need to plan dinner.
When: 6:35 p.m.
Where: Jerry Uht Ball Park, 110 E. 10th St.
Contact: 456.1300
WEDNESDAY 5.22
'Natural Impressions' Mixed Media Student Art Exhibit
Featuring everyone from first graders to college students, this display is a collection of art that can be simple or complex. Exhibitors are from public schools, private schools, and home schools. These aren't just paintings, either - photography, clay, and even digital video are some of the things you can find at the Tom Ridge Environmental Center. The event is free, so come show support for these young artists.
When: 10 a.m. to 6 p.m.
Where: TREC, 301 Peninsula Drive
Contact: 833.7424
THURSDAY 5.23
Author and columnist to read at JES
Award-winning author and columnist Lenore Skomal reads some of her work aloud at the Jefferson Educational Society. As a novelist who has received rave reviews on Amazon, her shared experience will no doubt be invaluable to those looking to break into the field.
When: 7 to 8:30 p.m.
Where: JES, 3207 State St.
Contact: 814-459-8000
[Title of Show]
There are musicals and then there are musicals about two guys writing a musical about two guys writing a musical. Don't worry, you can let that last sentence sink in as you head down to see the latest production by local contemporary theater group Dramashop, a crew you may recognize from the cover of the last edition of the Reader. If you like doing that thing people call "laughing," then [Title of Show] may be the musical within a musical within a musical for you.
When: 8 p.m., May 23-25
Where: Schuster Theatre, 620 Sassafras St.
Contact: dramashop.org
FRIDAY 5.24
Scarlet Ledbetter
Not to be confused with any of Nathaniel Hawthorne's works or the Lilly Ledbetter act of 2009, Scarlet Ledbetter is a talented trio of some of Erie's best musicians that just so happened to team together. Now the three-headed stringsmith of Keith Wilson, Dominick DeCecco, and Tanner Edwards makes for The Brewerie, where any Nathaniels, Lillys, or any other open-eared beings that like music shall be entertained.
When: 9 p.m.
Where: The Brewerie at Union Station, 123 W. 14th St.
Contact: 454.2200
SATURDAY 5.25
Perry 200 Grand Patriotic Parade
Snaking its way from 12th & Cherry to 12th & State and then up State to Perry Square, the Perry 200 Grand Patriotic Parade will feature dignitaries, military bands, cartoon characters, local marching bands, clowns, antique cars, helium balloons, and more than 100,000 spectators; join them all for this once-in-a-lifetime event! For more information, be sure to read Alex Bieler's cover story in this issue.
When: 1 to 4 p.m.
Where: Downtown
Contact: 459.8000 or Perry200.com
Dragon Wagon w/ Matt Texter
While we don't know exactly what Daenerys Targaryen would think of them, the folk-rock outfit Dragon Wagon is a welcome sight around these parts. Along with local roots favorite Matt Texter, the Michigan-based, Whiskey-laced bluegrass group can make you feel like you're part of a good ol' mountain jam, minus the fire-breathers.
When: 10 p.m.
Where: the crooked i, 1013 State St.
Contact: facebook.com/thecrookedierie
The Groove gets in at PI Downs and Casino
The Groove returns to Presque Isle Downs and Casino for this one-night-only event. The band is a multi-talented group of singers, some of which also play instruments, known for their intense choreography in their performances. Tickets range from $5 to $10.
When: 9 p.m.
Where: 8199 New Perry Highway
Contact: 464.5409
SUNDAY 5.26
Troika Russian Festival
Considered the unofficial start to summer festival season here in Erie, the Troika Russian Festival features food, music, and adult beverages of the Slavic variety. Come find out why this event is consistently one of Erie's most popular and enjoyable ethnic fests.
When: all day
Where: 109 German St.
Contact: 459.8515
Fireworks at Waldameer
Celebrate Memorial Day with this classic Firework show at Waldameer Park. Come early and enjoy some of the fantastic rides that the park has been adding over the years. The event is free to the public and a great way to conclude a day spent in the park.
When: 8:30 p.m.
Where: 3100 West Lake Road
Contact: 877.1009
MONDAY 5.27
Buck Day!
It's Memorial Day, the sun is (maybe) shining, you're not at work, and there's dollar beers at the ballpark. That sounds like the recipe for some fun day drinking, and it also sounds like we know what we're doing this afternoon. Beer isn't the only reason to head down to the Uht today to watch the SeaWolves finish an eight-game home-stand, and a four-game series against the hated Akron Aeros. There are also dollar hot dogs, soda and popcorn, and tickets are as low as $5. Count us in.
When: 1:35 p.m.
Where: Jerry Uht Park
Contact: 814.456.1300
TUESDAY 5.28
Whole Foods Demo
The Whole Foods Co-op demonstration on taking control of your mind is sure to be helpful for those looking for a natural way to and begin a healthier lifestyle. Pure Bliss Oil, developed by Beewell Natural Foods, will be one of the products and techniques used at this Zen-like event.
When: 6 p.m.
Where: Whole Foods Co-op, 1341 W. 26th St.
Contact: 456.0282.