i.MPossible heading to Blasco for Family Friendly Friday Night
The Chicago-based group's performance is hosted by the Teen Center at the Downtown YMCA.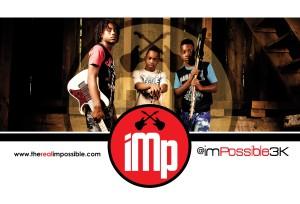 Erie residents have yet another exciting musical opportunity, and this one is free and family friendly.
The Chicago-based group i.MPossible is coming to The Blasco Memorial Library on March 11 from 7-9 p.m. The event, hosted by the media arts program of the Downtown YMCA Teen Center, follows a daylong session on positive decision making that the Y is co-hosting with the Erie School District for 7th grade students. The students will view the Teen Center's original documentary production 30 to Life. The Teen Center will also be debuting its newest film, Am I My Brother's Keeper. The students will also get a private meet-and-greet and acoustic session with i.MPossible.
There is something so inspiring when a word that generally has negative connotations is given new meaning and a positive spin. Brothers Kye, Kavah, and Khaden Harris, who are the members of i.MPossible, have reclaimed such a word, so impossible becomes I am possible, and really reflects the upbeat positive tone and message these young men are conveying in their music. Each of the brothers showed a love for music at a very young age. Now at 15, 14, and 12, each plays guitar, sings, and writes music and lyrics. They cover an array of pop and rock music, performed along with their original music.
This program and concert is a hopeful note for the Erie community, currently suffering from an epidemic of violence and shootings. Educating our youth is a crucial piece of lowering the rates of violence. Education paired with fun and inspiring music is even better. As a community, I think we should consider supporting such events, so that more events like this happen in the future.
Because isn't that really what we want to build up and invest in, the future? That future is our youth, and each one of them should have the opportunity to grow up believing "I AM POSSIBLE."
For more information on this event, contact Marcus Atkinson at 452.3261 ext. 228. To hear a sample of i.MPossible click here.