In Case You Missed It
Progress in the development of an Ebola vaccine is being made in countries around the world, while here at home a Pennsylvania Supreme Court Justice gets suspended over some racy e-mails. You'd be surprised at what you might have missed this week. 
October 22, 2014 at 10:00 AM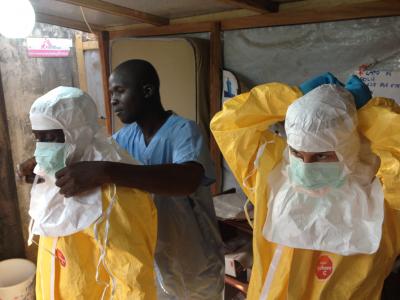 World 
Ebola vaccine could start testing in Africa by January
As the Ebola epidemic persists in West Africa, the World Health Organization has announced that research is on track to have an experimental vaccine prepared by January. Aside from this, there are currently two variations on the vaccine being tested for treatment safety in humans, and a number of countries are continuing independent research on possible alternatives. The World Health Organization is quick to state that there is no guarantee any particular vaccine will be completely effective, but officials are hopeful that an appropriate treatment may be found among the plethora of recent research.
Full article at www.npr.org
American freed after months of detention in North Korea 
As of Tuesday, Jeffrey Fowle was released from detainment in North Korea, where he has been held since June of this year. Fowle was allegedly detained for leaving a Bible in his hotel room, and thereby violating some associated law regarding his tourism in the country. At this point, two other American citizens still remain in detained in North Korea, and State Department officials continue to work on negotiations to bring them home.
Full article at www.npr.org
National
Missouri governor announces creation of 'Ferguson Commission'
Missouri governor, Jay Nixon, gave up what had been his hands off approach to Ferguson as he announced the formation of a commission whose goal will be to flesh out the circumstances that incited so much violence in Ferguson this past summer. Though the commission will not directly investigate the shooting of Michael Brown itself, there will be a focus on establishing a better understanding of the community reaction to the incident, in hopes of resolving related tensions throughout the state.
Full article at www.npr.org
Regional
Court justice suspended over role in porn scandal
Pennsylvania Supreme Court Justice Seamus McCaffery was suspended from his position this past Monday as a result of his involvement in a state government pornographic e-mail scandal. Within the next month, the Judicial Conduct Board will pass a decision on whether or not there is substantial evidence to file a formal misconduct against  McCaffery.
Full article at www.goerie.com
Local
Court delays sheriff's sale of Conneaut Lake Park
After a long history of financial trouble, Conneaut Lake Park was slated to be sold at sheriff's sale on November 7. The sale has been postponed, however, due to a petition filed by the State Attorney General's office, and is now delayed until November 24, pending the hearing of aforementioned petition.
Full article at www.goerie.com