In Case You Missed It
The dust still hasn't settled from protests in Hong Kong, and the GOP is still pretty irked about immigration reform. This and more, in case you missed it. 
December 3, 2014 at 10:00 AM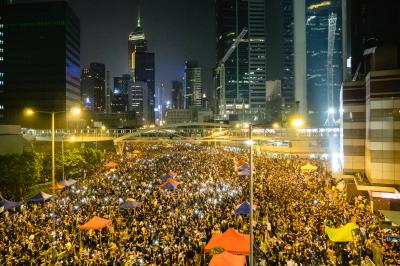 World
 Hong Kong Protesters Make Last-Ditch Effort To Negotiate
It seems the dust has yet to settle from the weeks of protests that filled the streets of Hong Kong throughout the last couple of months. Now, several protest leaders are preparing to turn themselves into the authorities in an effort to streamline negotiations. Despite this, pro-democracy sentiment is alive and well in China as another student protest leader organizes a hunger strike.
Full article at www.npr.org
Iraq, Kurds Agree On Deal Over Oil Exports, Budget
In a landmark deal, Iraq's government and Kurdish regional authorities have reached an agreement over ongoing oil and budget disputes. The compromise will involve the release of negotiated oil supplies from the Kurds in exchange for Iraqi financial support for Kurdish fighters combatting ISIS. Despite the arrangement of meetings to solidify and implement the deal, many remain skeptic about its staying power.
Full article at www.npr.org
National
GOP Hopes To Use Spending Bill As Leverage Against Immigration
Politicians on both sides of the aisle have been up in arms since President Obama's announcement that he would use executive orders to resolve ongoing immigration issues. As to be expected, republicans are hard at work with attempts to block Obama's plan, and the focus seems to be drawn to a new spending bill as a means of countering the proposed immigration reform.
Full article at www.npr.org
Regional
State's Medicaid Expansion Starts With Hotline Logjam
Monday saw complications Pennsylvanians seeking coverage under the state's expanded Medicaid plan, as a state hotline was overloaded by hundreds of thousands of callers seeking insurance. State officials are urging Pennsylvanians to utilize all available means for acquiring the service, and look to online enrollment as a potential fix. It seems clear that the state underestimated the amount of citizens who planned to enroll, and still do not have a fixed estimate for future enrollment.
Full article at www.goerie.com
Local
Erie County Council Considers Public Safety Advisory Committee
In an effort to increase community input on matters of public safety, the Erie City Council set in motion plans to launch a public safety advisory committee on Tuesday. The committee is set to be made up primarily of volunteer members of the local public safety committee that will each specialize in various aspects of public safety concerns. The members of the committee would be appointed by Erie County Executive Kathy Dahlkemper and confirmed by County Council.

Full article at www.goerie.com