In Defense of Art
A scathing review of art was written. Here, I defend art.
December 4, 2012 at 10:23 PM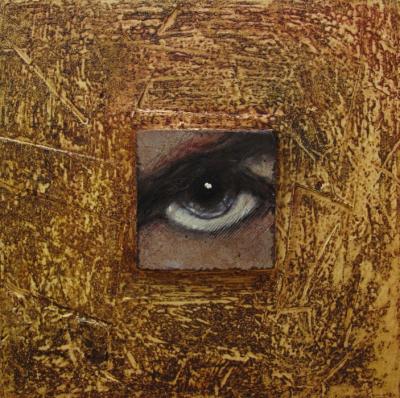 In the latest issue of the Erie Reader, Luke Gehring had this to say about "Icons in Transformation," an exhibit of Ludmila Pawlowska's works of inspiration from traditional Orthodox Christian icons currently shown at the Cathedral of St. Paul, and an exhibit the critic never attended.
"Holy icons belong to the church alone, period." Gehring criticized the reception for the images as "inappropriate for holy things," claimed its choice of date was "insensitive" to the church schedule, said the cathedral's dean "has no credentials" to give remarks on the exhibit. Gehring questioned the venue's right to show icons to people who do not venerate them and questioned the artist's right to create her own work in reaction to them.
"Personal creativity as such is of no particular value," wrote Gehring. 
I do not know Mr. Gehring and do not intend to hurt or injure the man in any way. In some sense, his commentary on the icon exhibit is an admirable and passionate and, yes, a very personal expression of religious belief. Still, I suddenly find myself in the unenviable position of having to defend art from our own art critic.
First, it's a strange battle. "Icons in Transformation" has been exhibited in cathedrals across the world. It's been called "dramatic" and "must-see," but never has drawn any criticism. Perhaps that's because the intent of the show is celebretory, and not critical or controversial.
Or because most oppose the idea that certain art forms belong exclusively to certain groups. Yes, there is the danger of exploitation of certain art forms -- Gehring brought up the example of Hopi Kachinas in a Facebook comment -- but that's a danger of a large and predatory culture threatening to extinguish a minority group and tradition. But forbidding an artist from incorporating any influence or idea in an act of personal expression is...well...reactionary. And anti-art.
Art is an inherent act of personal self expression. It challenges institutions of religion, government, and social norms. It is regenative.
"It is our task to imprint this temporary, perishable earth into ourselves so deeply, so painfully and passionately, that its essence can rise again, "invisibly", inside us," wrote the poet, Rainer Marie Rilke. To Rilke, the task of the artist is to dive down into the depths of being and resurface with some beautiful and incomplete scrap of personal communication with the world.
"Works of art are of an infinite solitude, and no means of approach is so useless as criticism," wrote Rilke. "Only love can touch and hold them and be fair to them."
Any commentary on art, then, should start and end with love for the attempt.
 
[Editors note - Read Luke Gehring's review here. Also, read the Very Rev. John Paul Downey's reaction to Luke's review here. Then, let us know what you think by clicking here!]