In Vino, Veritas…in North East
WineFest 2018
September 26, 2018 at 1:45 PM
Friday, Sept. 28
There is a lot of good stuff going on in North East these days, from the delectable donut delights at Little Shop of Donuts, to the gorgeous sunsets at Fisherman's Beach, or the excellent course offerings at the ever-expanding Mercyhurst University branch campus, but for many of us in the region, North East is synonymous with wine.
Rows and rows of vines dot the landscape, and driving along Route 20 with the windows down on a sunny September day will fill your nostrils with the luscious scent of juicy grapes at peak ripeness, just begging to be plucked and turned into glorious vino. The much-anticipated celebration of this process — particularly the final stage, when we all get to drink the fruits of people's labor — occurs every year in late September at North East's Wine Country Harvest Festival, or WineFest.
WineFest is turning the big 37 this year, and what started as a minor street fair has grown into a two-park-total-town-takeover, a three-day event that takes practically a whole year to plan in its entirety and draws thousands of guests, both local and out-of-town.
"Our residents are such wonderful supporters," Katie Houpt, marketing coordinator for the North East Chamber of Commerce said. "They put up with the traffic interruptions and full parking spaces and still come out in force to celebrate all the wonderful things our grape-belt town has to offer."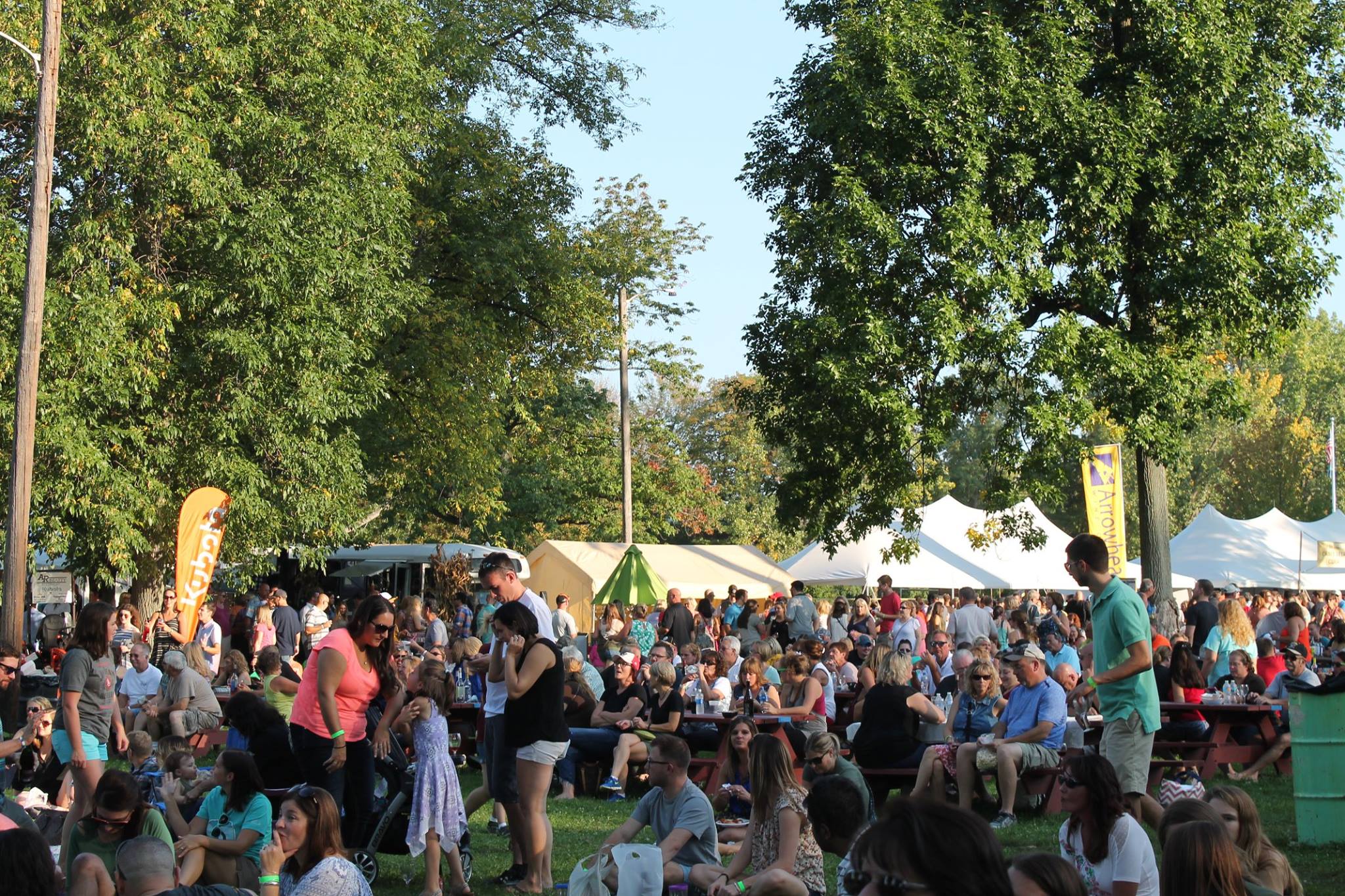 A glimpse into the 2017 WineFest (above) displays the popularity and fun all ages of attendees can experience.
We do appreciate their patience every year, and show it by ponying up some serious cash while we're in town — hotels and inns are booked up, restaurants flooded with hungry patrons. And while WineFest is clearly all about the incredible local wine, fantastic fair-style eats and jammin' good times on its main stage, the 'Fest also opens its gates to plenty of local vendors as well.
Lauren Gillespie of Erie runs a trendy online clothing boutique with her sister, Alyssa Layman of Fairview. This is their first year vending at WineFest and they are thrilled to get their shop, Allure Boutique, out from behind the screen. "We are so excited to be doing our first event at the North East WineFest," Lauren said. "We have been looking forward to getting out in the community and meeting new customers and fellow businesses owners."
As always, Gibson Park in the middle of town is the place to be for a more easy-going, family-oriented atmosphere; the larger portion of the event is set in the more fast-paced Gravel Pit Park, where tickets for tasting are currently on sale (and will continue to be on sale at the gate), and where acts like Danger Bird, Six Year Stretch and The Breeze Band will perform. The North East Chamber of Commerce packs the weekend full of activities, such as the ubiquitous grape stomping, a cruise-in car show, and Bike Wine Country tours by Lake Country Bike. — Cara Suppa
Friday: 4 p.m. to 9 p.m., Saturday: 11 a.m. to 9 p.m., Sunday: 11 a.m. to 4 p.m. // Gravel Pit Park & Gibson Park, North East // nechamber.org/about-winefest // See website for ticket prices and details