Innovation From the Other Side of the Tracks
How Erie's PACA is making history and revitalizing downtown
April 25, 2022 at 1:00 PM
If you are starting to venture downtown again, you may be surprised by the surge of energy and excitement on upper State Street on a Friday or Saturday evening. Cars lined up and down the street, a diverse crowd, various forms of art and culture, and the community experiencing everything from live music, theater, fine art, poetry, pottery, photography, and yoga all in one place. Creatives of all kinds are coming to PACA (Performing Artists Collective Alliance) to unwind, experience, socialize, and practice their crafts. 
Affectionately known to many as the PACA Building, the structure is officially named the Mayer Building. Recently listed on the National Register of Historic Places, the five-story, masonry, Classical Revival-style building located at 1501-1509 State Street is just south of the 15th Street railroad bridge in Downtown Erie. Outside business entrances include Cornerboy Collection Clothing, City Gallery, the main PACA entrance, and First Amendment (FAT) Tees. The building was constructed in 1899 but its windows, doors, and wood storefronts likely date to 1908, when the building underwent extensive reconstruction after a devastating fire. The elaborate history and industrial details of the Mayer Building are just a part of what attracts so many to venture inside. 
"The first thing you see when you walk in is the original Lackawanna Steel Company staircase, topped with 100-year-old Pennsylvania slate," says Mark Tanenbaum, PACA's executive director. "You can ride in the oldest working elevator in Erie County." The elevator was installed in 1913 at the height of a typhoid epidemic, when the fourth floor was used to house the sick and the dying. "We've salvaged lighting and fixtures from the Erie Coke plant and other local historic properties. Our new arts and entrepreneur center features a stone wall hewn by members of Henry Mayer's Army company, the Pennsylvania 102nd. In the back of the building is the only physical evidence remaining of the Great Mill Creek Flood of 1915 — a bent i-beam that was used to shuttle cargo off boats running the creek. There's history everywhere you look."
The Mayers owned 1501-1509 State Street until the Great Depression, running their paving and construction company from an office on the second floor and renting the remainder of the space to a variety of commercial and light manufacturing tenants. The Mayer Building housed many food-related businesses due to its location across the street from the Central Market, a major food hall constructed in 1899, until its closing in 1958. City directories reveal that some businesses housed in the Mayer Building were the National Market Company (meats), Public Grocery Supply, Weaver Ice Cream Plant, C.A. Curtze Groceries (a successor to the Lake City Spice Mill), Grant Harnon, J.A. Schreiner Liquors, and Arcade Market, a grocery whose mosaic sign is partially preserved on the building's south storefront above FAT-Tees today. 
Other retail uses of the past included furniture, wallpaper, tile, sporting supplies, plumbing and heating supplies, and paper goods. The large open spaces on the building's upper floors were used for a variety of light industrial purposes, such as a refrigerator company, knitting and woolen mills, printing and engraving, an electrotype maker, and a manufacturer of paper coin wrappers. The building has housed an undertaker, a business college, a roller rink, and the office of a drive-in theater company.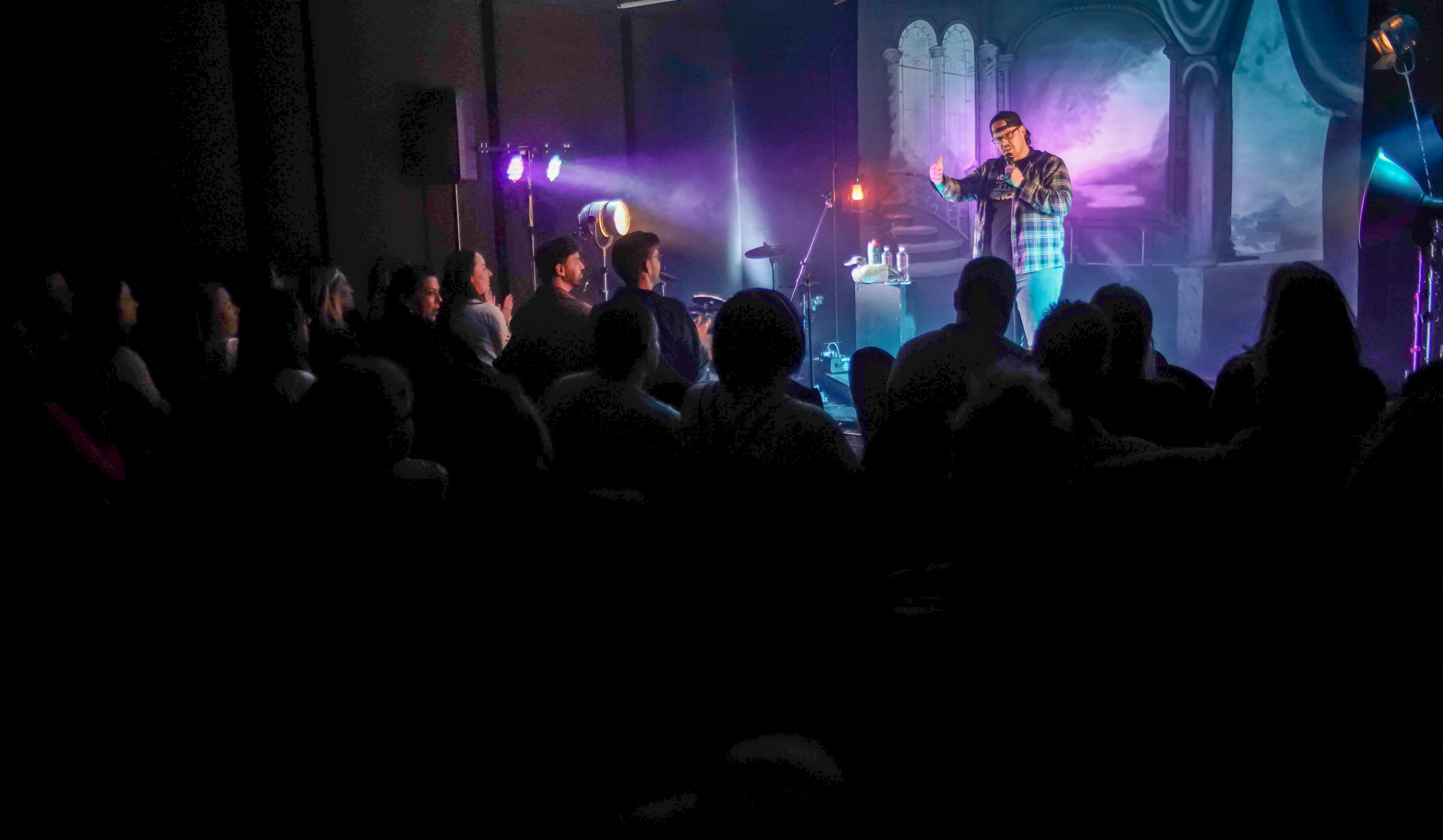 Anthony Morelli of Off Constantly Comedy performs during the opening weekend of RandyBillDuck's fourth floor music and entertainment studio. Photo by Dave Tamulonis. 
The current tenants of PACA are just as diverse with 50 percent being women and 25 percent BIPOC. They include the new Foundation Art Academy, Erie Clay Space, Paintology, photographers, musicians, videographers, and media production businesses such as Randy BillDuck, Sanz Studio Productions, Crew Life Productions, and numerous other artists, jewelry makers, sculptors, and movement artists who practice and teach fitness classes, dance, yoga, and martial arts in the newly renovated PACA Movement Center on the fifth floor. The PACA Movement Center is also a collective space of its own, available for movement instructors and entrepreneurs to rent for classes and workshops. 
"Artists get inspired by looking at art in other spaces," says Ken Falkenhagen, PACA administrator. "And it's not just inspiration. When artists open themselves up to other media and genres, the juxtaposition of the two styles can have a transformative effect." Falkenhagen notes that PACA's artists work together on the entrepreneurial side, too. "As a young artist or entrepreneur, it's nice to have mentors in the building who have done it all before. For example, if you're a new photographer trying to make a living at it, we can pair you with a professional in our building who's been doing it for 20 years." 
The Mayer Building has seen steady improvement and economic growth since it was purchased by PACA in 2016. With Mark Tannenbaum as executive director, what was at first a theater on the second floor with 11 tenants will grow to more than 40 tenants following a fourth floor build-out in the spring of 2022. The property value has tripled since the purchase, increasing from $265,000 to $700,000 after a roof installation in 2020. The spirit of the collective is felt and seen throughout the building and to the betterment of the community as PACA continues to pay 100 percent of all Erie City, school, and county real estate taxes.
"PACA aims to be self-sustaining. It seems wrong to meet that goal by taking money from schoolkids and first responders. It's about more than art; it's about being stewards for the community at large. We're all in this together," said Tanenbaum.
While most organizations struggled during COVID, PACA saw their biggest growth with a 14,000-square-foot new roof installation, two new ADA-compliant ground floor restrooms, a new custom LED marquee above the main entrance, an upgraded fire suppression system, and a new art gallery called the Skinny Gallery which connects the main inside entrance of PACA to City Gallery. PACA was also the only local theater to continue producing plays during the lockdown (in-house and live-streamed) according to an action plan developed with the PA Dept of Health.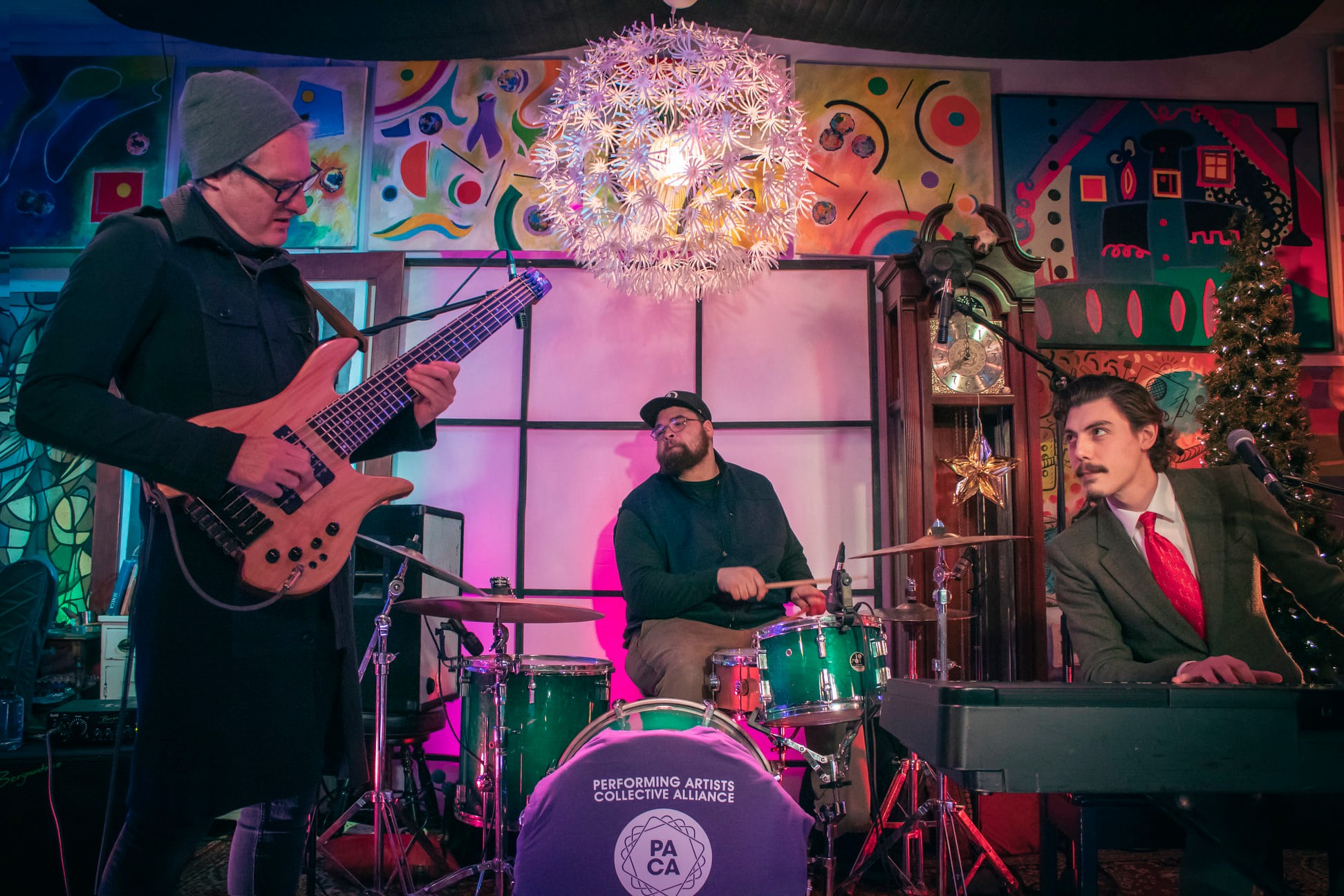 Bassist Tony Grey, drummer Michael Hibbler II, and pianist Nicholas Nasibyan perform during a recent installment of the PACA [LiVE!] concert series, which has been live-streaming nearly every Sunday since the summer of 2020. Photo by Dave Schroeder. 
Live-streamed Sunday music events — PACA [LiVE!] — continued to be offered free of charge for more than a year during the pandemic, and at the time of this publication have continued for nearly 80 weeks.
PACA also provided more than $10,000 in COVID relief to the artist/entrepreneur community in the form of rent rebates/forgiveness. A new partnership with Eagle's Nest was created to provide summer Shakespeare camp to underserved middle schoolers. The collective has continued thriving during these most unprecedented times. 
PACA continues to move forward with plans for a green roof, new performance spaces, and room for more entrepreneurs. "PACA has always followed our motto — Live Forward — and we do that every day. We've set the stage to create a public green space and solar panels on our new roof. It will create a cool gathering space on top of our building, but it's environmentally friendly and will save us $8,000 a year in energy costs. That's money we can put back into programs that turn artists into entrepreneurs," said Tanenbaum. 
You can follow PACA on Facebook or paca1505.org for the latest concerts, theater and news from the collective. 
Awards and Accomplishments
2015 Disrupt Erie Award winner, Innovation Collaborative
2020 Greater Erie Award for Preservation Excellence, Preservation Erie
2021 Leadership Award winner, David Schroeder, Erie Arts and Culture
2021 Listed on the National Register of Historic Places
Grants awarded by ECGRA, Erie Community Foundation, Erie Arts and Culture, Erie Insurance Exchange, PA Council on the Arts, PA DCED
2021 Erie Gives Day raised more than $17,000, top 25% of all organizations in dollars raised and top 8% in number of donors
Executive Director, Mark Tannenbaum sits on the Erie City Historic Review Commission
Amy VanScoter is a PACA Board Member and the coordinator of the PACA Movement Center where she teaches Slow, Mindful Yoga classes. She can be reached at avanscoter@gmail.com