ISIS knows what it is. Does America?
Islamic State attacks in Paris force the U.S. to come to terms with what it means to be "American" in the 21st Century.
November 25, 2015 at 11:30 AM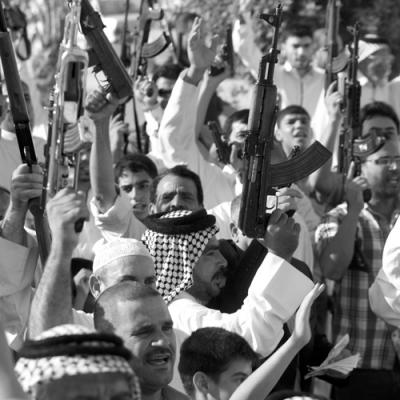 In the wake of the Islamic State attacks in Paris on Friday, Nov. 13, Americans have been forced into an existential moment of identity crisis. Need proof? Search Facebook to witness the widening chasm between conservatives and liberals. You'll find plenty of conservatives barking that the U.S. must close its borders to Syrian refugees and many liberals shaming them for being anti-American.
Conservative xenophobia case in point: Reacting to the news that President Barack Obama would raise the number of refugees the U.S. accepts from 7,000 to 10,000, one man – from Erie – posted on a Fox News thread that the refugees should be sent to Erie, because here, he could shoot them. 
Yes, shoot them.
Less hostile but still anti-Syrian refugee, Erie County's own State Rep. Curt Sonney, who represents the 4th Legislative District, posted the letter he signed with a hundred other state representatives addressed to Pa. Gov. Tom Wolf after Wolf declared he would still work with federal authorities in accepting refugees.
"We were disturbed to learn that you will continue to welcome Syrian refugees into the Commonwealth of Pennsylvania," begins the letter. "This decision places the welfare of individuals who live thousands of miles away above the welfare of the Pennsylvanians you were elected to serve."
To be clear, under the Refugee Act of 1980, POTUS "has explicit statutory authorization to accept foreign refugees into the United States." Which means that no governor has the authority to ban or accept refugees. Which also means that there's no apparent endgame in the representatives' letter to Wolf.
Do they want him to follow Republican governors' political posturing in declaring that he'll ban refugees? Do they want him to assert that he won't work with the federal authorities in resettling refugees, thus breaking the law? Do they expect Wolf to begin construction on a wall around the Keystone State?
Incidentally, Pittsburgh Mayor Bill Peduto maintained his position that the city should accept Syrian refugees, noting that the second-largest city in Pa. brings in 500 refugees a year from different countries, and that shouldn't change after the Paris attacks.
"You just can't ignore it," he told WTAE's Sheldon Ingram. "It's not going to just go away. The idea that the United States or other countries would walk away from this world effort, I don't think is possible to do at this point."
Meanwhile, the U.S. isn't exactly throwing open the floodgates to loose throngs of refugees upon Pennsylvania – or other states for that matter – as the U.S. vetting process is far stricter and more complex than the European Union's or that of Greece.
Since Oct. 1, 14 Syrian refugees have been settled in Pa., according to the state's Department of Human Services. According to the Erie Times-News, three Syrian families currently live in Erie, two of which arrived this year, the other in 2014. Although Erie settles roughly a quarter of the state's refugees, those refugees represent 31 countries, according to the Pennsylvania Refugee Resettlement Program.
Nationally, the U.S. – from 2012 to 2015 – has settled fewer than 2,000 Syrians compared to Germany's nearly 93,000. The same report from The New York Times revealed that of the top 15 nationalities resettled in America, Syrians rank seventh, behind, for example, Iranian and Iraqi.
Before being accepted, those seeking refuge in the U.S. must apply through the U.N., while also being screened by the F.B.I. and run through Department of Defense databases. Those arriving this year, according to NYT, would come from "18,000 referrals already submitted by the United Nations," more than half of which are children.
The real problem, though, is that the call to close our borders because any Muslim or Islamic person may be a terrorist is the rhetorical equivalent of deeming all Christians terrorists because of the Ku Klux Klan.
While safety should remain an American priority, rescinding "The New Colossus" call is un-American at best and unjustifiably xenophobic at worst.
"The bosom of America is open to receive not only the Opulent and respectable Stranger, but the oppressed and persecuted of all Nations and Religions; whom we shall welcome to a participation of all our rights and privileges, if by decency and propriety of conduct they appear to merit the enjoyment," George Washington once wrote.
More than 200 years later, we are still determining America's collective ideology when it comes to refugees.
"An army of principles can penetrate where an army of soldiers cannot," wrote Thomas Paine.
ISIS knows what it is. If we are to triumph over terror, Americans must know who we are.
Ben Speggen can be contacted at bSpeggen@ErieReader.com, and you can follow him on Twitter @BenSpeggen.