Itching to Ditch Twitter?
Read, write, listen instead
December 22, 2022 at 8:30 AM
"Hello Mary Lou, goodbye Musk."
I've been humming my spoof lyric, based on a 1961 Ricky Nelson hit, ever since I decided to combine a tribute to Benedictine Sister Mary Lou Kownacki and a farewell to Elon Musk's Twitter in the same space. In late October, about six weeks after I learned that Mary Lou was in hospice care, I deactivated my Twitter account. Mary Lou's terminal cancer didn't prompt me to avoid Twitter, but I am certain that the closing line from Mary Oliver's poem, "The Summer Day," had some influence. Oliver, one of Mary Lou's favorite poets, writes: "Tell me, what is it you plan to do/With your one wild and precious life?"
After Musk bought Twitter, one thing I didn't want to do with my wild and precious life was to doom-scroll toxic tweets day and night. Under Mary Lou's mentorship, I had learned to keep a journal (even if sporadically), dashed off some clumsy poetry, experimented with using my grandmother's typewriter instead of a computer to write, taught a memoir class to women veterans, and composed an invitation to an imaginary dinner party with my late mom and my maternal grandmother Rosa (whom I never knew because she died when my mother was an infant).
Venturing into territory far removed from my writing life, I ran for Erie City Council only after Mary Lou assured me that I could make a difference. In fact, Mary Lou and Sister Mary Miller, director of Emmaus Ministries, came to a City Council meeting many months ago to deliver the shocking news that Mary Lou had cancer of the eye. For cancer to rob Mary Lou of her sight struck me as particularly cruel, because her writing and social justice activism have opened so many eyes.
Now, by ignoring Twitter, I've scrounged up time to emulate Mary Lou — to do more reading, writing and listening. Here are three ideas to carve out more time for those things for yourself.
Join a book club
Check out resources from the Erie County Library to find groups to talk about books. Visit erielibrary.org for more details, but start with this list:
Book Club in a Bag. Each kit, which can be borrowed for up to 60 days, provides 10 copies of one title, along with discussion questions, the author's bio and a sign-up sheet. Some kits now include graphic novels or movie/TV versions of books, according to Sheryl Thomas, assistant library director.
Lincoln Community Center Library, 1255 Manchester Road in Fairview, has one book club that meets on the third Monday of the month at 1 p.m. and another on the third Saturday at 9:30 a.m. The group picks the book from the Book Club in a Bag list, the bestseller list, or any title members like.
Millcreek Branch Library, 2088 Interchange Road meets on the second Tuesday of the month at 6 p.m. to discuss a Book Club in a Bag selection. The Dec. 13 meeting will discuss David Grann's Killers of the Flower Moon.
Edinboro Branch Library, 413 Plum St. The First Tuesday Club meets monthly at 1 p.m. in-person or by Zoom, for which you must register. The "War and the Humanities" reading group meets on the first and third Tuesdays of the month at 6:30 p.m. to discuss fiction, poetry, memoirs, and more. Teen Reading Fiends, for ages 12-18, meets monthly, usually on the last Tuesday of the month at 6:30 p.m. Because teens are the audience, "There is a little more to it than just discussion: themed snacks, games, and other forms of social fun help keep the atmosphere compelling and light," said Matthew Yaw, branch manager. "By including more elements than just a book discussion, the door is open for teens who may not have read the book but have seen the movie, or just want to socialize with peers to come and not feel out of place," he said.
Blasco Library offers "Spinechillers: A Book Club for Young Horror Fans," for children ages 9-11. Registration, which is required, opens two weeks in advance of an event. Check the library calendar for future events.
"Read to a Therapy Dog" activities are offered at all locations. Check the library calendar for upcoming dates. This county-wide program "is one way that we reduce the anxiety that can be felt by struggling readers," said Jessica Stefano, manager of the Iroquois Branch Library. "Children who experience fear, anxiety or discouragement from reading aloud have an opportunity to practice their reading with a calm, kind, non-judgmental four-legged listener," she said.
Werner Books has three book clubs. The Wednesday Morning Book Club meets on the fourth Wednesday at 11 a.m. at the store in the Liberty Center, 3514 Liberty St.
Canalside meets on the second Wednesday of the month at 5:30 p.m. at the Hagen History Center.
Books & Beers meets on the third Sunday of the month at noon at Erie Ale Works.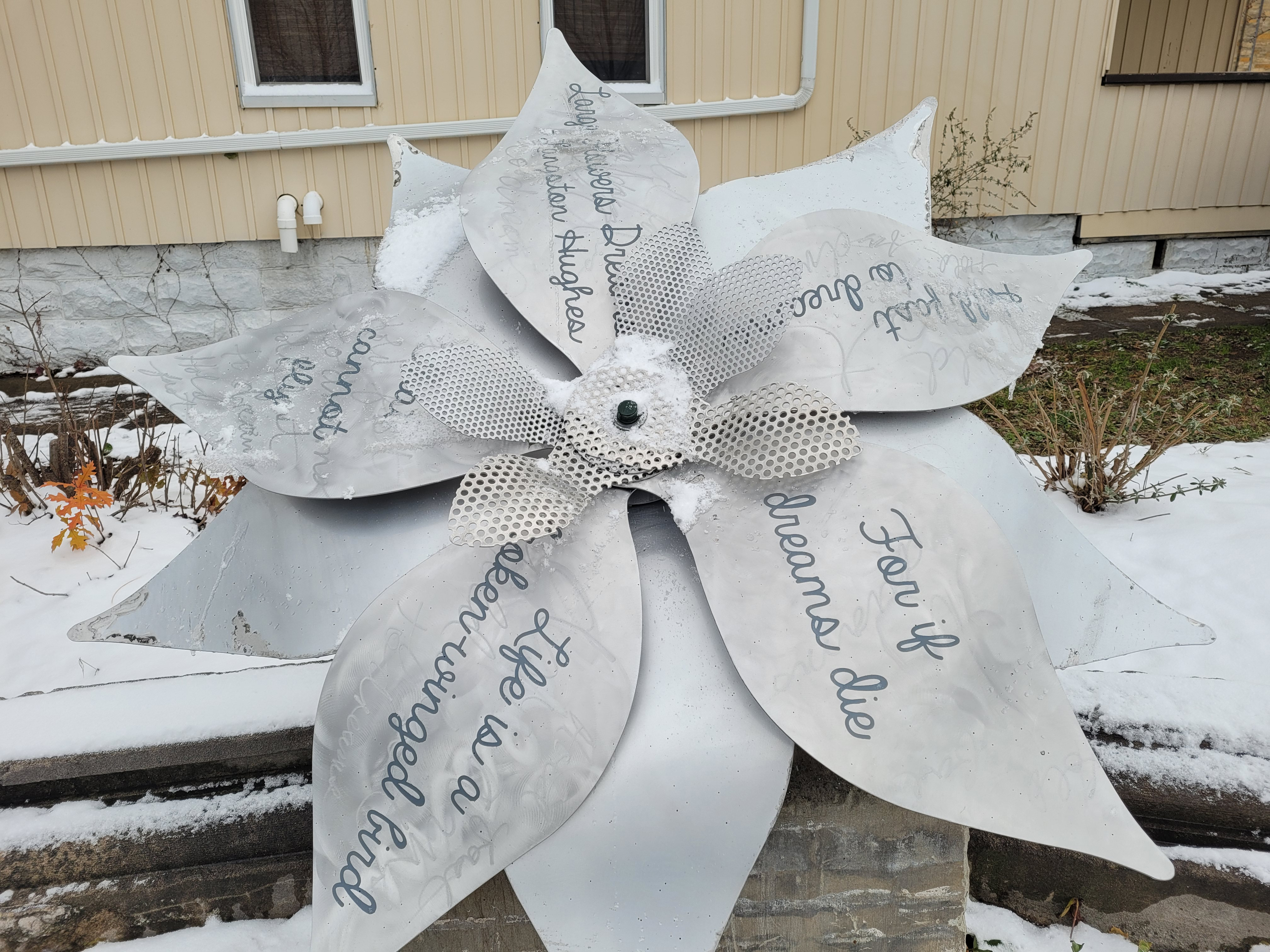 This poetry sculpture, found in the Hold Fast to Dreams Poetry Park on East 22nd Street, features the words of Langston Hughes (from which the park got its name). It reads: Hold fast to dreams / For if dreams die / Life is a broken-winged bird / That cannot fly. 
Get into poetry
One source to learn about the local poetry scene is Mable Howard's website, poeticmessage.com. Howard, also known as Miss Mabeline, will present an open mic night, Poetry X-Change, on Dec. 11 at 7 p.m. at Werner Books. The event includes desserts, which is fitting, because Howard and her mother, Thelma Blanks, are the proprietors of Café 7-10, 7 W. 10th St. Or check out a poetry book from Blasco and enjoy a sweet treat from Mabel and Thelma's new food concession in the library lobby.
Another place to get a taste of poetry is at the Hold Fast to Dreams Poetry Park, in the 600 block of East 22nd Street. Sister Mary Lou was the driving force behind the park, a serene retreat in Erie's inner city. As I walked the brick path there recently, I brushed snow from Langston Hughes' poem, "Dreams," on a metal flower sculpture. He writes: "Hold fast to dreams /For if dreams die/ Life is a broken-winged bird/ That cannot fly."
Write some letters
Hughes' observation that without dreams "life is a broken-winged bird," made me ponder how Twitter and other social media sites have become such fractured messes. But when you write a letter, you must pause before you create words and send them winging away.
During the height of COVID, I got a letter from my friend Elizabeth Way, who decided to write letters to keep in touch with people. Elizabeth, a former neighbor, lives in North East but we rarely see each other. I called her recently to learn more about how and why she writes to family and friends. "So much of the thrust of our culture is to do all this stuff," she said. A letter, on the other hand, requires the writer to think about what you want to share. It can also be a way to preserve family memories, as she has been doing in letters to a cousin in Montana.
Making the effort to write personal words at this time of year can also become a Christmas gift to the letter recipient, she said. She tackles her letter-writing "in spurts and spells," but by Mondays, she usually has seven to 10 letters ready to go out in the mail.
To become a good writer, you don't have to be wordy, as Mary Lou has shown in her poetry collections and her reflections on spirituality. So I must confess that I reactivated my Twitter account shortly before the 30-day expiration deadline, simply to preserve my pithy @lizereriepa Twitter profile: "Freelance editor/writer. Erie Reader columnist. Proud grandma. Bereaved mom. Twice widowed. Happy wife again. SeaWolves usher. Erie City Council button-pusher." I thank Mary Lou for pushing me to embrace that last bit of bio.
Liz Allen can be reached at lizallenerie@gmail.com