Jason Owen Announces Candidacy
Joins field of three to replace John Hornaman.
February 29, 2012 at 12:35 PM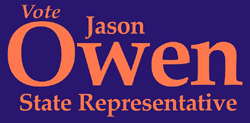 Earlier this afternoon, local attorney and Millcreek Study Comission member Jason Owen held a media event to talk about his candidacy for the Pennsylvania State House seat recently vacated by Democrat John Hornaman. Owen, along with Regina Smith, is a Republican; one of them will face Democrat Ryan Bizzarro this fall.
I asked Jason about the top three issues his district (PA3) faces. Owen believes we need to be "investing in our future by investing in our youth," and also seeks to initiate "real government reform that results in real change," while "finally fulfilling the broken promise of property tax elimination for all Pennsylvanians."
Jason believes he is the right man for the job. "I'm motivated by some of the cuts that have taken place within the Flagship Niagara League, and this redistricting fiasco. Obviously, these things show that we need strong leaders in  Harrisburg who are willing to fight for Erie County and do what's best for our community and our Commonwealth." He plans to run a clean, issue-based campaign, engaging voters by knocking on doors and getting as many people as possible involved. "This is all about grass roots, taking our message to the voters, and making sure that they agree with what we're talking about."
I asked Jason how much money he thought it would take to run his campaign through the general election. "A lot," he said wryly.
Owen will face fellow Republican Regina Smith in the April 24 primary election. "I have a lot of respect for Regina Smith; she's a fantastic candidate." Owen pledged to support her should she defeat him in that primary. Of Ryan Bizzarro, the Democratic nominee who is unopposed in the primary, Owen said, "Ryan Bizzarro is a great guy. He's a hard worker, and he's dedicated to his community - he's proven that. He'll do a fine job if he's elected."
Keep up with ongoing local, statewide, and national coverage of Pennsylvania politics all year long here at the Erie Reader.