Jefferson Educational Society Names New President
Dr. Ferki Ferati will succeed Dr. William P. Gary as the head of Erie's think tank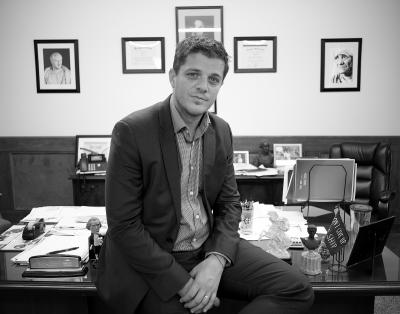 The Jefferson Educational Society has named its next president. Announced at a media conference on Thursday June 22 at 10:30 am, Ferki Ferati, current Executive Director and Vice President of the organization was appointed the next President of the Jefferson Educational Society.
Ferati graduated from Mercyhurst University, went on to get his masters from Gannon University in Public Administration, and his doctoral studies from the University of Pittsburgh. Dr. Ferati, 34, has had a unique road to Erie, living on his family farm in his homeland of Kosovo his whole life before having it ripped away from him in 1997 by the regime of Slobodan Milošević, the former president of Yugoslavia. Within a year and a half, Ferati's family had to flee and ended up resettling in Erie in 1999. Dr. Ferati joined the Jefferson Society in 2008 as its research and Operations Director and was quickly promoted to Executive Director in 2009 and Vice President in 2013.
Dr. William P. Garvey, the think tank's Founding President said of Ferati that, "Dr. Ferati has the energy, the vision, and the commitment to ensure that the Jefferson continues to grow by extending its already wide-reaching impact. Dr. Ferati has been with the organization since its inception and his knowledge of it, of Erie, and of the future of adult civic learning will help the Jefferson continue to evolve in its operations and offerings as a resource to the Erie community and beyond." Dr. Garvey will continue with the society as its founder and the Chairman of the Board of Trustees. "I am humbled and honored to have the opportunity to lead the Jefferson as it continues its critical work in Erie," Dr. Ferati said. "Dr. Garvey has established a first-class organization. I am looking forward to building on the tremendous foundation he has created."