Jekyll and Hyde's Takes on Punk
Hardcore punk comes into scene at local venue
August 28, 2019 at 9:45 AM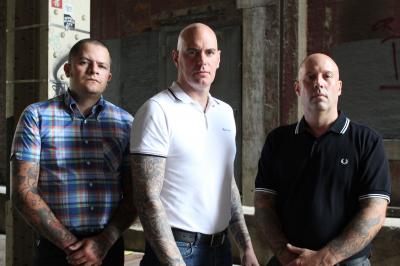 Saturday, Aug. 31
The punks are out tonight, when NYC's The Take comes to Jekyll and Hyde's with support from Erie's own Human Animal and Save Yourself.
The Take is made up of current and former members of several seminal New York City hardcore bands, including Agnostic Front, Madball, Sick of it All, and Biohazard. But instead of imitating the styles that they helped pioneer, The Take has adopted a different approach to their sound.
"Hardcore used to be followed by the word 'punk,' and that's what we originally wanted to create," says the band in regard to their philosophy. Hardcore music has grown into its own musical entity over the decades, and much of what is considered "hardcore" sounds increasingly closer to metal with each passing year. If bringing punk back into the definition of hardcore was The Take's goal, they have certainly achieved it.
The Take's debut self-titled album fuses the styles of street punk, oi-punk, and hardcore, with raspy yet melodic vocals and ripping guitar solos to make a perfect brew of working-class rock and roll — making them a perfect fit for a place like Erie.
Like The Take, members of the supporting acts Human Animal and Save Yourself have history with a number of crucial Erie hardcore bands on their résumé — most notably Brother's Keeper, Shockwave, xDisciplex A.D., and Smoke & Mirrors.
Human Animal has several EPs under their belt, which were compacted into their First Four Winters compilation album released in 2016. Both the old and new material they will play at the show are sure to be packed to the brim with their high energy crossover hardcore style. Save Yourself has yet to officially release any material, but with their explosive mix of metal and hardcore, they can keep up with whomever they share the stage with. — Tommy Shannon
9 p.m. // 8 E. 10th St. // Free // 21+, must have ID // facebook.com/jekyllhydesgastropub