Jersey Boys
A classic rags-to-riches story that honestly tackle the issue of the hyperbolized American dream.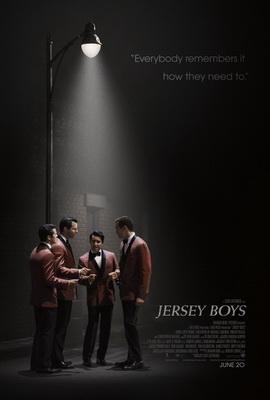 If we all remember the first time we saw Goodfellas, we all remember the first time we saw a subpar Goodfellas knockoff, no matter what form that came in. If you haven't done the latter, Jersey Boys might be a good place to start.
For clarification, Jersey Boys, the latest from legendary filmmaker Clint Eastwood isn't so sub-par as it is sub-Goodfellas, which makes sense.
Both movies tell classic rags-to-riches stories that honestly tackle the issue of the hyperbolized American dream. And for further clarification, Jersey Boys is a very good film, and it's made with heart and excitement, but like so many biopics before it, it lacks a sense of purpose and edginess that made pictures like Goodfellas instant classics.
Jersey Boys begins as a tale of boys on the wrong side of the tracks of Belleville, N. J. – their lives are boring and aimless, and their nights are peppered with petty crime for local syndicates. Tommy De Vito (Vincent Piazza) the leader of local musical group the Variety Trio (comprised of his brother Nicky and friend Nick Massi – played by Johnny Canizzaro and Michael Lomenda, respectively) first introduces the neighborhood to the gleaming falsetto of Frankie Castelluccio (John Lloyd Young), later Frankie Valli.
After each of the De Vito brothers serves a jail sentence for petty mob-connected offenses, Frankie joins the group, now known as the Four Lovers, though Nicky is now gone. It's then that they meet Bob Gaudio (Erich Bergen), a songwriting talent who's anxious to make hits with Frankie and the rest of the group.
After struggling to find a label, and slogging away as backup men for their flamboyant producer Bob Crewe, they find a name, and Gaudio finds his groove.
As the Four Seasons, and equipped with their soon-to-be hit "Sherry," they make it big, with Frankie's voice exploding over mainstream radio. "Big Girls Don't Cry" and "Walk Like a Man" follow in quick succession, and the rest is, as they say, history.
But at home, it's a nightmare for Frankie, who's kicked out of his house after his wife finds out about his affairs and condemns his absence from his family.
Just when the band is making their way to the Ed Sullivan Show, Tommy's $150,000 debt comes to light, furthering the clash of egos between the members of the group.
All of this is Eastwood's way of saying of saying something that's been said for years: glamour is never perfect, and it isn't all it's cracked up to be. It's like Goodfellas but with none of the whacking and a much duller edge.
Eastwood does his best to spice up the script by Marshall Brickman and Rick Elice with conversational voice-overs and liberal interweaves of Seasons' songs, but the film lacks the energy that could have lifted it to greater heights.  
Across the board, though, the performances are worth talking about. Young is terrific in his portrayal of Frankie's genius and confusion, and Piazza gets to the heart of Tommy's anger and ego that was so catalytic in the dissolution of the Seasons. What it lacks is the type of livewire energy that should have came from such a monumental moment in music history.
Despite it all, though, Eastwood's in love with the music, and that matters. In a movie that digs for purpose and place in an all too familiar realm, Eastwood serenades us and gives us the idea that the music itself is enough, and if that's not ambitious or profound, it's still admirable.
Jersey Boys isn't going in the time capsule, but it gives us a momentary, enjoyable shot of something that is, and maybe… that's enough.