Julius Fuses Tradition and Creativity
Julio Reyes makes flavors sing in restored Maennerchor building
March 20, 2023 at 8:00 AM
Julius, a fine dining restaurant serving global cuisine with a Mexican twist, residing in a 134-year-old, 30,000-square-foot building comprising a full city block, wasn't even supposed to happen. After owners Julio and Lilia Reyes retired and closed their successful and well-loved Mexican restaurant Latino's after 22 years of service on Parade Street, the opportunity to purchase the former Maennerchor Club building at 1607 State St. presented itself and Reyes didn't want to pass it up. After a long-storied legal back-and-forth, Reyes took ownership of the building in 2018 and Julius was born a few years later.
While reluctant to get back into the restaurant business after retirement (Reyes was initially interested in purchasing the Maennerchor building simply as a real estate investment), after doing a lot of cleaning, replacing the massive roof, and restoring all the woodwork in the historic building (as well as transferring his liquor license from Latino's to expedite a stalled legal issue) he was pushed back into the fine dining business. And it has been serendipitous and successful, continuing on the legacy of the Reyes family's cuisine as well as the legacy of a building that has contributed to Erie's built history for well over a century.
Reyes' story starts in Mexico City, where he was born and raised. He worked in software development there and made many connections in multiple cities worldwide and in the United States. When he and his wife (who have been married for 40 years) decided to leave Mexico, they were welcomed — and Julio hired — by a tech company in California. His sister was employed by Plastek at the time when Julio and Lilia came to Erie to visit her. They realized that Erie could benefit from their investment and settled down into a life outside of the tech industry.
One of their first big ventures was to start a tortilla factory in Little Italy. Reyes comments, "True Mexican cuisine is the best cuisine in the world in terms of the quality, flavor, and nutritional value. We opened the tortilla factory to make corn tortillas with nixtamal (corn soaked in lime water and then ground to make masa), which didn't really exist in Erie at the time." Latino's came along shortly after they closed the factory and quickly became a staple on Parade Street at a time when no one else saw the potential in the neighborhood.
Fast forward 25 years or so, and now the Reyes family finds themselves back in the restaurant business in a revived and restored space, bringing potential back to the immense building that had fallen into disrepair. For Julio, honoring the history and intention of the Maennerchor building is very important to him, "I don't want to change this building. It's not just for the economic benefit of not changing it — you simply cannot build this patina. You cannot build the historical value, you cannot build the memories back. That has a value."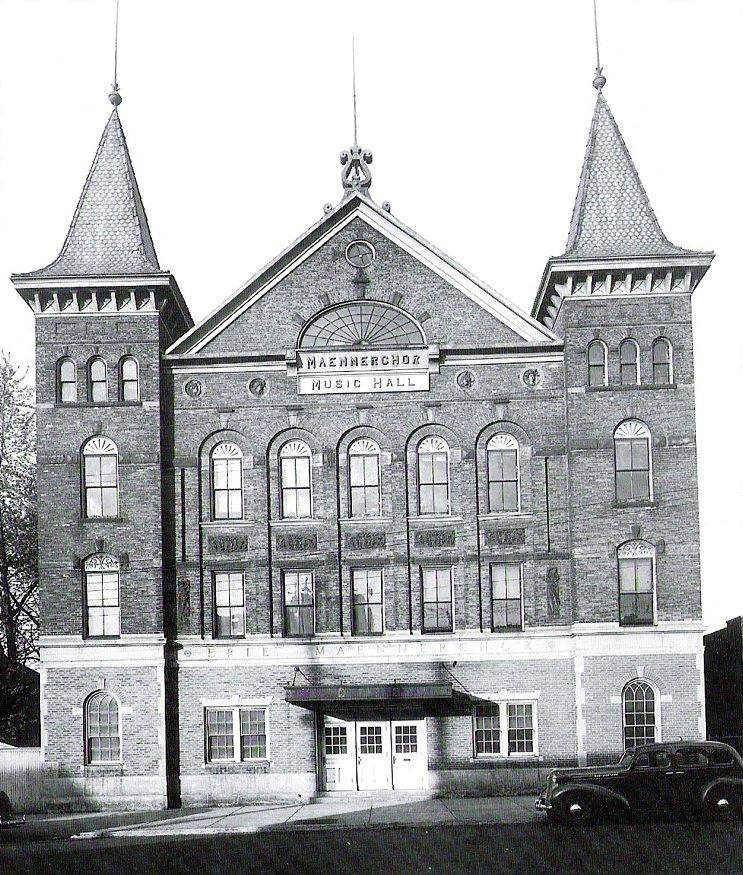 The historic Maennerchor Club building was constructed in 1889 through the efforts of the Maennerchor Men's Singing Society. Originally, the facade of the building looked quite different than it does today. This photo was likely taken in the late 1930s (date determined by the make of the automobile). Credit: Erie Reflections Vol 2.
The building called the Maennerchor Club was built in 1889, but the people behind the construction were the original Maennerchor Men's Singing Society that began in 1871. Singing Societies or choral groups were popular forms of entertainment in the late 19th century and they appeared in nearly every town with a population over 1,000. According to Music of the Gilded Age by Ogasapian and Orr, singing societies represented "some of the strongest elements of Victorian culture: the strong sense of duty, community participation, broad religious sentiment, rising nationalism, and enthusiasm for the new romantic music styles."
The Erie Maennerchor group originally met and performed in Boyer's Hall, which was a concert hall on the third floor of the former Epps Furniture Building (which is currently FEED Media Arts at 1307 State St.) According to the Erie Maennerchor Centennial published in 1971 (a scanned copy generously provided by the Hagen History Center for this article): "The Great Depression, which hit Germany following the Napoleonic Wars marked a great period of immigration from Germany to the United States … About 1848, a great many of these people settled in and about the city of Erie, attracted by the diversified industries of the growing city. It was only natural that, becoming settled and having had experience and training in chorus work, they were interested in organizing societies and choruses of their own in this country."
The group that would become the Erie Maennerchor (which translates from the German as "men's chorus") grew from a German lodge called the Harugari which eventually became the Harugari Maennerchor. It was this group that, in 1889, pooled its resources (along with a $10,000 loan from Erie beer magnates Jackson and Fred Koehler), purchased the land on the block between 16th and 17th and State streets, and began construction of the current Erie Maennerchor building. While the building was expanded upon over the years to extend to its current footprint, the ballroom, stage, original bar, and dining room remain essentially the same as they did back in 1889. At some point in the history of the Erie Maennerchor, the singing society that established the group dissolved and the Maennerchor became more of a social group, as they remain to this day (although no longer in this building).
As Reyes provides a tour, he is quick to point out the beauty of the woodwork and craftsmanship that was, at the time of purchase, hiding under years of grease and dirt. There are German words painted on the back of the dark wood bar originally reading: "Damen sind nicht erlaubt" which translates to "Women are not allowed." Upon taking ownership of the building, Reyes quickly replaced the "not allowed" portion with a (removable) sign that says "willkommen," altering the meaning to welcome women at the bar. A larger hand painted message on the exterior of the bar reads "Gemütlichkeit," offering what any good bar should: comfort.
It is the German heritage of the building that Reyes says inspired the menu at Julius. The menu offers fusion cuisine. For example, a German wienerschnitzel (a breaded veal cutlet) is served alongside freshly made Mexican salsa, and Italian-style spaghetti is served with a spicy cilantro alfredo sauce. The chef who collaborated with Reyes to create such interesting recipes is Nate Jones, who cut his teeth in some of Erie's best loved fine dining restaurants including the Bel Aire, the Colony, and most recently, La Bella. Reyes feels thrilled to have Jones's talents on board and was surprised to learn of a connection that, to him, felt serendipitous.
Reyes tells the story, "One day I was working in the kitchen with him (Jones) making sopes, which are like corn patties, because I wanted him to learn what it was all about. I noticed he was kind of emotional, and I said 'What's going on with you?' He said, 'You remind me of my grandma cooking in the kitchen when I was a little kid.' I didn't understand. How is that possible? This is Mexican food. And he told me that he is half Mexican, which I didn't know. His heritage is actually German and Mexican. I think it was destiny: this is a German club serving food with a Mexican twist and our chef is German and Mexican."
Regardless of the heritage inspiring the dishes, they always include the freshest ingredients, everything is made from scratch (even down to the salad dressings), the deep fryers are covered and never used, and the food always includes an original and authentically Mexican sauce that gives it the flavor and feel that Reyes feels connected to. Some dishes are strictly Mexican, according to Reyes, "We have small plates based on street food in Mexico like bombas, sopes, and tostaditas — and those are 100 percent Mexican."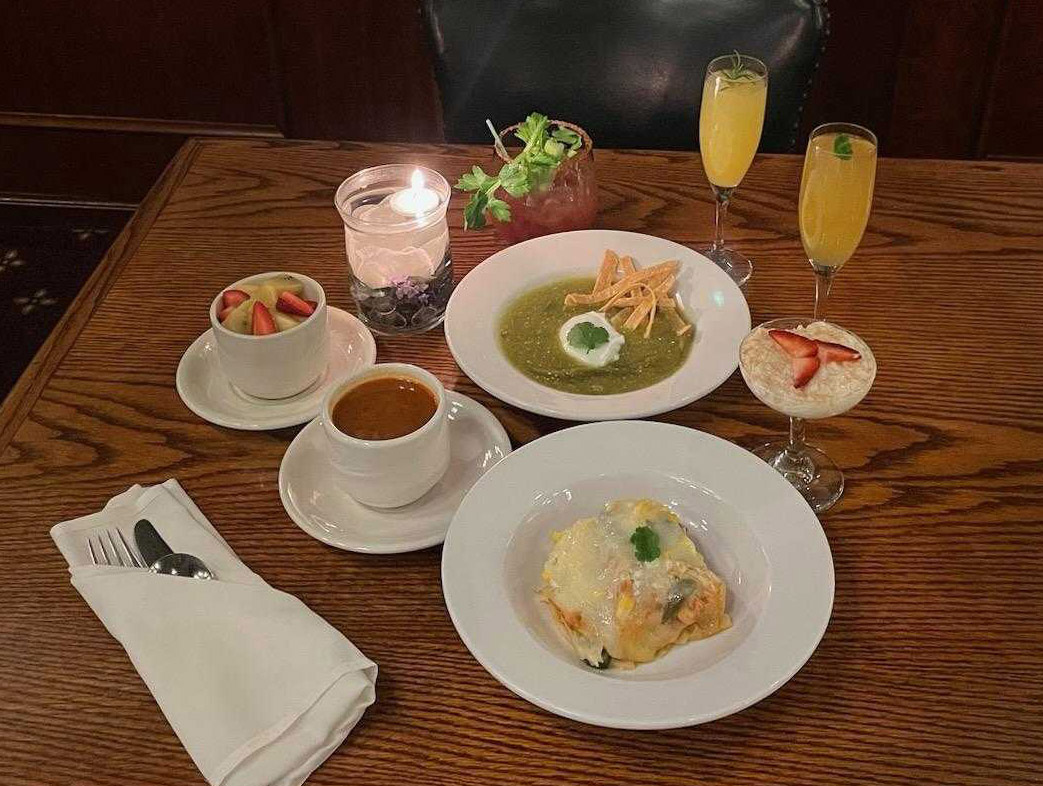 Served on Sundays from 11 a.m. to 2 p.m., the brunch offerings at Julius are 100 percent Mexican cuisine and served as a five course meal, not a buffet. Credit: Julio Reyes
The restaurant and bar of Julius makes up just a small portion of the 30,000 square feet of the building and Reyes uses these spaces — like the expansive, acoustically perfect ballroom upstairs or the vintage duck pin bowling alley in the basement — to rent out for individual events or parties. There are also other rooms on the first floor available to rent for business meetings, baby showers, conferences, etc. with catering provided in house. Reyes is taking it bit by bit and not trying to do too much at once. After all, he was supposed to be retired.
Whether or not it was Reyes' intention, he's back in the restaurant business and the people of Erie are grateful to enjoy the vision of his food in this new venue. According to Reyes, none of his success would have been possible without the dedication and sharp financial mind of his wife, "Whatever we have is thanks to my wife, Lilia. I only know how to work, she knows about everything else."
Julius is currently open for dinner Thursdays through Saturdays from 5 p.m. to 9 p.m. In addition, they offer Sunday brunch from 11 a.m. to 2 p.m. This brunch features 100 percent Mexican cuisine and is not a buffet, but a five course meal that will leave anyone impressed (and with a very full tummy). Reservations can be made online at juliuserie.square.site or by calling (814) 315-9311.
Erin Phillips, who loves Mexican food almost as much as antique woodwork, can be reached at erin@eriereader.com