Just a Thought: February 3, 2016
The human cost of "progress." 
February 3, 2016 at 11:00 AM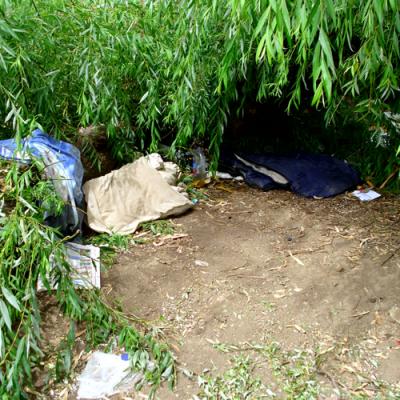 Powaqqatsi is a 1988 film by Godfrey Reggio, in which scenes of human life in the southern hemisphere are depicted without narration, accompanied by an evocative score by Philip Glass. The film, part of Reggio's Quatsi trilogy, "juxtapos[es] images of ancient cultures with those of modern life" and "masterfully portrays the human cost of progress."
Reggio defines Powaqqatsi as "A way of life that consumes another way in order to advance itself." He adds that "The southern world is being consumed by the norms of progress and development."
Powaqqatsi succeeds in doing what most of modern media so ardently helps us avoid: looking at the effects of our "conveniences" on those without access to them. In this film, we see the struggle on the laborers' faces, the strain of muscles against taut, sun-darkened skin.
Powaqqatsi succeeds in doing what most of modern media so ardently helps us avoid: looking at the effects of our "conveniences" on those without access to them.
But we needn't look so far afield.
Closer to home, the economic system we've created – the one many leaders cling to – creates so-called third world conditions for some in our own country. In Flint, the water turns poisonous. In agricultural regions of the U.S., farmworkers endure forced labor. In Erie, people become homeless, or addicted, or otherwise alienated by a system that insists they do not fit. That would rather they hide than be healed.
Coincidentally, we re-watched the film on the same night as the annual one-day homeless count, described by Gerry Weiss in the Erie Times-News as "part of a nationwide count that tracks trends and documents the circumstances of the homeless. The goal of the annual single-point-in-time survey – which began nationwide in 1986 and has been conducted in Erie County since 1994 – is to collect information that could eventually help social workers assist and care for the homeless."
Counts are critically important places to start. But to see – really see – we must go further (as many in our community already do).
In "The Other Americans," an essay reprinted in last summer's Utne Reader, Monica Potts cautions us not to oversimplify the plight of low-income Americans with pity. "Pity has its uses, but it also has its limits, especially in writing about a population already so misrepresented, ignored, and disempowered."
Instead, Potts says, "We shouldn't feel pity but a sense of citizenship, of kinship, that leads to empathy. Even Americans who don't identify themselves as poor know how it feels to be broke, to need or want something they can't afford, or to be underpaid or lose a job. If not, they can imagine these feelings without too much of a stretch."
That kinship is what "make[s] readers question their own assumptions about the country they live in," Potts adds, a goal Reggio shared in Powaqqatsi.
Though he was accused of "romanticizing poverty and oppression and suffering," Reggio explains that he "was trying to say that there are other [standards of living] that are different from ours," and to question our tendency to assume those standards are inferior.
And so in the film, we also see dignity. Pride. The satisfaction of life lived with purpose, presence, and connection.
These are the scenes typically hidden from us. And if we fail to recognize dignity and shared humanity in the apparently different lives of those half a world away, we're bound to miss it in our own backyards, as well.
It's easy to dismiss those alienated by our current profit-over-people economy by generalizing, or blaming, or even pitying. Can we allow our hearts to break open enough to really feel the humanity of those whose lives are challenging to witness? Can we face the hard truth we encounter with every struggling soul: that if our system is only working for a few, then it's not working?
Katie Chriest can be contacted at katie@ErieReader.com.