Keep on Truckin': An update on Erie's food truck scene
As a rule, food trucks tend to follow the crowds; although lately, it's been working the other way around.
In 1872, a pressman working for the Providence, Rhode Island newspaper The Morning Star named Walter Scott decided to quit his job in search of a new path. Catering to his former coworkers, he cut a hole in a horse-drawn light freight wagon and subsequently gave birth to two concepts that have persisted to this day. One was the diner — or as any self-respecting Erieite knows it as — the dinor. Many of these cozy eateries were fashioned from former train cars, and got their name from that railroad designation, the "dining car." These flourished into the mid-20th century, many of which are still in operation today. Places like the recently closed (and soon reopening) Crossroads Dinor in Edinboro leaned into this concept, their lineage being visible in both name and — until its renovation in the late '90s — its architecture. While some restaurants transitioned from a life traversing the countryside by rail to a sedentary, brick-and-mortar life, Scott's other progeny opted for the opposite route entirely. These of course, were food trucks.
As summer begins its fickle approach to the southern shores of Lake Erie, outdoor eating becomes a staple of the warmer months. Over the past few years, the number of mobile food vendors has risen, perhaps reaching a critical mass, and certainly catching the public's eye.
"It definitely picked up a lot," explained Ernie Scheffner. As owner and operator of Ernie's Food Truck, Scheffner was the original face of Erie's food truck community. "I'm the first, the pioneer," he admitted. "I took the initial leap to do it because it was what I was doing already and it just seemed like the move," he said. He started his business in 2009, not in a truck, but in a tent. By the following year, however, he found his true calling, at the wheel of an understated white vehicle with a small four-color rainbow by the door, forgoing the pun-laden names and ostentatious paint jobs of most popular trucks. He now owns five different food trucks, but the one you probably know him for is the classic downtown truck. Others go out to fair circuits, down to locations like Pittsburgh, or they get rented out.
Scheffner's choice of business went relatively unopposed for its first several years. In contrast, during that same time period in the early 2010s, the food truck craze was reaching high levels in coastal metropolises like New York City and Los Angeles. In 2011, USA Today, citing increasing impressive culinary benchmarks, reported that "fancy food trucks are rolling out across the country and into the broader culture." They then began creeping into pop culture: a food truck festival was featured in a Season Two episode of Bob's Burgers in 2012, and food truck were a major plot point in the 2014 film Chef. In those days, the Best of Erie award was known as simply "Best Mobile Food Vendor" — an honor Ernie's Food Truck received in 2015. By the next year, however, it was renamed "Best Food Truck." Since then, that honor has gone to Tim Grow and the Que Abides every year.
Really Tying the Community Together
"Sometimes, there's a man, well, he's the man for his time and place." Sam Elliott grumbled these words during the opening of the cult classic film The Big Lebowski. While Scheffner was unquestionably the local pioneer, Grow helped usher in a new boom of Erie food trucks. A lifelong barbecue enthusiast, Grow's passion turned into plans for a career in food. Originally planning to open a traditional location, he went on a road trip from San Diego, Calif. to Austin, Texas with his brother and "the food truck scene in those two cities alone blew me away. I came home with the mindset that I was going to start a food truck in Erie." He joked that "there were a lot of people who thought I was nuts and that it wouldn't work but I kept thinking of the old joke, 'Erie is 10 years behind the rest of the country.' I figured if that were true, we are hitting this at the right time. By the looks of the booming population of food trucks in the city, it certainly seems we did, in fact, get started at the right time." The Que Abides has since won the award for Erie's Best Food Truck three consecutive years, and is often the de facto face of our community's food truck scene. Describing his early days in 2015, Grow explained that "we would grind those first couple seasons, doing very little business in hindsight. So many days we sat in Perry Square with minimal orders but people kept coming. Slowly but surely we began to have regulars who began to bring friends, who became regulars, and so on. Word of mouth and social media were huge to get going."
Sites like Twitter, Facebook, and Instagram help trucks give up-to-the-minute updates to their followers, letting them see if they're in a new location, if they're running out of ingredients, or if they have new menu items. There are also a few reliable places you can find them, most chiefly along State Street flanking Perry Square in downtown Erie. "My truck's always going to be on State Street," Scheffner stated. "Ernie's is State Street. I don't want people to have to look and see where we're at. We're always there," he said, once again happily bucking the trends.
"Business is tricky when you are moving from place to place," explained Jessee Treiber, manager of the SorcERIE food truck, adding that "because unlike a brick-and-mortar where you find yourselves establishing a more consistent clientele, with food trucks our customers are ever changing so it's difficult to adapt to the needs of the customers because they are different everywhere we go."
In Their Element
Today, there are over 50 mobile vendors in Erie. According to a list provided by the Erie Food Truck Alliance, 53 to be precise, with 16 operating year-round. While the term "food truck" tends to be the preferred nomenclature, it's worth noting that there are almost as many food trailers as there are trucks (14 and 18, respectively).
Another trend that's surfaced has been successful restaurants branching out in the form of a more mobile option — for instance, Brooklyn Pizza with its Sticks and Bricks, Voodoo Brewery with its Foodoo Truck, or the Whole Foods Co-op's aforementioned SorcERIE. Treiber describes how the cooperative decided to throw its hat in the ring and go beyond its W. 26th Street location. "Our goal with the food truck was to use it as a vehicle — literally —to be able to reach those who might not ordinarily have access to healthier, more wholesome food options. Our hope was to use the food truck to extend our reach and impact in the Erie community," Treiber detailed.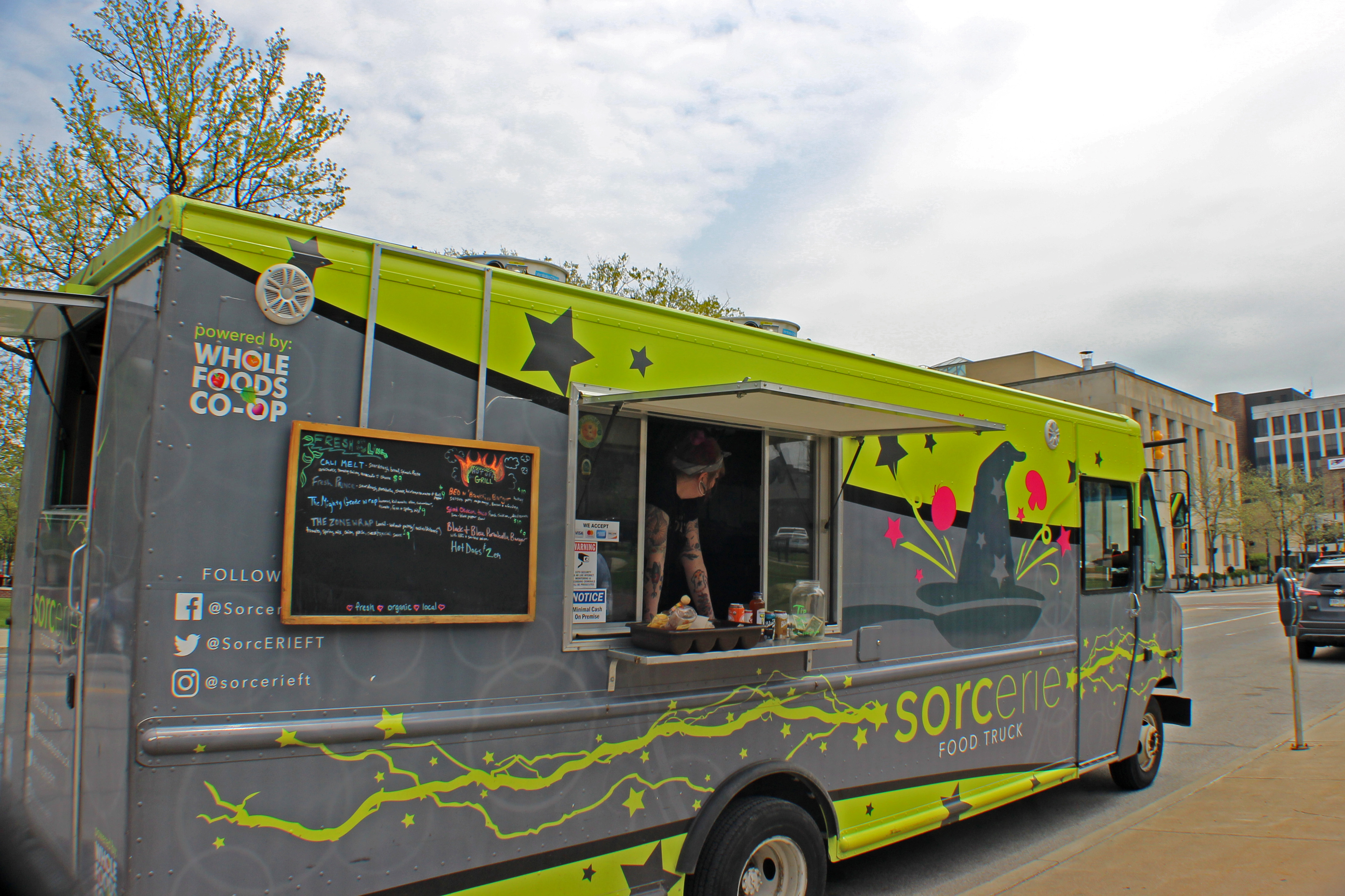 The Whole Foods Co-op's SorcERIE food truck awaits its next customer. The SorcERIE specializes in vegan-friendly wraps and sandwiches and spends most weekdays flanking Perry Square.
"I think last year saw a boom, not just in the amount of trucks and other vendors in the area, but in venues and businesses wanting to incorporate our trucks and other vendors into their events, " explained Alison Green, who helps run the Erie Food Truck Alliance. Green works hard volunteering long hours to help organize events and practices for both mobile vendors and participating venues.
While well-attended community events always seem to carry with them a tail of nomadic restaurateurs, this summer will see a handful of events that exist purely as a celebration of these foods unto themselves.
As a rule, food trucks tend to follow the crowds; although lately, it's been working the other way around. While well-attended community events always seem to carry with them a tail of nomadic restaurateurs, this summer will see a handful of events that exist purely as a celebration of these foods unto themselves. These include The Erie Food Truck Festival (in Lawrence Park Saturday, June 1), Erie's Downtown Erie Food Truck Festival (outside of Bourbon Barrel on Saturday, June 22), and Gears and Grub (this year taking place at Perry Square for three days beginning July 19). "There is no denying that the local events have played a huge part in the local Food Truck Scene growing the way it did," explained Green. She was also quick to note the important role that breweries and distilleries — especially those with no formal food services of their own — play in the health of their business, citing that they "have been especially welcoming to the trucks. On any given weekend we have trucks out at several amazing local breweries, like Erie Ale Works and Black Monk, as well as Cart/Horse Distilling and Luminary Distilling. We also are often out at businesses people may not expect us at such Zurn, Logistics Plus, VNet, Bay Valley and the like feeding their employees through all the different shifts." She clarified that "we love the festivals and big events, but if the local businesses weren't so welcoming to us every week, all season we would be seeing a lot less trucks out there succeeding."
Nick Warren can reached at nick@eriereader.com