"Kick 'em in the Crotch," James Traficant, Dead at 73
Former Ohio Congressman James Traficant dies at age 73.
September 28, 2014 at 12:15 AM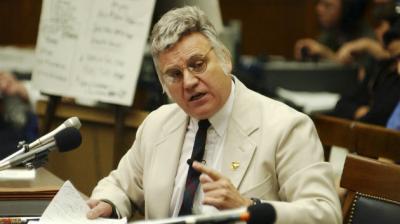 Former Ohio Congressman James Traficant died Saturday in Youngstown at age 73. Last Tuesday the former Congressman evidently had a heart attack while driving a tractor on his farm causing him to fall from the tractor and become lodged under it. He had been hospitalized since the accident.
Traficant was a nine-term member of the U.S. House of Representatives who was expelled from Congress in 2002 after being convicted of corruption charges.
Traficant was only the second person expelled from Congress since the Civil War.
Traficant reached national notoriety in 1983 when he was tried of federal corruption charges, accused of taking $100,000 bribes from organized crime while serving as mayor of Mahoning County, Ohio. He defended himself at trial and was acquitted. The following year he was elected to Congress.
Traficant will be remembered as an eccentric, someone who walked on the fringes while marching down the center of America's most hallowed institution.
He used colorful language. He had awesome hair.
If you don't believe it, check out this 2002 video of his hearing before the House Ethics Committee where he threatened to kick a Justice Department official "in the nuts" if he didn't stop introducing what Traficant called "hearsay evidence."
Jim Wertz can be contacted at jWertz@ErieReader.com, and you can follow him on Twitter @Jim_Wertz.