Lakers head to Boston
For the Lakers, the road to Erie has to go through Boston first...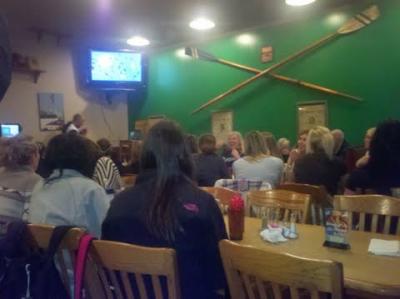 The Lakers are headed to Bean Town. The No. 3 / 4 Mercyhurst College women's hockey team will play from the sixth seed in the 2011 NCAA Women's Hockey Championship Tournament as they take on No. 3 Boston University Saturday, March 12 at the Walter Brown Arena in Boston.
While all teams are looking for the quarterfinal-round win, the Lakers might have more at stake since a win would bring them home to Erie since the Tullio Arena will host the 2011 Frozen Four semifinal and final rounds.  
The team and fans gathered at the Cornerstone Bar and Grille to hear the announcement from Indianapolis, Ind. The room buzzed with chatter from the team and encouragement from the fans, but the further into the bracket announcements, the quieter the room grew.
Mercyhurst was finally announced last.
Junior Forward Bailey Bram said she had mixed emotions about the announcement.
"I'm kind of disappointed we're not hosting," she said. "I kind of wish we would have been at home."
Bram, who said she noticed the crowd's quiet reaction to the announcement, thought the Lakers had a good shot at locking in one of the top four spots.
And she wasn't alone in her thoughts and hopes of hosting, as Senior Forward Meghan Agosta said she shared that hope of playing in Erie this round. But even though the Lakers aren't hosting, Agosta said she's still excited and is ready to head to Boston.
"Boston is a great team," said the standout senior who became the first player in the NCAA-era to score 300 goals in a career. "All the top eight teams are great. It is going to be a battle, but there's no doubt in my mind that we're going to have the support even though we're not at home."
Agosta added that she thinks that the coaching staff, "is going to do a great job preparing us for this coming week. And it's going to be 'who shows up to play', I think. We're ready to play."
While she's surprised the Lakers won't be starting out in Erie, Agosta said she isn't worrying or isn't upset and is confident in the team's abilities.  
"I'm not really disappointed because to be honest with you, we still need to win no matter what," she said. "So whether we win in front of home crowd or we win there, we'll be going to that Frozen Four spot, so we're going to go in and do whatever we can to win and it's going to be a great game."
And in order to win, Agosta thinks the team needs to play together, play to its potential and play the entire 60 minutes. Bram added that she thinks the team just needs to stick to the game plan and stay positive.
"With us, (staying positive) is a big thing," she said. "We just get so much momentum going. If we do that, we'll be fine."
Head Coach Mike Sisti agreed that he would have liked to host and thought his team did enough to earn a higher seed.
"I feel bad for our fans," said Sisti, who's been at the helm for the past 11 seasons. "We have a great following. This game should be and fun and exciting, and hopefully we'll win and get to keep playing."
Sisti believes that if his squad is solid in their end of the ice, makes good plays on special teams and can handle pushes while making enough pushes of their own, they'll come away with the win and come back to Erie with the potential to play the rest of the Frozen Four in front of a home crowd.  
The winner of the game between Mercyhurst and Boston University will face either Dartmouth College or second seed Cornell University, who finish out that side of the bracket. The other side of the bracket features University of Wisconsin Madison, who seeded first, hosting Minnesota Duluth, and Boston College, who seeded fourth, hosting University of Minnesota.